whistlepig 10 year single barrel review
WhistlePig 10 Year Single Barrel Rye Potomac Wine and Spirits Selection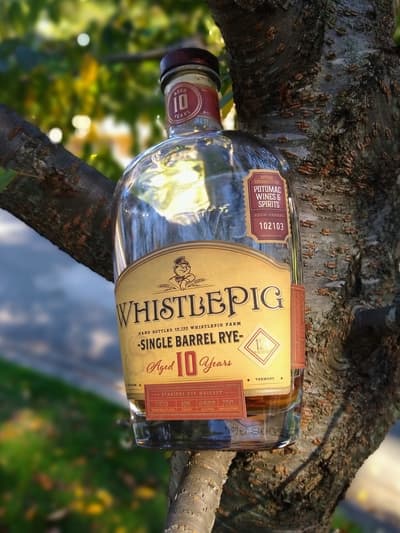 Distillery: WhistlePig (USA)
Type & Region: Rye whiskey sourced from Canada
Alcohol: 64%
Composition: 100% rye
Aged: 16 years in oak
Color: 1.4/2.0 on the color scale (tawny)
Price: $100
From the WhistlePig website:
"Individual expressions of our highly decorated, limited reserve rye whiskeys to those interested in a truly personal and unique whiskey. With the option to select at our distillery in Shoreham, Vermont."
whistlepig 10 year single barrel overview
WhistlePig is a Vermont-based distillery that's probably best known for their 100 proof WhistlePig 10 Year Rye Whiskey, Canadian whiskey finished in bourbon barrels in the US. But I'm not here to talk about that, I'm here to review a WhistlePig 10 year Single Barrel Rye Whiskey selection from Potomac Wine and Spirits in Washington DC. 
Based on the back label, this particular single barrel rye is sourced from Canada. I mention this because WhistlePig has been known to source Canadian and MGP rye (from Indiana) for single barrels. Even though the label states 10 years, Potomac Wine and Spirits confirmed that their single barrel is actually 16 years old! It's like buying 10 years and getting 6 for free. Sixteen years is quite an extraordinary age for rye whiskey, and even more uncommon since it's also cask strength (my favorite). As a side note, WhistlePig has faced some controversy for their poor labeling around where the whiskey is from, so it's entirely possible that it's MGP rye, but the age is a strong indicator that it's Canadian. Enough speculation though, let's get to the facts of this extra-aged rye in this Potomac Wine and Spirits WhistlePig 10 Year Single Barrel Rye whiskey review.
whistlepig 10 year single barrel smell
Holy moly, waves of licorice, dark honey, fennel, and anise initially launch out of the glass, nearly overwhelming my nostrils with Good & Plenty candy. It's an intense yet interesting first impression. On my second sniff, the licorice calms down a little, bringing out darker sorghum syrup, not overbearing oak, pear, densely dried citrus peel (like the good stuff from Penzeys), rye grain, pine, and fennel. The Potomac Wine and Spirits Whistle Pig 10 Year Single Barrel is incredibly dense, rich, and herbal with an added dose of darkness from the 16 years of aging. Somehow, it all comes together like Christmas. That 64% ABV certainly packs a punch, but it's usually manageable.
After swirling the WhistlePig 10 Year Single barrel and letting it rest, the licorice continues to calm down. Now I smell an awesome mix of dark honey, sorghum syrup (it's dark), a lot of licorice, dill, anise, and fennel, oak, cinnamon, dark cherry, pear, dried orange, roasted rosemary, slightly unripe green grapes, and toasted marshmallows. There's so much to absorb, yet it's really not all that oaky. The additional aging instead seems to add extra dark sweetness, dark fruitiness, and this brooding dark background, as well as this next-level herbalness that occasionally dips into medicinal. This nose is big, bold, lively, and great, but it also a lot to handle, so prepare yourself. 
whistlepig 10 year single barrel taste & aftertaste
My first sip of the Potomac Wine and Spirits Whistle Pig 10 Year Single Barrel rye whiskey brings an explosion of herbal sweetness – dark honey, heapings of licorice, fennel, dill, and caraway seed, roasted oak, cinnamon, and dried citrus peel. It's kind of medicinal from all that intense rye character, and brings a lot of pumpernickel bread character with it. As rye-y as it is, it's not nearly as bright and licorice-y as it smells; it actually leans darker in flavor and is exceedingly herbal and oily. That 128 proof dances across my mouth, so this is not a gentle whiskey.
"Chewing" again brings that dense herbal-y sweetness with tons of dark honey, licorice, fennel, dill, very dried and lightly sweet candied citrus peel, milk chocolate, and a touch of marshmallow. As old as it is, I don't get a ton of roasted oak, oak tannins, or wood spice (e.g., cinnamon). Instead, I get generous servings of dark herbalness and viscous oils. The best description I can offer of this WhistlePig 10 Year Single Barrel is an all-natural candy cane made from darker cane syrup, licorice syrup, and maybe Metaxa. All of the intensity undoubtedly makes this an attention-grabbing rye whiskey, although I wouldn't call it complex with a broad range of flavors. Instead, the flavors are focused on a narrower palate with the rye where everything is dense and rich.
The finish starts with dark honey and sorghum syrup sweetness with a ton of bright licorice and fennel, oak tannins, cinnamon, and alcohol tingle. It all remains mostly the same after "chewing", with a big mix of honey, licorice, fennel, oak tannins, dried citrus, and alcohol. The tannins and oils build on each sip, clinging and drying out my mouth. The flavors are interesting and delicious, but the finish is just decent, which I find strange. Good thing the flavors are more important. 
Place on the Whiskey Shelf

I've drank a lot of rye whiskey, but the Potomac Wine and Spirits WhistlePig 10 Year Single Barrel still throws me a curveball…for the better. This is a licorice, anise, fennel, and candycane bomb that reminds me of Christmas. It's also balanced very differently from other ryes – a lot less tropical (think pineapple and guava), but even more herbal, vegetal, and medicinal. The 16 years of barrel aging, very high for rye whiskey, also makes this one of the darker and richer rye whiskeys I've had, with more dark honey, sorghum syrup, and Penzeys dried citrus. Even with all that aging, it still maintains an occasionally intense alcohol bite on the palate, but the nose is usually subdued.
This Whistle Pig 10 Year Potomac Wine and Spirits Single Barrel is great…assuming that you like rye whiskey. This is all right up my alley, so I'm ecstatic. My main knock on this Potomac Wine and Spirits WhistlePig 10 Year Rye Single Barrel is that the flavors are not all that varied or nuanced, with the intense herbal quality taking a little bit away from everything else. The palate is also a bit hotter than I would like at times, but it's a given that 128 proof isn't always going to be tame. But what it lacks in complexity and variety, it makes up with incredible focus, depth, and liveliness in the rye realm. The intense rye-ness is so captivating that I'm forced to pay full attention when I drink this. Potomac Wine and Spirits' Whistle Pig 10 Year Single Barrel Rye Whiskey is a winner.