Pure Kentucky Bourbon 2006 Review [In Depth]
Uncle Nearest Straight Rye
Uncle Nearest Straight Rye Details
From the company website:
This was a lofty experiment that worked. The results of this 100-percent rye mash bill, matured in used Uncle Nearest barrels before being bottled at 100-proof, keeps with our tradition of creating some of the most awarded whiskeys in the world. This is rye whiskey, elevated, hitting every mark with its rich flavor profile, incredible balance of spices, and extraordinarily smooth finish.
Uncle Nearest Straight Rye overview
Uncle Nearest, the well-known and African American-owned and run distillery and sourcer, has finally released a more available rye whiskey. Unlike their first release,
Uncle Nearest Uncut Unfiltered Rye that's a distillery-only release
, Uncle Nearest Straight Rye is distributed nationally and is going to hang out with its siblings on store shelves. As of this review, I'm already seeing it on store shelves in Maryland.
Those grand plans still to distribute nationally blow my mind because they've only been in business since 2017. I don't have a great idea who they're sourcing from in Canada, but they must have a pretty big operation to supply that much whiskey and get it on shelves for about $50 MSRP. With the blue and white color scheme, which I think stands out visually from the mostly
white 1884
and black 1856, I think it's going to stick out on shelves in a good way.
As I alluded to before, what you get here is a Canadian-made rye, following the rules for straight rye whiskey (so no Canadian funny business of blending in other aged non-rye whiskeys after the fact) that is "raised in New York for a minimum of four years before moving down to Tennessee, where it is then rested in Used Uncle Nearest barrels for additional maturation." This rye takes a long journey from Canada to Tennessee, and eventually to wherever it lands on store shelves and your glass.
So if you're been looking for a rye from Uncle Nearest, this is most likely the one you're going to find, Uncle Nearest Straight Rye 100 Proof review.
Thank you to Uncle Nearest for providing this sample. All opinion good / bad / amazing are still my own.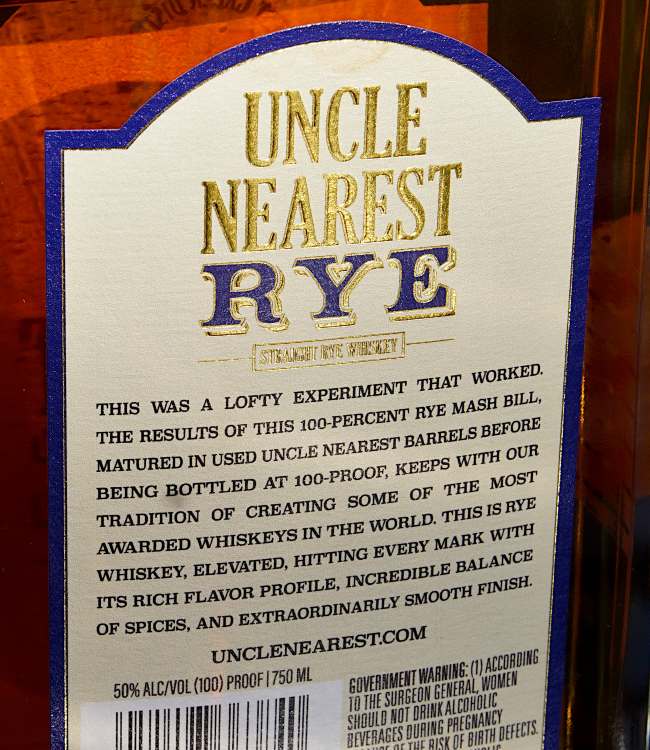 Uncle Nearest Straight Rye smell
Uncle Nearest 100 Proof Rye gives off buttery and grainy honey, licorice, pear, caraway seed, pine, clove, eucalyptus, dried orange, oak, vanilla, cinnamon, and banana – a mix of herbal, sweet, fruity, and earthy with not much heat.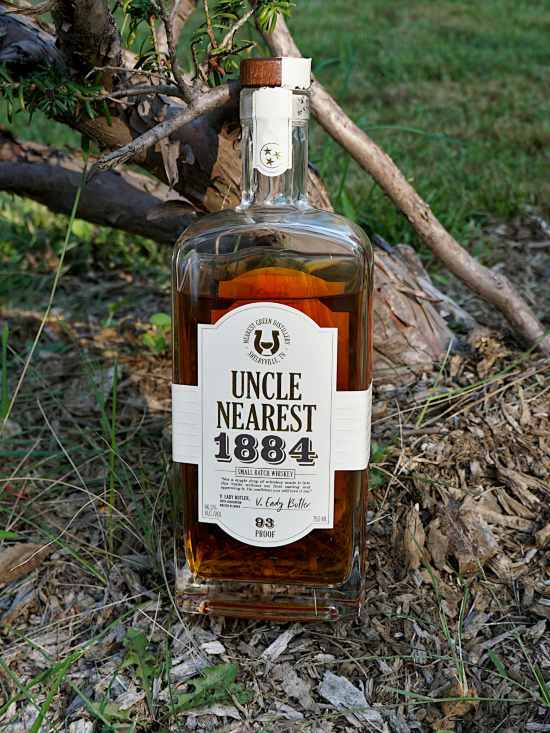 Well that's interesting, this has the Brown Forman-like thicker viscosity in the scents, although it also has the same problem where the substantive scents aren't as dense as the viscosity is so it still feels surface level. Still, you could trick me into thinking this was a new Old Forester rye.
Post-swirling, I smell grainy and herbal honey, fennel, pear, apricot, toasted grains, caraway seed, green grape, roasted oak, clove, and orange peel. It's an herbal and slightly earthy rye, but with none of the dill. The graininess fades with more time and the pear and apricot come out a bit more, which helps make it smell better.
I like what scents are there, especially the fruitiness, but there's not much heft or impact to the it. There's a little bit of lower-end heft, but overall still mostly feels young and light. The scents have the density and bite of a 90 proof, not 100 proof rye.
Uncle Nearest 100 Proof Rye smells good and nothing feels out of place, but it's not that compelling or outstanding.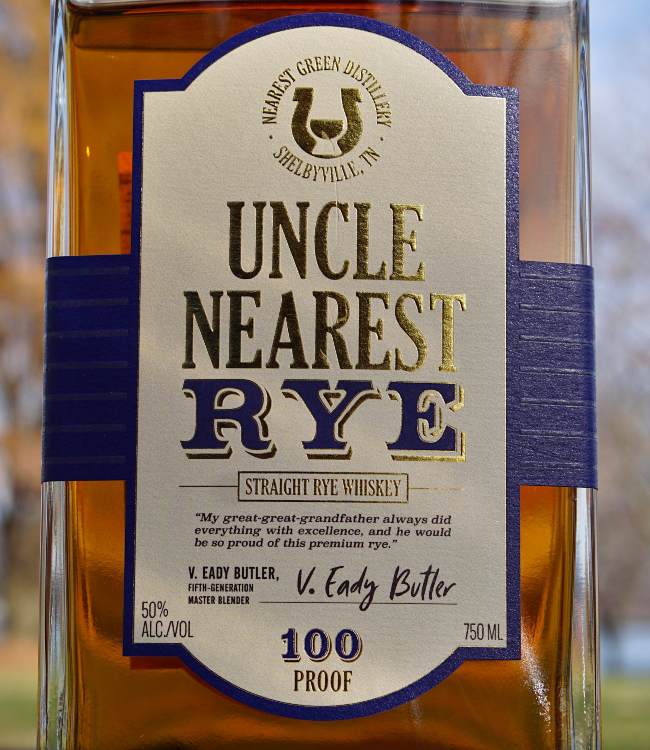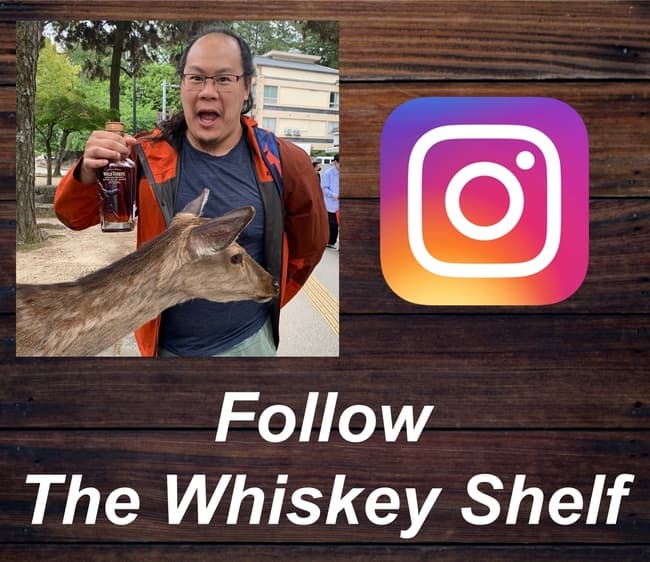 Uncle Nearest Straight Rye taste and aftertaste
Up first comes honey, licorice, fennel, apricot, pear, toasted grains, clove, caraway seed, roasted oak, toasted banana, and vanilla. Uncle Nearest Rye 100 Proof is herbal, sweet, earthy, oaky, and spicy, but gets a little more earthy and roasty after a few seconds as the earthy caraway seed, roasty oak, and toasted grains expand.
The rye brings various traits, but it still tastes immature because there's no pop or depth to anything…it's all surface level. The slightly more viscous mouthfeel (like
Old Forester
) is a nice touch, but the flavors themselves still don't feel rich. The gentle banana flavor also screams Brown Forman, although I know it's not.
After "chewing" I taste herbal and earthy honey, dried licorice, toasted grains, roasted oak, apricot, pear, caraway seed, clove, cinnamon. The slightly more viscous mouthfeel is still there, but again the flavors themselves can't fill up all the space to make it noteworthy.
At the same time, "chewing" brings out more earthy, oaky, and bitter flavors, which shifts the balance away from the fruit in a way that doesn't make it better. It just tastes even younger now. And just like Old Forester (but not as severe), the alcohol taste is a little more noticeable. It's not more burn or bite, but more of that pure alcohol taste.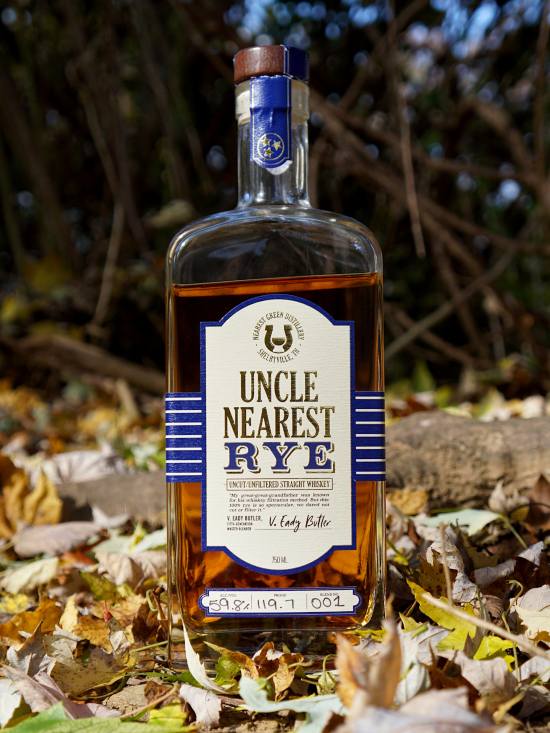 On the finish, there's honey, licorice, pear, caraway seed, roasted oak, clove, bananas, bubblegum, and toasted grains with lingering mint, pear, and grain. After "chewing", I'm left with dried oak, caraway seed, honey, licorice, pear, and caraway seed. Like the flavors, the balance is more bitter and earthy than I'd like.
The scents are generally balanced and enjoyable, but the flavors suffer more from the youth and barrel selection that prevent it from being more than decent.
If you're shopping on Amazon, support The Whiskey Shelf by shopping through my affiliate link – Shop Amazon. I may earn a commission from your Amazon purchases.
Uncle Nearest Straight Rye Rating

Uncle Nearest 100 Proof Rye is not bad but not great. It's disappointing either way because I truly want to enjoy it and tell everyone that Uncle Nearest's more widely-available rye is great…an easy buy. It brings me no joy to write that I don't recommend it. And remember, this is coming from a person who received a media sample (full bottle) from Uncle Nearest. Regardless, honesty is the most important thing in my reviews.
The scents still provide a decent range of herbal, fruity, earthy, and oaky fragrant notes, with nothing weird or off. They're just strangely light for 100 proof straight rye whiskey. The youth rears its head in the flavors with the surface-level traits and the more unsavory earthy and oaky bitterness, and alcohol after "chewing".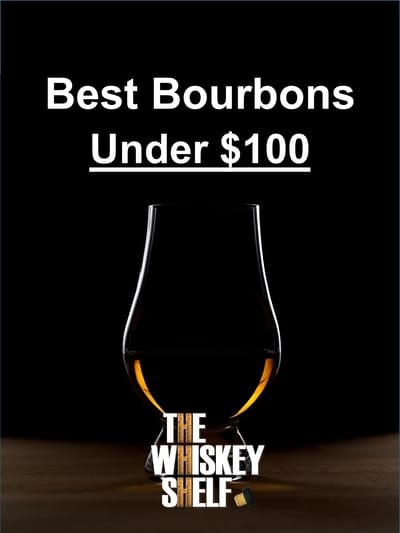 Too often it feels immature and lacking depth. "Chewing" is when the great whiskeys shine, releasing more of the goodness that just needs some extra encouragement. This got worse, and that's a big reason why it's firmly a "Mid Shelf" whiskey.
It's a big step down from the really good and unique distillery-only Uncut Rye. A lot of factors affect what goes into the bottle, but I wonder if less than ideal barrel selection, and lower ABV to a lesser extent, pulls down this version compared to the way richer Uncut rye.
I anticipate that you'll start seeing this on many retail shelves. You might think to yourself, "I didn't know Uncle Nearest had a rye, I wonder if I should try it". That's a reasonable thought because the brand is so well-known and widely distributed. The problem is that I don't want you to be disappointed with this purchase. You still might really enjoy it because everyone's senses are different, but based on my own experience I'm not confident that will happen.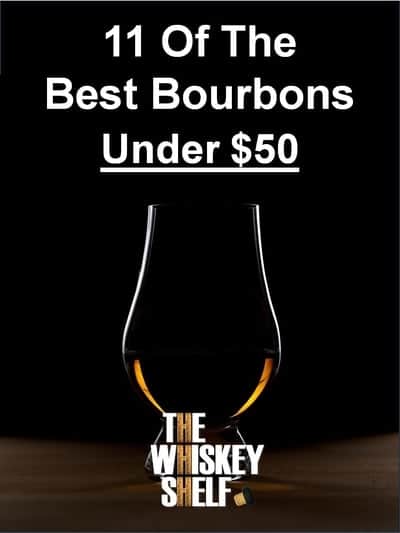 I have no idea what went on behind the scenes to make Uncle Nearest 100 Proof Straight Rye. I can only tell you about how the end result drinks for me, and unfortunately a worthwhile experience isn't there. This rye needs some work before it's worthy of a $50ish price tag, because there's a lot of great competitors at that price. I continue to be a fan of Uncle Nearest, but not of this whiskey.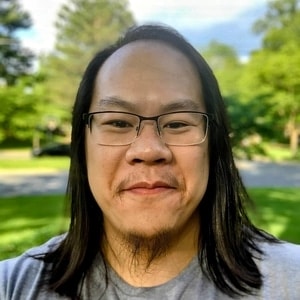 I have far too much fun writing about whiskey and singlehandedly running The Whiskey Shelf to bring you independent, honest, and useful reviews, comparisons, and more. I'm proudly Asian American and can speak Cantonese, Mandarin, and some Japanese.
There are no sponsors, no media companies, and no nonsense. Support The Whiskey Shelf by 
Buying Me A Shot
.