Evan Williams 12 Year vs Old Ezra 12 Year
Heaven Hill Faceoff: Evan Williams 12 Year vs Old Ezra 12 Year
Heaven Hill bourbon has been sold under many names over the years
Heaven Hill-made bourbon has come out in many names and forms over the years. Two of the most well-known are Evan Williams (duh, it's a Heaven Hill brand) and Old Ezra / Ezra Brooks, sold by Lux Co. At one point, both of these companies sold a 12 year old and 101 proof bourbon.
In Japan, there was time when
Evan Williams 12 Year
and
Old Ezra 12 Year
were on the shelves at the same time (what an incredible time to be a bourbon lover), up until Old Ezra was discontinued sometime in the early 2010's. With the very clear references to the 12 year age and 101 proof, they likely were competitors too.
At first thought, it seems strange that Heaven Hill would allow for this type of competition, but then again different branding, labeling, and bottle shape could help differentiate them.
There also may have been the added benefit that people would prefer to buy 2 different bottles over 2 of the same one, thus helping Heaven Hill also sell more bourbon overall. That's all my personal speculation though.
These days, Evan Williams 12 Year continues to chug along as an available and affordable option in Japan, but as an expensive distiller-only release in the US; while Lux Row's only 12 year bourbon now is their 12 year double barrel bourbon, a distillery / Kentucky-only release.
Thankfully, I was lucky enough to find a hidden bottle of Old Ezra 12 Year, and easily grab Evan Williams from a local store. With these two bourbons, I wonder just how different they might be even though they have the same age, ABV, and distillery source. Were people being mislead or were they truly different bourbons?
They were obviously marketed as different bourbons, but let's find out if the spirit itself is different in this Evan Williams 12 Year vs Old Ezra 12 Year comparison.
As an FYI, I bought and use these Glencairn glasses for my reviews and comparisons (because they're the best): Glencairn Crystal Whiskey Glass, Set of 6, Clear, 6 Pack. Full transparency, this is an affiliate link, so I may earn a commission if you buy this or something else from Amazon.

If you're shopping on Amazon, support The Whiskey Shelf by shopping through my affiliate link – Shop Amazon. I may earn a commission from your Amazon purchases.
Before I get to how these bourbons drink, Evan Williams 12 Year and Old Ezra 12 Year are radically different in color. Old Ezra is lighter with a reddish hue (looks great by the way) while Evan Williams 12 Year is noticeably darker and looks more like cola.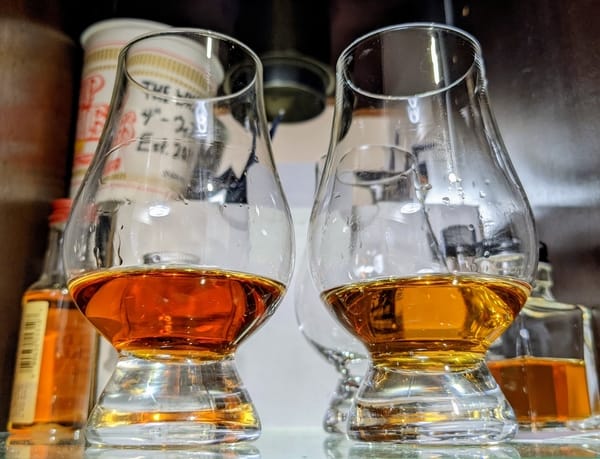 Left: Evan Williams | Right: Old Ezra
In terms of drinking, wow these two are shockingly different. It's so tough to pick the "better" one because they're both amazing bourbons, so it comes down to the preferred profile. I'm the winner regardless because I get to have them both, but I'd have to pick Old Ezra 12 Year because it's more fruity and vibrant, yet equally as deep and rich.
Honestly, the radar chart really doesn't capture just how different they are. Both bourbons are equally as sweet and fruity, just in contrasting ways.
Evan Williams 12 Year is so dark, heavy, and earthy with a lot of caraway seed and rosemary, drinking like a bourbon with 30-40% rye in the mashbill similar to Woodinville Cask Strength.
The sweetness borders on molasses, and there's a surprising amount of prune and date, unique in unfinished bourbons these days. That combination of sweetness, spice, and medicinalness also gives off a root beer vibe.
It's also a little less complex, but doesn't take away from how great it is.
Old Ezra 12 Year
is far more fruity, delicate, varied, vibrant, and light (but not in a bad way).
Evan Williams
mostly has prune and date (dark fruit), but Old Ezra has cherry, apple, orange, peach, apricot, and pineapple (brighter and more vibrant fruit). Old Ezra is more herbal (licorice, fennel) but way less earthy (caraway seed, rosemary).
If you think about it in terms of sound equalization, Evan Williams is more bass-heavy while Old Ezra has more mids.
The great thing is that while Old Ezra is brighter in comparison, it still has plenty of richness to hold up against Evan Williams' heavier traits. Usually, the weaker and thinner bourbon's flavors are washed out when it's drank second, so I get less sweetness and more graininess. This time, Old Ezra held onto everything, even the more delicate fruitiness, which is a testament to its richness.
So no, Evan Williams 12 Year is not a suitable substitute for the discontinued Old Ezra 12 Year, but are still awesome bourbons worth savoring and appreciating. Bourbon may have some pretty strict rules, but so much variety still comes from it.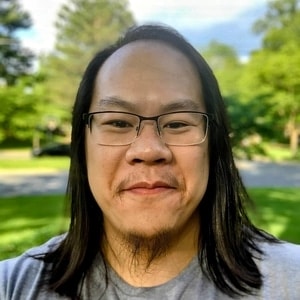 I have far too much fun writing about whiskey and singlehandedly running The Whiskey Shelf to bring you independent, honest, and useful reviews, comparisons, and more. I'm proudly Asian American and can speak Cantonese, Mandarin, and some Japanese.
There are no sponsors, no media companies, and no nonsense. Support The Whiskey Shelf by 
Buying Me A Shot
.
Maker's Mark Cask Strength Comparison
Comments are closed.