Buffalo Trace vs Blanton's Black Comparison
Buffalo Trace vs Blanton's Black
How does Blanton's lowest ABV offering hold up to Buffalo Trace?
I'm always curious how a less-ish hyped bourbon compares to a hyped one. This time, I'm comparing
Buffalo Trace
, the moderately priced and somewhat hyped mashbill #1 offering, and Blanton's Black, the export-only release that's the lowest ABV version of mashbill #2 Blanton's.
But unlike my
Buffalo Trace vs Blanton's Gold
comparison, I'm swinging the other way on the ABV spectrum so Buffalo Trace has 5% greater ABV. Barrel selection is still a factor, but it's impossible to control for that.
Out of everything, the price gap may be the most drastic difference. Even in Japan, Blanton's Black is double the price of Buffalo Trace (but equally as easy to get). In the US it's probably 6-8 times more expensive. So you have to wonder how much better Blanton's might be to justify the price, or you know…it's all just hype.
As an FYI, I bought and use these Glencairn glasses for my reviews and comparisons (because they're the best): 
Glencairn Crystal Whiskey Glass, Set of 6, Clear, 6 Pack.
Full transparency, this is an affiliate link, so I may earn a commission if you buy this or something else from Amazon.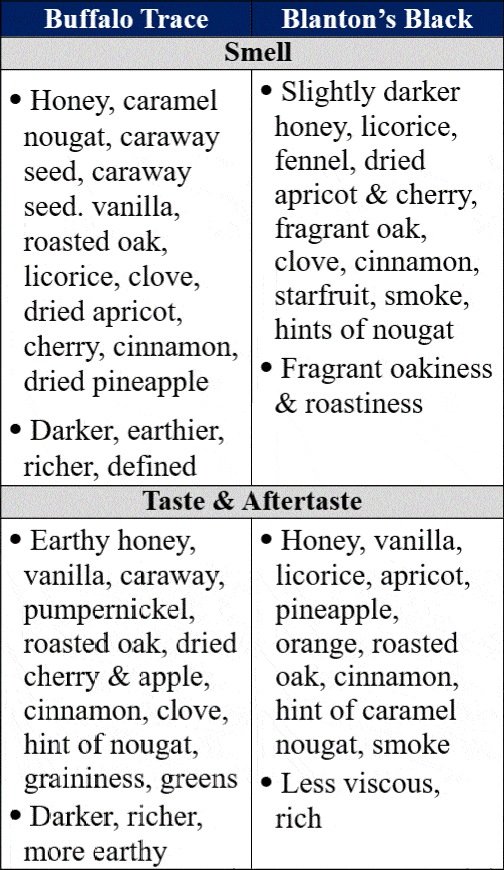 If you're shopping on Amazon, support The Whiskey Shelf by shopping through my affiliate link – Shop Amazon. I may earn a commission from your Amazon purchases.
All in all, I pick Buffalo Trace, which I did not expect. From memory, I thought that Blanton's Black, while varied but overall not that thick, would still have enough heft to match Buffalo Trace. Oh boy was I wrong about that.
While there's only a 5% difference in ABV, Buffalo Trace swings around its greater heft and richness as if it were stronger, or Blanton's weaker.
Both have overlapping traits, so personality-wise they aren't all that different. While there is overlap in sugar, fruit, and herbal/ earthy and sugar, Blanton's Black leans closer to light-moderate while Buffalo Trace is clearly smack in the middle of moderate, and unfortunately the chart above isn't quite nuanced enough to capture that difference.
Drinking it in real life, it's clear that Buffalo Trace is the sweeter and more earthy bourbon, while Blanton's Black is a bit more herbal and oaky. In the scents, Buffalo Trace comes off as the darker, richer, and better defined bourbon. Blanton's Black has fragrant oakiness and roastiness, which might suggest an older age, but for the most part is overpowered.
In the flavors, Blanton's Black is clearly less viscous and rich, although it's a bit more fruity, herbal, oaky, and smoky in terms of balance. It's not thin, but it has less body than Buffalo Trace, which is darker, richer, earthier, and more viscous.
I really didn't expect that 5% ABV difference to make a huge difference, but I can't deny that it does. There is something about Buffalo Trace's graininess that I don't love though, which Blanton's Black doesn't have.
Now that I've compared
Buffalo Trace to Blanton's Gold
and Blanton's Black, I'm learning that my senses adjust to the whiskeys in the comparison. Buffalo Trace was washed out by Blanton's Gold, so it was mostly herbal and fruity, while it comes off totally different when compared to Blanton's Black. Just something to keep in mind when you do comparisons.
To wrap this up, Blanton's Black is nice, but by far the least-compelling Blanton's I've ever had. This comparison, for me at least, reinforces there aren't many compelling reasons to get this when you have
Blanton's Red
,
Gold
, and
Straight From the Barrel
to choose from. Buffalo Trace, teetering on the cusp of "Mid Shelf+", is a solid $20-30 bourbon that isn't a pushover, and actually pushes over Blanton's Black.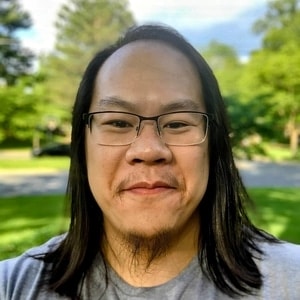 I have far too much fun writing about whiskey and singlehandedly running The Whiskey Shelf to bring you independent, honest, and useful reviews, comparisons, and more. I'm proudly Asian American and can speak Cantonese, Mandarin, and some Japanese.
There are no sponsors, no media companies, and no nonsense. Support The Whiskey Shelf by 
Buying Me A Shot
.
Maker's Mark Cask Strength Comparison