Bardstown Bourbon Company Chateau de Laubade Batch 2​ Review [In Depth]
Bardstown Bourbon Company Chateau de Laubade Batch 2
Bardstown Bourbon Company Chateau de Laubade Batch 2​ Details
Distillery: Bardstown Bourbon Company (sourced release)
Type & Region: Bourbon, USA
Alcohol: 53.5%
Composition: 12 Year Kentucky Bourbon (75% corn, 13% rye, 12 barley), 10 year old Tennessee Bourbon (84% corn, 8% rye, 8% barley)
Color: 1.4/2.0 on the color scale (tawny)
Price: $160
From the company website:
Our first collaborative release with Chateau de Laubade gained legendary status, winning "best in class" for finished bourbons at the San Francisco World Spirits Competition. For the second iteration, a custom bourbon blend accentuates the nuanced flavors from each barrel. Bold Kentucky bourbon balances oak that is bursting with fiery Armagnac. The Tennessee bourbon provides a hint of citrus to complement Laubade's unique floral notes.
Bardstown Bourbon Company Chateau de Laubade Batch 2​ overview
Let's get this out of the way first – Bardstown Bourbon Company Chateau De Laubade Batch 2, the Armagnac finished bourbon from the well-known Kentucky distillery and sourcer, is going to be different from the incredible "Top Shelf+" batch 1. It's inevitable, and that's ok.
Batch 1 is a masterpiece, one of the best bourbons I've ever had, and one that made them darlings of the bourbon world. I had the foresight to buy 2 extra, but in hindsight should have bought 4 more when I had the chance when they were "just" $140 a bottle. Damn my lack of unlimited money.
Most of you have not had batch 1, a cult classic limited to ~6000 bottles in 2020, but the larger batch 2 provides the opportunity for more people to find out what it's about. I was so happy to find out that they were making batch 2, hoping that lightning would strike twice, and eagerly awaited my chance to get a bottle. Obviously I did.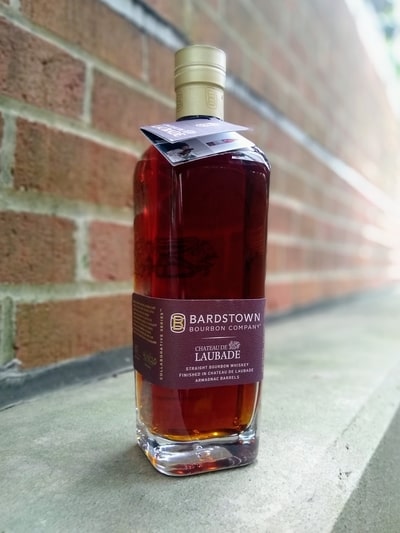 I don't write all of that to discredit batch 2 even before I've reviewed it, but to approach and appreciate this with a fresh perspective given how much history I have with batch 1. So much has changed in the 2.5 years between batch 1 and batch 2 so it's unfair to expect it to be the same. One of many massive changes is that no one can source the same whiskey they could back in 2017-2020.
It's all a sign of the times. Batch 1 is 12 year old MGP, which is now stuff of legend but was abundant in the early to mid 2010's, while Batch 2, for better or worse, is a blend of 12 year old Kentucky Bourbon and 10 Year old Dickel. Given how expensive 12 year old sourced Kentucky Bourbon is, Dickel probably makes up at least half of the blend.
Unless you're charging $200+, virtually anyone slapping a double-digit age statement on sourced bourbon is using some (or a lot of) Dickel, although there are some exceptions. Oh and it's gotten $20-30 more expensive.
The part that hasn't changed as much is the finish. You still get a bourbon that was finished for a long time: batch 2 for 16 months while batch 1 for 18 months. 16 months is a long long time when most finishes are 3-6 months max. Blackened finished a 6 year old Kentucky Bourbon for probably 6 months (at most) in white port casks and charged $100. 16 months is no joke.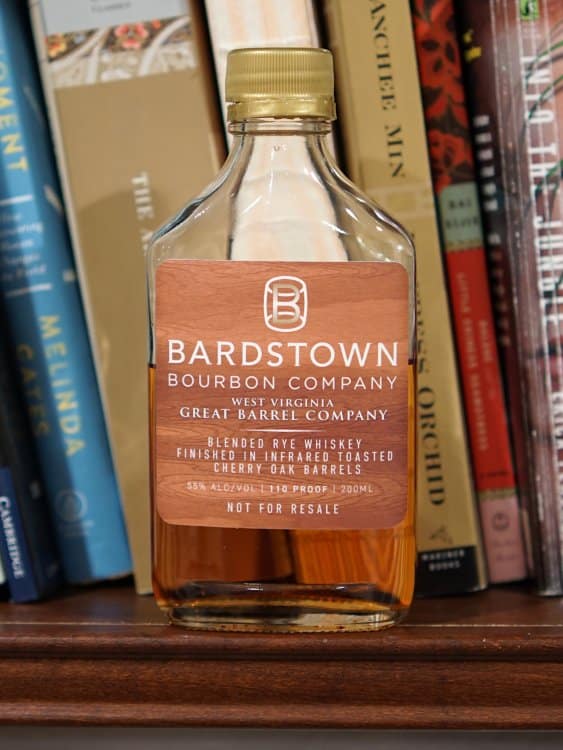 For brief background, Armagnac is a French grape brandy, similar-ish to Cognac. There are some differences in grape varietal and distillation, but it's often considered the more "rough and tumble" version if that makes any sense. While Armagnac has a huge range of personalities, you can expect it to bring a lot of dark grape, orange, ginseng, honey, and cinnamon among other things. I find it to be a great complement to bourbon, and a great spirit in its own right.
This bourbon has a legacy to follow, but I want to forget that for this review. I just want this to be another amazingly-crafted and compelling bourbon, regardless of pedigree. Let's find out if it brings its own masterful and unique experience in this Bardstown Bourbon Company Chateau De Laubade Batch 2 Bourbon review.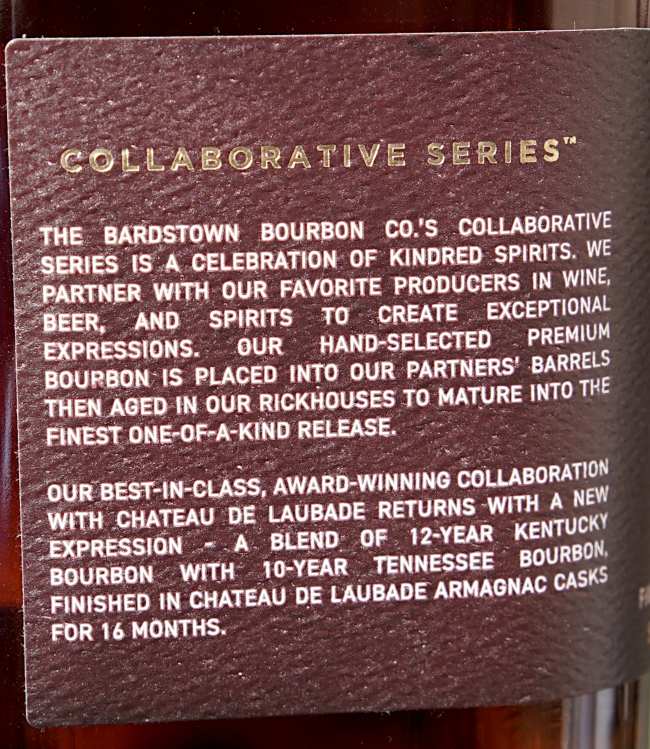 Bardstown Bourbon Company Chateau de Laubade Batch 2​ smell
Dark sweetness and richness lead the way with dark caramel, a lot of candied ginger, dried orange, vanilla, roasted oak, cinnamon, red apple peel, cardamom, and a little minerality. With air, the Dickel component, or at least the nutty minerality, is well tamed. So far, this combination leads to a bourbon that is sweet and very gingery with candied ginger and freshly peeled ginger, which I often get from Armagnac.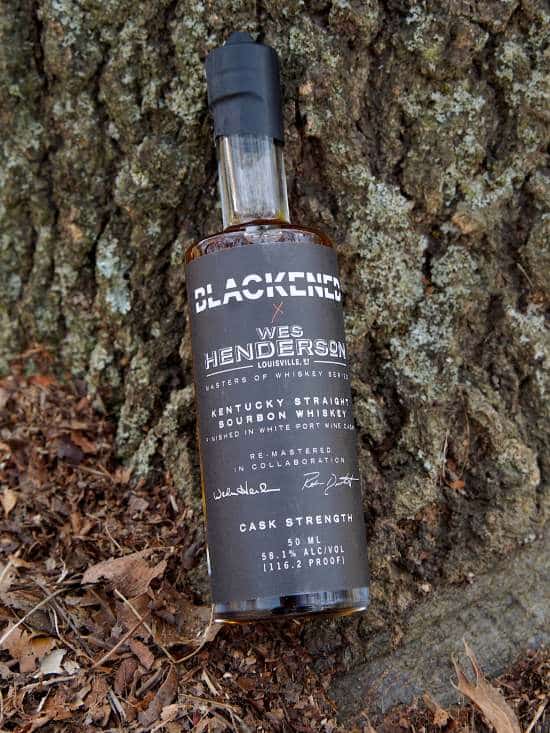 After swirling and rest, I get dried and candied ginger, caramel, dried orange and red apple, roasted oak, cinnamon, nutmeg, and lime. It doesn't change much after swirling, so it's still a ginger and dried orange-forward smelling bourbon. If there is any Dickel minerality, it does a good job of hiding from me.
Bardstown Bourbon Company Chateau de Laubade Batch 2​ taste and aftertaste
Denser gingery caramel, dried orange, vanilla, roasted oak, candied ginger, cinnamon, red apple peel, and a little dried cherry, lime, and Dickel minerality come with my first sip. I will say, this tastes noticeabely better than it smells with more gingery sweet pop and oaky spices and dried fruit. There's fairly subdued Dickel minerality and nuttiness, which I think many will appreciate given some people's aversion to it.
So far, there's slightly above average viscosity, but the viscosity isn't noteworthy
After "chewing" there's ginger-y caramel, dried orange and apple peel, vanilla, roasted oak, clove, cinnamon, lime zest, and some minerality and dried nuttiness. The stronger "chewing" coaxes out a little more of the Dickel character, but it's still far from overdone.
The ginger and citrus zest pops, but otherwise everything else feels a bit too soft for my liking. The flavors are there, but they generally don't have great clarity and feel somewhat muddled together. Maybe it's a little too easy to drink.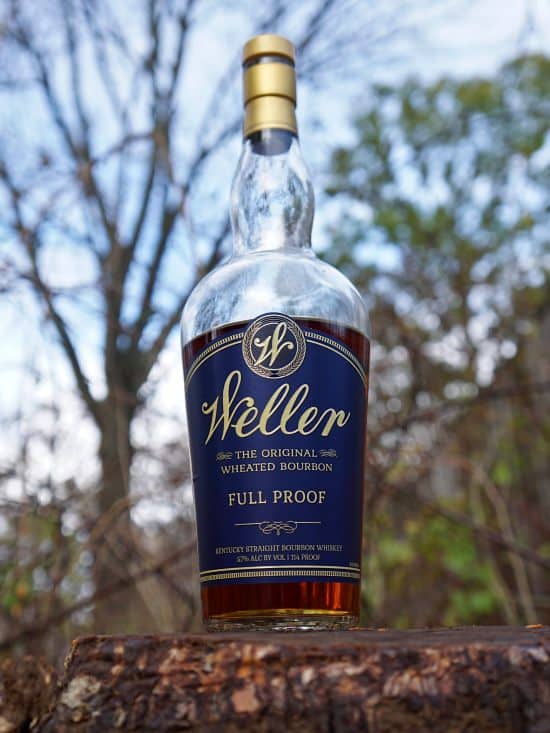 The finish starts off with caramel, ginger, lime zest, roasted oak, and cinnamon with lingering candied ginger, lime zest, and caramel that leaves a nice and vibrant freshness. After "chewing" it's candied ginger, caramel, dried orange and apple peel, oak, and lime zest. The finish is amazing…truly…vibrant and zesty.
Here's the thing, Bardstown Bourbon Company Chateau de Laubade Batch 2 taste amazing and I absolutely enjoy drinking it, but compared to great bourbons, this doesn't have the same impact, richness, and layers to make it really special.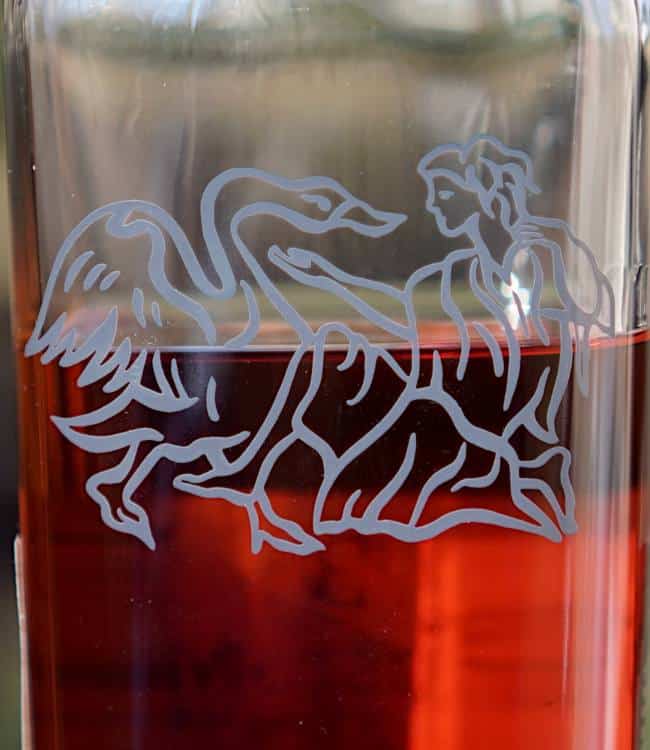 If you're shopping on Amazon, support The Whiskey Shelf by shopping through my affiliate link – Shop Amazon. I may earn a commission from your Amazon purchases.
Bardstown Bourbon Company Chateau de Laubade Batch 2​ Rating

Bardstown Bourbon Company Chateau de Laubade Batch 2 standalone is a fantastic finished bourbon that leans-in to the candied ginger and fruit zest / peel. It smells great but tastes even better, although the combination of everything feels like it has a limited ceiling that prevents it from being unforgettable. Do not buy this because you want a batch 1 alternative, because it's far from it
Let me repeat it again, it's a really enjoyable bourbon, but I guess I'm saying that you need to lower your expectations. Oh boy, you're going to get a lot of mixed messages if you didn't realize that already.
Honestly, deep down in my heart I am disappointed with Bardstown Bourbon Company Chateau de Laubade Batch 2. It's not because they couldn't / didn't re-create batch 1, but because they couldn't create a comparably as amazing experience. I still want incredible density, complexity, and the desire to say "wow". The rating reflects how I think it drinks in isolation, but I can still lament everything else about it.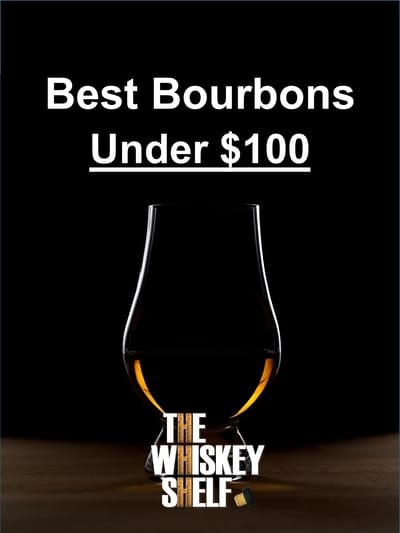 I'm especially sad that the tobacco and dried berry notes are gone, two of my favorites in all of bourbon. The ginger is a great addition, but it's not enough to make batch 2 feel complete.
I know they have the ability to make this better because they created the incredible "Top Shelf+" West Virginia Great Barrel Company Rye. Maybe they backed themselves into a corner using the Chateau de Laubade name, and this is the best they could do given the limitations around the bourbon they could use while maintaining some required profit margin. And that probably is the problem – this blend of Kentucky Bourbon and Dickel isn't right for this.
Now that I've had
17 year old George Dickel
, I think that it would have been a far better component in this blend than the 10 year stuff (admittedly more expensive too). But for $160, one of the most expensive bourbons they've released, you have to dig deep for the really good bourbon because people are expecting a lot from you, especially with the Bardstown Bourbon Company name.
I write that because the 17 year I reviewed had so much dark chocolate, dried berry, and tobacco that would have been further amplified and amazified by the finish, bringing more darkness and maturity.
I speculate, with no real basis, that the blend of bourbons was designed to control cost (considering the Armagnac casks probably were expensive and finishing for 16 months is REALLY expensive), yet still look good enough at face value. Maybe 10 year Kentucky Bourbon and 17 year Dickel would have been a better combo.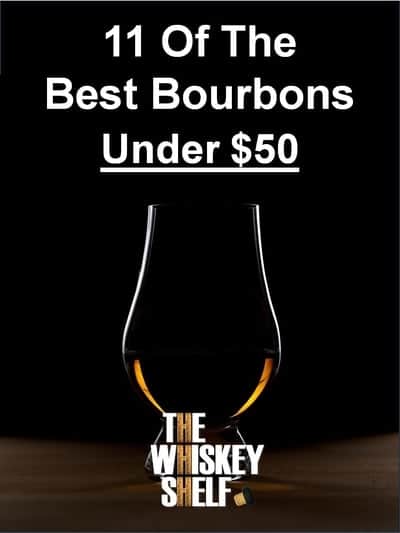 By the time you read this it's probably too late, but batch 2 is not a must have bottle. It doesn't have anything to do with it falling short of batch 1, but from it not doing nearly enough to justify the price (price doesn't affect the rating). Like I said before, unfortunately this is likely the only crack you'll get at one of these Laubade Finishes, so FOMO is a big part of getting this.
Would I get another bottle? No. Should you get a bottle if you still can? Eh, maybe split a bottle with a few friends.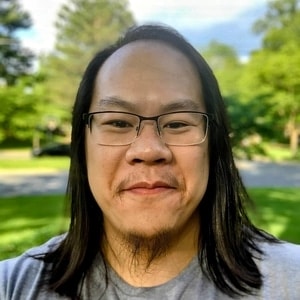 I have far too much fun writing about whiskey and singlehandedly running The Whiskey Shelf to bring you independent, honest, and useful reviews, comparisons, and more. I'm proudly Asian American and can speak Cantonese, Mandarin, and some Japanese.
There are no sponsors, no media companies, and no nonsense. Support The Whiskey Shelf by 
Buying Me A Shot
.