ancient ancient age 8 year bourbon overview
Ancient Ancient Age 8 Year Bourbon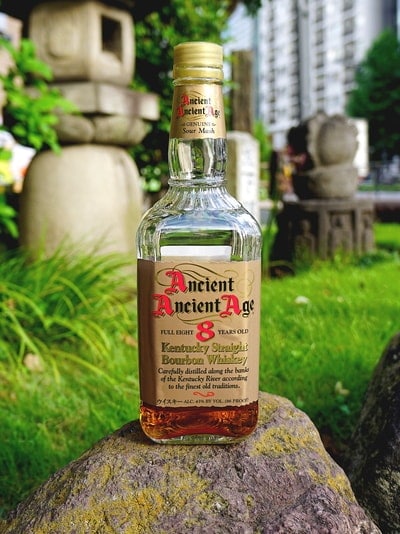 From the back of the bottle:
"…By 1868 an existing distillery which would eventually be k nown as the Ancient Age Distilling Company was officially licensed on the site. From the very first barrel it was known for its fine, smooth whiskey, beginning a tradition of excellence which continues to this day. Steeped in history and tradition the Ancient Age Distilling Company, the largest bourbon distillery in the world, still occupies its original site on the old Buffalo Trace"
blanton's red hba select overview
Ancient Ancient Age 8 Year Bourbon (often called 3A) is the last-bottle-standing age-stated version of Ancient Age…and it only exists in Japan. To my knowledge, there are at least 2 other versions still sold in the US – Ancient Age and Ancient Age 10 Star. There also used to be a 10 year version, but that was discontinued years ago.
It's worth mentioning again that Buffalo Trace's mashbill #2 is owned by a Japanese company, and Buffalo Trace distills, ages, and sells it on their behalf. That's also why Japan has a crapload more Blanton's and more variants. Now if you're stuck in the US, you technically could sneak into a rickhouse and try to find and snag a sample from an 8+ year old barrel, but I don't recommend you do that. It's the whole breaking, entering, and theft thing.
That's a good segway into reiterating that Ancient Ancient Age 8 Year uses Buffalo Trace's mashbill 2, making it sort of the "budget" Blanton's, especially the Red version, which is supposedly around 8 years old as well. So in many ways, 3A and Blanton's Red are very similar, but Red is 46.5% instead of 43%, and also single barrel instead of batched. 
You can't hide any flaws with a single barrel while you can hide them in a batch of 2 to who knows how many barrels. Now that I think about, Ancient Ancient Age 8 Year is the only age-stated mashbill #2 bourbon. Elmer T Lee, Rock Hill Farms, Hancock's Reserve, all Blanton's, and all other Ancient Ages don't have explicit age statements. That's actually pretty cool if you think about it. 
In this Ancient Ancient Age 8 Year Bourbon review, find out if it's just a watered-down and forgettable mashbill #2 bourbon blended from reject Blanton's, or actually an affordable yet high quality bourbon in its own right.
As an FYI, I bought and use these Glencairn glasses for my reviews and comparisons (because they're the best): Glencairn Crystal Whiskey Glass, Set of 6, Clear, 6 Pack. Full transparency, this is an affiliate link, so I may earn a commission if you buy this or something else from Amazon.

Buffalo Trace Lineup of Reviews
ancient ancient age 8 year bourbon smell
Ancient Ancient Age 8 Year out of the gate reminds me so much of Blanton's Red. It has dark, musty, and herbal honey, dried oak, fennel, licorice, dried ginseng, rosemary, dried berries (cherry is the most prominent), green grape, dry oak, cinnamon, clove, and a little bit of rose and apple peel. That first sniff has a bit of alcohol sting, but it's not a big deal. There's this prominent, but not overbearing, oakiness, dryness, and earthiness. I can't help but think that this smells very good already.
Swirling brings out a bit more of that earthy and sweet toasted honey, licorice, fennel, marshmallow, green grape, baked apple skins, rosemary, thyme, hints of darker caramel and dried berries, dry and musty oak, and clove. Every now and then the green grape and apple will come to the front for a quick change of pace. The herbal and earthy darkness is interesting, reminding me a bit of 51%-rye rye whiskeys. Over time as this bourbon is almost gone, I start to get hints of dark chocolate.
It's not necessarily incredibly dense and complex, but it still has enough heft and variety that I honestly just enjoy smelling it.

ancient ancient age 8 year bourbon taste and aftertaste
At first I taste herbal and earthy honey, licorice, fennel, dried cherry, red apple, orange peel, vanilla, dry oak, clove, cinnamon, ginseng, rosemary, and green grape. There's a smidge of alcohol bite as well, but it's not abnormal. Man this tastes so much like Blanton's Red, especially with that dry herbalness and oakiness. 
As a side note, drinking this makes me wonder if the more sweet and fruity, and far less herbal and earthy Blanton's Red HBA Select is "off-profile" for Blanton's Red.

With "chewing", Ancient Ancient Age 8 Year Bourbon has herbal, oaky, and earthy honey, cherry, vanilla, licorice, fennel, red apple, green grape, a spritz of orange, dry oak, clove, rosemary, and cinnamon bun with raisins. There's definitely an interesting toasted cinnamon bun thing going on here. 
This is quite flavorful, made even more impressive by the 43% ABV, hitting a range of sweet, herbal, fruity, earthy, oaky, and spicy flavors. It's still not hugely viscous, but Ancient Age 8 Year still has both decent viscosity and flavor, making it a very good bourbon.

The finish starts off pretty dry and earthy up front with a little bit of honey, licorice, and green grape sweetness, and rosemary and ginseng dryness and earthiness. "Chewing" gives me a little more sweetness this time with honey, cherry, and green grape first then the usual roasted oak, ginseng, rosemary, and clove. A lingering gentle mix of sweetness, herbalness, oakiness, and earthiness cap off a surprisingly good bourbon.
Whiskey is also for sharing, so I use Vivaplex, 12, Amber, 2 oz Glass Bottles, with Lids for smaller samples and Vivaplex, 12, Amber, 4 oz Glass Bottles, with Lids for larger ones. Full transparency – This is an Amazon affiliate link so I may earn a commission if you buy this or something else. Regardless, I actually use these myself.
Ancient Age 8 Year Rating

Ancient Ancient Age 8 Year Bourbon is pleasantly fragrant, tasty, and enjoyable for a sub-$30 bourbon. While it's still not "Top Shelf" bourbon because it still lacks some depth, intensity, and pop in all that it has (which is still a fairly long list of traits), I keep thinking "alright this is really good" and then enjoy another sniff and taste, which is also compliment.
This has an interesting mix of slightly more forward herbal, earthy, and dry traits, followed by just a tad less sweet, fruity, and spicy traits that are quite enjoyable and outperform its ABV and price. I truly believe that it's also quite similar to Blanton's Red, and actually not that far off either. 
The price difference is even more shocking ($25 vs $70-90) because there isn't a $50 gap in quality. Ancient Ancient Age 8 Year is just a great affordable bourbon that reminds me that whiskey pricing is really wacky.

Initially thinking that Ancient Ancient 8 Year was the cheaper version of Blanton's Red made me assume that it was a blend of "less good" barrels, but now I know that this is more like the batched, lower ABV, and slightly less rich version at a far more accessible price. Barrel selection probably has a hand in why it's a bit less rich, but overall I don't feel like I'm sacrificing much going from Blanton's Red to this.
If you ever end up find your way to Japan, buy a bottle (or case) and enjoy it because it's definitely worth it.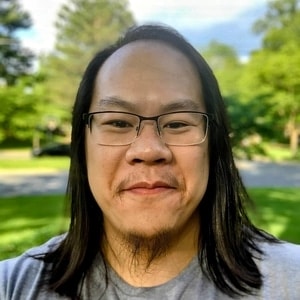 I have far too much fun writing about whiskey and singlehandedly running The Whiskey Shelf to bring you independent, honest, and useful reviews, comparisons, and more. I'm proudly Asian American and can speak Cantonese, Mandarin, and some Japanese.

There are no sponsors, no media companies, and no nonsense. Support The Whiskey Shelf by Buying Me A Shot.

Comments are closed.