laphroaig 10 cask strength review
Laphroaig 10 Cask Strength (Batch 7)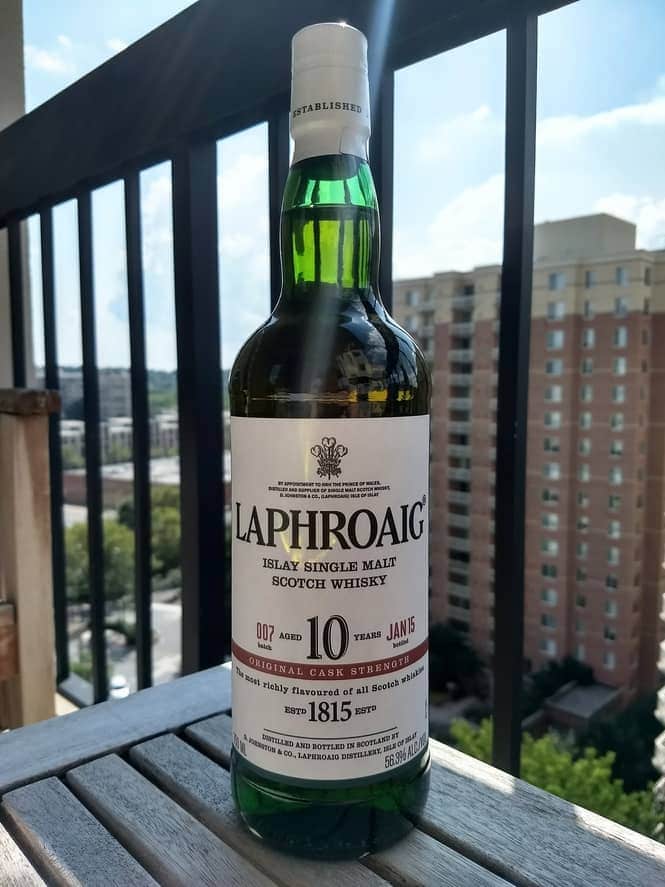 Distillery: Laphroaig
Type & Region: Scotch, Scotland, UK
Alcohol: 56.3%
Composition: 
100% Malted Barley
Aged: 10 years, aged in used Bourbon barrels
Color: 1.1/2.0 on the color scale (burnished)
Price: $70-80 MSRP (750mL)
From the Laphroaig website (for regular Laphroaig 10):
"Our 10 Year Old is the original Laphroaig, distilled the same way today as when Ian Hunter invented it more than 75 years ago. It is the foundation of all other Laphroaig expressions. In making Laphroaig, malted barley is dried over a peat fire. The smoke ffrom this peat, found only on Islay, gives Laphroaig its particularly rich flavour. Those enjoying the 10 Year Old will first notice the bold, smoky taste, followed by a hint of seaweed and a surprising sweetness. This full-bodied variant is the foundation of all Laphroaig expressions and comes with a long finish."
Laphroaig Cairdeas Triple Wood overview
Laphroaig 10 Cask Strength is a small batch Scotch from the legendary Scottish island of Islay, also home to other famous distilleries such as Lagavulin, Ardbeg, and Bowmore. Like most (but not all) Islay Scotches, this is peated, meaning that a special type of compacted earth is used to smoke the barley prior to mashing and distillation. This imparts very interesting, yet somewhat polarizing, properties. 
For a lack of a better comparison, it's smoked Scotch, just like you might smoke a cocktail or your food to impart new and interesting characteristics. It's almost important to note that because this is small batch, each batch may smell and taste slightly different. 
*For this review, I will drink this both neat and with a little bit of water. I am also reviewing this bottle immediately after uncorking it.
As an FYI, I bought and use these Glencairn glasses from Amazon for my reviews and comparisons (because they're the best): Glencairn Crystal Whiskey Glass, Set of 6, Clear, 6 Pack. Full transparency, this is an affiliate link, so I may earn a commission if you buy this or something else from Amazon.

Elijah Craig Barrel Proof Review
Very intense peat immediately comes rushing out the glass and up my nostrils. It's a funky combination of dust, moss, salt, burnt grass, and smoke. It reminds me of how my shirt smells after being at an outdoor barbeque for a few hours. There's also vegetal smells of mushrooms and broccoli mixed in there. Once I get past the peat, there are light to moderate notes of caramel, honey, and pear. 
The second round of smelling is different as my nose adjusts to the peat. Peat is still the dominant scent, but now I can smell a little vanilla and some pear and apricot. There's also something reminiscent of salty dried seaweed that makes me think of ocean air, with its mix of seaweed, salt, decaying matter, and funk. Even with swirling, the alcohol remains subdued. 
Adding water does little to tone down the peat, but it does introduce a subtle nutty note and slightly more citrus. As the glass empties and the smell of alcohol subsides, I smell a little bit of charred wood. That mix of wood and smoke smells like barbequed meat on the grill. 
This is a beast, and it's awesome. Laphroaig 10 Cask Strength does a great job of capturing the uninhibited ocean-y, funky, and smoky essence of peated scotch. Even better, the alcohol is subdued so it doesn't clash with the peat. If you're not used to peat, be prepared to be shocked and overwhelmed.
Elijah Craig Barrel Proof Review
Just as expected, the taste is very smoky and savory. The mix of smoke, burnt wood, salt, and spice create the taste of smoked and seasoned meat, like brisket or beef jerky, as well as mushrooms. While the smoky meatiness is by far the most powerful taste, there's also a light taste of peach and caramel that is noticeable on the tip of my tongue. As I keep searching, I taste just the tiniest hint of a grain biscuit. The alcohol is noticeable but subdued throughout, and creates a thick mouthfeel.
Not much changes after swirling it in my mouth. It's still very smoky and medicinal with a little bit of sweetness, but the alcohol becomes much stronger the longer I leave it in my mouth. Unless you plan on leaving it in your mouth for a minute, it shouldn't become overwhelming. Adding water doesn't do much to open it up, but it does introduce a slightly grassy taste. 
The aftertaste is no different. The tastes of smoke and dried seaweed linger in my mouth. Some sweetness also reappears, and that mix of sweet, smoky, and savory is like BBQ sauce.
This is an incredibly potent and savory scotch. It's not delicate; it's a smoky, meaty, and powerful beast that will take control of your palate. I really enjoy the intensity and the flavors, but I expected a little more citrus sweetness.
Whiskey is also for sharing, so I use Vivaplex, 12, Amber, 2 oz Glass Bottles, with Lids for smaller samples and Vivaplex, 12, Amber, 4 oz Glass Bottles, with Lids for larger ones. Full transparency – This is an Amazon affiliate link so I may earn a commission if you buy this or something else. Regardless, I actually use these myself.
Place on the Whiskey Shelf

This is an excellent and intense Scotch. It's an absolute peat bomb, and one of the most savory Scotches I have ever had. Drink this while looking out at the ocean at dusk and barbequing with your friends. If you enjoy peated Scotches, you owe it to yourself to buy a bottle of Laphroaig 10 Cask Strength, you will love it. If you want something that's delicate and sweet, stay away.
I remember an earlier batch being a little sweeter, but I unfortunately can't recall the batch number. If batch 7 were a little sweeter, I could see this getting a "top shelf+", or even the coveted "Glass Case" rating.  
Comments are closed.