Glenturret 12 Year Single Malt Review [In Depth]
Glenturret 12 Year Single Malt Scotch (2021)
Glenturret 12 Year Scotch Details
From the company website:
Notes of dried fruits and spices from European oak harmonise beautifully with vanilla and caramel tones from American oak. A small number of carefully selected casks unite to create The Glenturret 12 Years Old – crafted by hand and forming the heart of our range.
Glenturret 12 Year overview
Glenturret 12 Year Single Malt Scotch (this review covers the 2021 release) is the sherried single malt Scotch from the self-proclaimed "oldest" Scotch distillery. I'm not a Scotch historian so I have no idea how true that is or what the caveats are (from what I've read something to do with illegal stills in that location), but that claim is certainly romantic and fun to discuss.
From what I recall from my conversation with Ian Renwicke, distillery manager, and John Laurie, Managing Director, Glenturret 12 Year (at least the 2021 release) is a bourbon matured and sherry-finished single malt Scotch. Don't quote me on that because that may not be entirely correct, that's just what I remember. Regardless, there's definitely a sherry component to it and I know for a fact that it's not peated. Oh, and this is considered a Highlands Single Malt.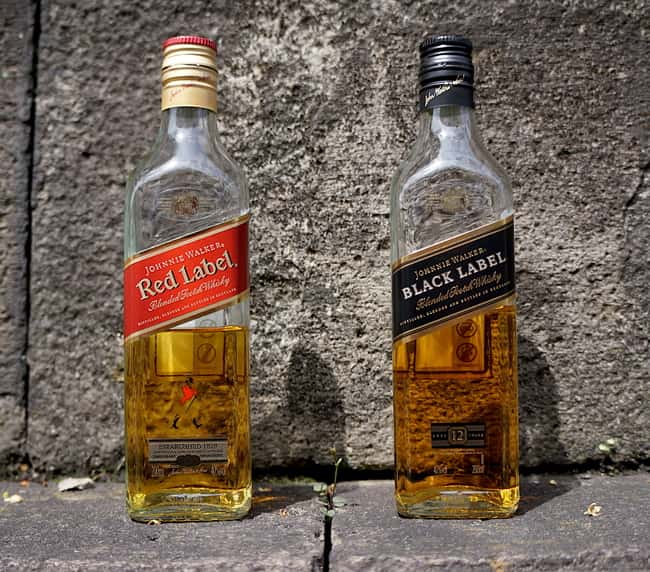 When I think of 12 year old sherried Scotch (aged or finished), Macallan 12 Year immediately comes to mind. That has generally been the gold standard of high-end sherried Scotch, and you Glenturret 12 Year is definitely competing with it.
At the time I wrote this review in 2023, this Scotch (the 2021 and 2022 releases) won a bunch of Gold and Double Gold awards from various spirits competitions. I honestly can't keep track of what competitions, but I've seen that mentioned so wanted to let you know if you want to dig around for yourself. I have mixed feelings about those competitions for various reasons, but that's just me. I trust myself though, so I'll find out soon enough. Anyway, moving on.
I was lucky enough to be invited to Glenturret's event at Jack Rose in November 2022 where I hung out with people from Glenturret and MS Walker (the importer). I got to try the 3 main offerings (Triple Wood, 10 Year Peated, and this one – 12 Year Sherried), a super special VIP 30+ year old single cask (outrageously delicious), and two 20ish year old independently bottle expressions. It was a great time.
Talking with Ian Renwick (Distillery Manager) and John Laurie (Managing Director), I got on my soapbox about how much better bourbon was decades ago and how that has likely affected the quality of Scotch over the years, plus the wonders of new make. Ian is a big time new make appreciator (as am I), so we bonded over at. At minimum, no matter how the Scotch is, it's all around a friendly and approachable group of people.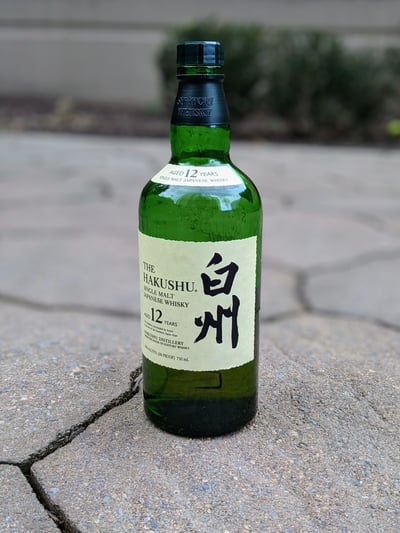 There was a lot of background and exposition in this overview, so let's see what I find out about this award winning scotch in this Glenturret 12 Year Single Malt Scotch review.
Thank you to Glenturret and MS Walker for inviting me. It was a blast, and thanks to John for the follow-up with samples for me to review, of course with no strings attached and no guarantee of a positive review. No matter what, I always hope to write positive things, but I first and foremost keep it real.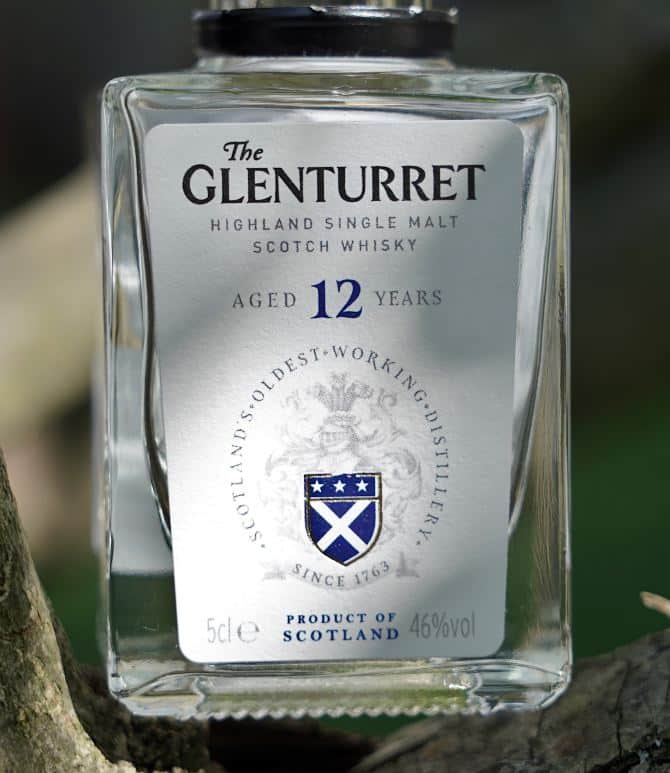 Glenturret 12 Year Single Malt starts off very fragrant with dense prune and date up front, followed by a bright pop of fresh starfruit, old oak, dried apricot, cinnamon, vanilla, grapefruit, toasted biscuit, and a little cocoa powder. It's so fragrant that I could smell it 15 feet away while it was airing out. The sherry finish is front and center with a lot of dark and dried fruit, but there's also a lot of fresh and bright fruitiness that likely comes from the bourbon maturation. This has the depth and complexity of a Scotch older than 12 years old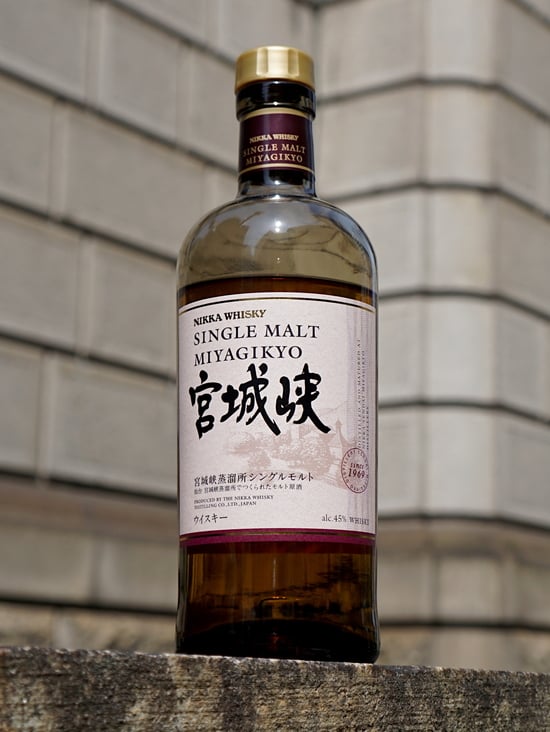 After swirling and rest, I smell dried date and cherry up front followed by dried apricot, starfruit, roasted oak, cinnamon, pear, roasted grain, and cocoa powder. It's great, there's a full-bodied layer of dark fruit (date, berries) on top that melds wonderfully with the brighter tropical fruitiness underneath.
Glenturret 12 Year is full-bodied, rich, fruity, and oh so fragrant. It's wonderful. It doesn't suffer much from the "lower" 46% ABV, and that's a major plus. I'm a huge fan of sherried Scotch and this smells even better than it did at Jack Rose. It's not so big and heavy, but still has a lot of strength and body behind it to be captivating.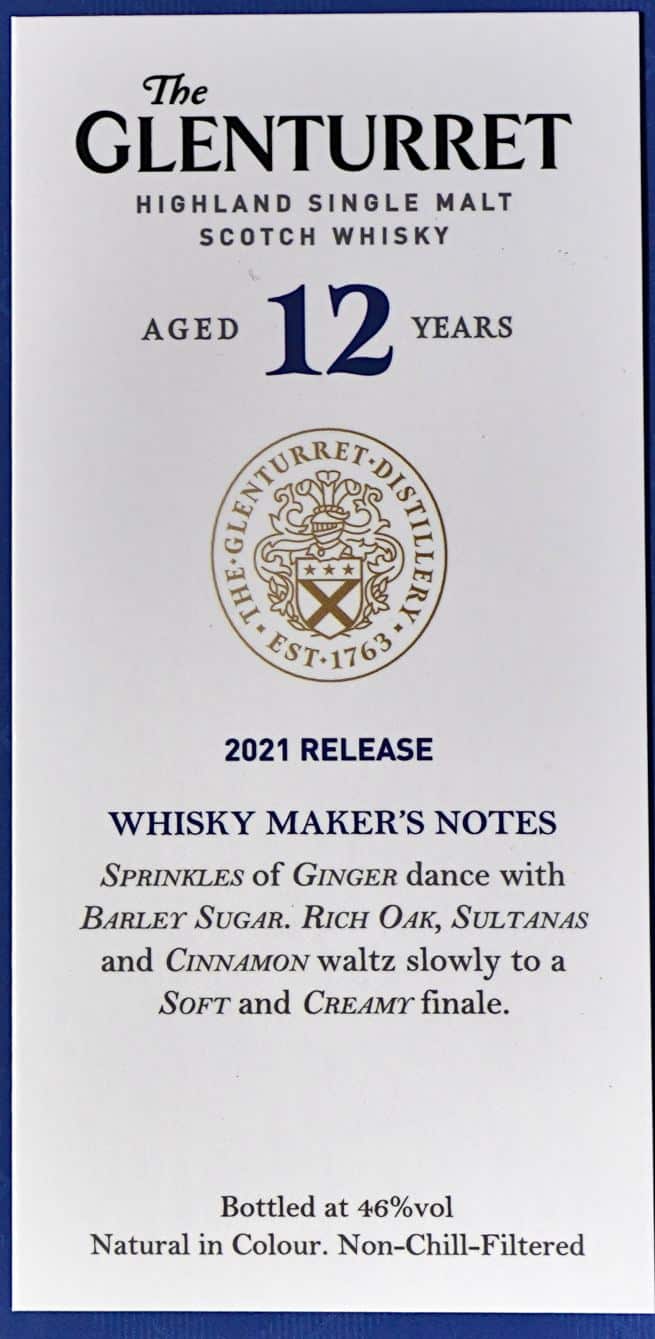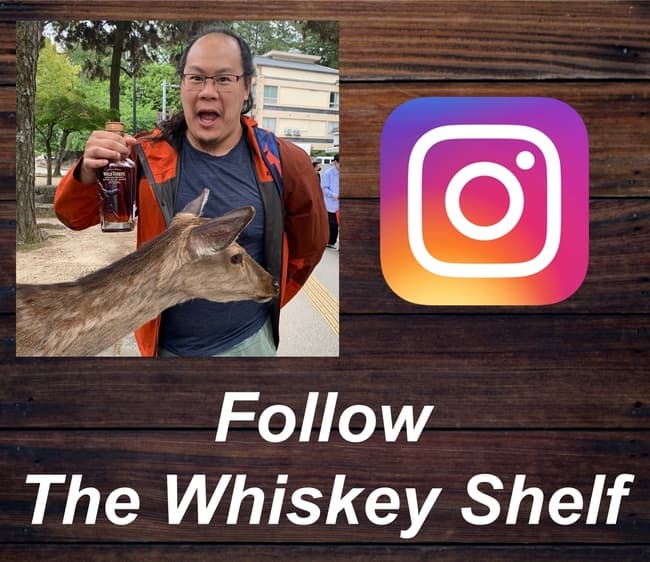 Glenturret 12 Year taste and aftertaste
My first sip has dried cherry and date, bright starfruit, roasted oak, toasted biscuit, cinnamon, vanilla, cocoa powder, dried apricot orange peel, and some lightly bitter oak char and dark chocolate. While the lower ABV is mostly masked in the scents, the flavors expose the lower ABV and lighter-ish body. It still has some body, it's just less substantive than the incredible scents.
The flavors are dark fruit forward, as expected from the sherry finish (maturation?), but also surprisingly oaky and spicy like a bourbon. I find it shocking because I rarely find Scotch to be like this.
After "chewing", I taste denser dates, dark honey, roasted oak, cinnamon spice, dark chocolate, starfruit, dried apricot, fennel, toasted biscuit, and pear. Glenturret 12 Year Single Malt has multiple layers to uncover, from the dark fruit and roastiness that kick in first, followed by spice and tropical fruit. I'm still quite surprised about how roasty and spicy this is, but it's a unique twist. The body opens up a little more so that it's sufficient enough not to hold back the otherwise complex flavors.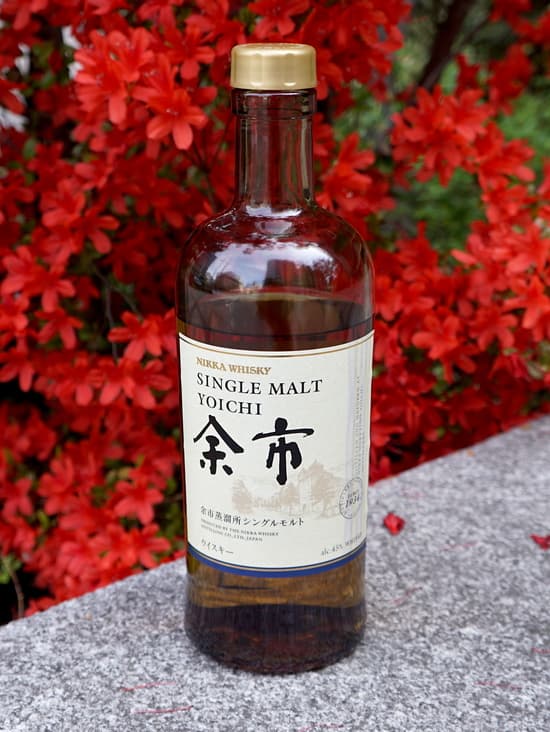 The aftertaste starts with dried cherry and orange peel, then roasted oak, cinnamon, starfruit, lightly burnt cinnamon, mint, and toasted biscuit. Over time, more dark chocolate comes through and I get something akin to black forest dark chocolate cake. After "chewing" it leaves date, roasted oak, cinnamon, honey, and dark chocolate powder, then fades into black forest dark chocolate cake: a decadent and fresh finish.
Glenturret 12 Year is delicious, interesting, and keeps me on my toes looking for more.
If you're shopping on Amazon, support The Whiskey Shelf by shopping through my affiliate link – Shop Amazon. I may earn a commission from your Amazon purchases.
Glenturret 12 Year Scotch Rating

Glenturret 12 Year is far from perfect, but it's still fantastic and I'm very impressed with the experience (yikes, that sentence was full of contradictions). Let me restart, Glenturret 12 Year is delicious, layered, rich-enough, and complex.
Because I'm a bit of a proof whore (and admitted it to the Glenturret team when we chatted), I prodded Ian Renwick, the distillery manager, about why the ABV was so "low". His answer was plainly "because it's best at that ABV". With a result like this, I guess he's right, but wouldn't it be even more incredible at 52-55% ABV? Maybe that's just my bourbon sensibilities talking because most bourbons need the higher ABV to have any substantive flavor. Turns out that this Scotch doesn't need it.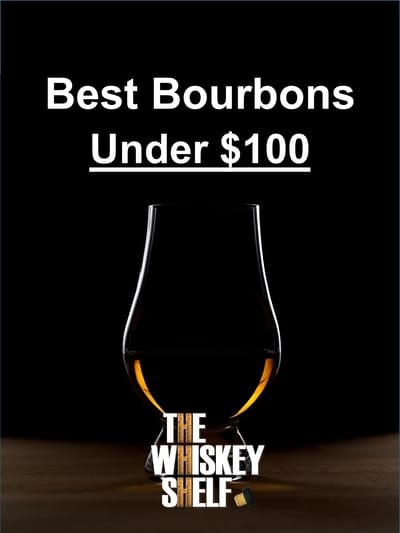 It's so impressive how they crammed so much character into "just" 12 years old and 46% ABV. It's dark and kind of heavy yet also tropical and lively at the same time, all wrapped up in a surprisingly oaky and spicy package. I don't think I've ever had a sherried scotch this oaky or spicy before, but I'll take it.
If you're familiar with sherry-matured or finished Scotch, this will feel familiar yet different. If you like sherry or port-finished bourbon, this is also another interesting twist I think you'll enjoy. As to how it compares to Macallan 12 Year or Glendronach 12 Year, two well-known sherry-matured Scotches, I can't say because I haven't had them in a long time.
I will admit, the silver lining of the lower ABV is that it will hit you a little more gently, making it an outstanding yet easy sipper that doesn't lack character. I know that sounds strange coming from me, but I believe it. There are times when I want a lower ABV but don't want to sacrifice depth, and this is the Goldilocks "just right".
I'll wrap up with this – when I tried this at Jack Rose, I knew it was very good but the hustle and bustle of the packed restaurant dulled my senses, which is normal for me. After reviewing it, clean senses and all, I now know that Glenturret 12 Year (the 2021 release at least) is a fragrant and flavor-packed not-quite-sherry-bomb that delivers the goods. I bet that subsequent releases are and will be great. I'm really happy with it and think you'll be happy too if you happen to get it. Great job Glenturret!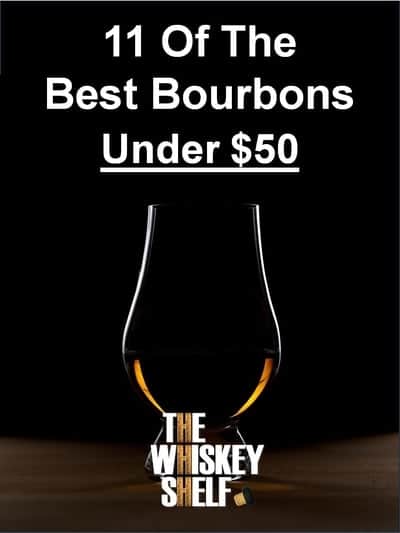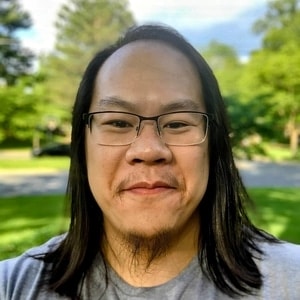 I have far too much fun writing about whiskey and singlehandedly running The Whiskey Shelf to bring you independent, honest, and useful reviews, comparisons, and more. I'm proudly Asian American and can speak Cantonese, Mandarin, and some Japanese.
There are no sponsors, no media companies, and no nonsense. Support The Whiskey Shelf by 
Buying Me A Shot
.