Buffalo Trace vs Old Forester Comparison
Buffalo Trace vs Old Forester 86
Two sub-$30 bourbons (sometimes) face-off
In my continued pursuit of bourbon knowledge, I figured that I should do a Buffalo Trace vs Old Forester comparison to find out how these two distilleries' affordable options compare. Plus I have the bottles, so why not. I'm always down to learn.
Time for a brief history lesson.
Old Forester
is one of the longest-selling brands in bourbon. I'm talking over 100 years, founded before Prohibition. Buffalo Trace is actually relatively new, created in the late 90s after the George T Stagg distillery was renamed to Buffalo Trace. It too has its own history, but Buffalo Trace (the name), actually isn't all that old.
People love to rag on
Buffalo Trace
for all the hype and unavailability, but I could care less. In Japan, where I did this comparison, it was laughably easy to find and affordable ($20-25), so I'm not jaded or annoyed by it. It just exists as another Kentucky bourbon on the shelf, that's way too easy to ignore. Plus, I got this bottle from 7 Eleven, where they don't sell slurpees.
So with comparison, I want to understand how they're different and help you get a better sense of what to expect and why you might pick one over the other based on your preferences.
The table below outlines the two whiskeys.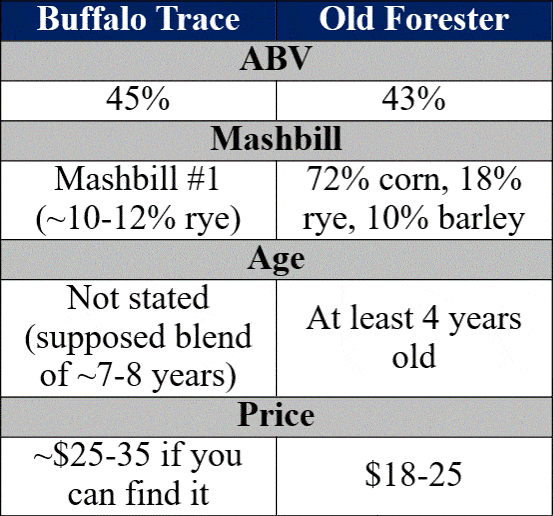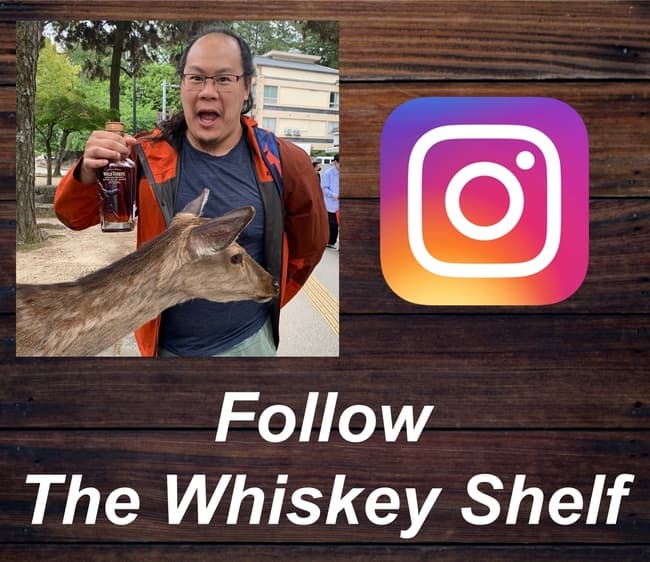 As an FYI, I bought and use these Glencairn glasses for my reviews and comparisons (because they're the best): 
Glencairn Crystal Whiskey Glass, Set of 6, Clear, 6 Pack.
Full transparency, this is an affiliate link, so I may earn a commission if you buy this or something else from Amazon.
If you're shopping on Amazon, support The Whiskey Shelf by shopping through my affiliate link – Shop Amazon. I may earn a commission from your Amazon purchases.
It wasn't that difficult for me to pick Buffalo Trace as my preferred bourbon in this comparison. At the same time, it's not quite the lopsided victory for a few reasons. But there is one big caveat – Buffalo Trace and Old Forester 86 Proof have radically different profiles, so a lot also comes down to personal preference.
But ultimately there are 3 reasons why I pick Buffalo Trace.
Buffalo Trace doesn't have that metallic, vodka-y, and somewhat unenjoyable alcohol flavor. It's not overpowering, but it definitely sticks out enough to be a dealbreaker and push me towards Buffalo Trace. It's an unfortunate part of an otherwise good bourbon.
Slightly richer flavors
I prefer the more vibrant, tropical, and fruity traits. So, the winner for you depends on what you like.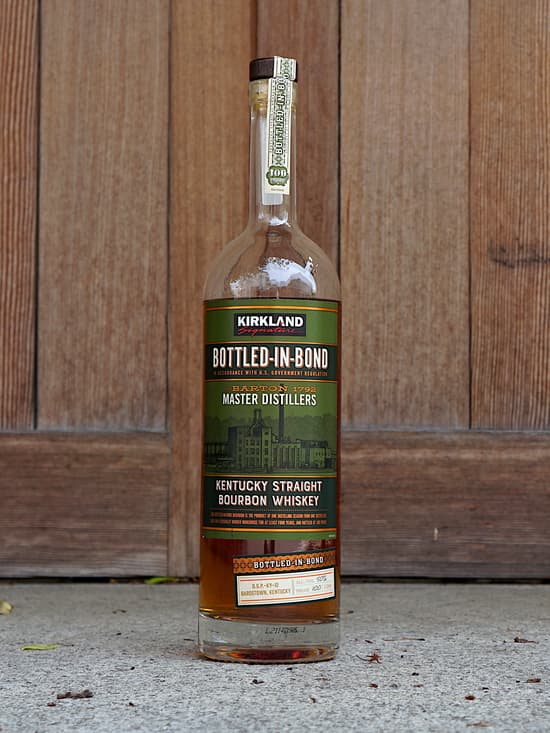 Take everything I write as information and suggestions because this mostly comes down to your own preferences. I keep harping on the different profiles, so I'll cover that now.
Old Forester is the more dark, banana-y, oaky, apple-y and earthy bourbon. Buffalo Trace is more bright, vibrant, tropical, fruity, and herbal. Both are somewhat fruity, but express it differently. Old Forester with darker banana, apple, and cherry, while Buffalo Trace with brighter, vibrant, and tropical peach, cherry, and pineapple.
But even with slightly lower proof, Old Forester has noticeably thicker mouthfeel and "nosefeel". I mean that it feels more viscous and creamy, although the actual flavors themselves don't have that same substance and viscosity as Buffalo Trace, which is unfortunate. I call it empty or underutilized space. It's a distinctive and kind of weird Brown Forman trait.
And truly, Old Forester tastes good for the most part, but that damn metallic alcohol taste pops up and I can't escape it. It's not overpowering, but it's clearly there and makes me reel a bit every time. I can't ignore that unpleasantness, which pushes me hard towards Buffalo Trace. It's kind of hard to come back from that one.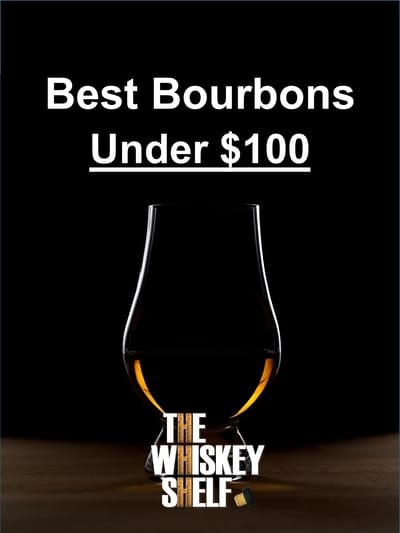 Switching back, it becomes more apparent that Buffalo Trace has slightly richer flavors that hold up better after having Old Forester, although it doesn't have that same level of viscosity. It seems like a strange contradiction: not as viscous yet richer, but I attribute it to the fact that Buffalo Trace doesn't have pillowy empty space that doesn't add much.
On top of that, Buffalo Trace's slightly higher ABV might help with the richness, so Old Forester 100 Proof might take care of that and still be comparably priced to Buffalo Trace.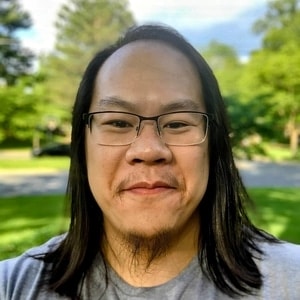 I have far too much fun writing about whiskey and singlehandedly running The Whiskey Shelf to bring you independent, honest, and useful reviews, comparisons, and more. I'm proudly Asian American and can speak Cantonese, Mandarin, and some Japanese.
There are no sponsors, no media companies, and no nonsense. Support The Whiskey Shelf by 
Buying Me A Shot
.
Maker's Mark Cask Strength Comparison