woodford reserve very fine rare bourbon review
Woodford Reserve Master's Collection Very Fine Rare Bourbon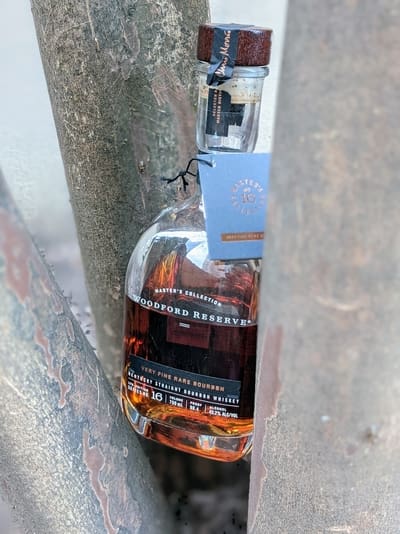 Distillery: Woodford Reserve (Brown Forman)
Type & Region: Bourbon, Kentucky, USA
Alcohol: 45.2%
Composition: 72% corn, 18% rye, 10% malted barley
Aged: 11 years in virgin American white oak
Color: 1.4/2.0 on the color scale (tawny)
Price: $130-140
From the Woodford Reserve website:
"The name Very Fine Rare Bourbon is a nod to the descriptors used by our ancestors to auction highly-aged Bourbon barrel lots," Morris said. "While Woodford Reserve will always honor the past, this Master's Collection is about the present and future. The bourbon includes liquid from barrels that are 17 years old and date to 2003, the year Chris Morris was named Master Distiller. Morris and McCall have been holding back the barrels to batch with other barrels for a special release."
woodford reserve very fine rare bourbon overview
Woodford Reserve marks the end of 2020 / beginning of 2021 with their annual Master's Collection release, this year called Woodford Reserve Very Fine Rare Bourbon. The name is a little convoluted, but what is unique and important about this release, as each release is different, is that it's 11 years old. While most of the marketing focuses on the fact that there's 17 year old bourbon in the blend, which is great, Chris Morris, the master distiller, told Whisky Advocate on the record that "the youngest [bourbon in the blend] is 11 years old". Now you have my attention.
While I have mixed feelings about the standard Woodford Reserve, an 11 year old age-stated Woodford Reserve still draws my interest. Woodford Reserve never states age, and this may be the first time that a trustworthy source has explicitly mentioned the age of any Woodford product. With all this information in tow, let's find out what all this 11 to 17 year old bourbon brings in this Woodford Reserve Very Fine Rare Bourbon review.
woodford reserve very fine rare bourbon smell
Honey roasted oak comes blasting out of the glass followed by honeycomb, roasted vanilla, dried ginger, cocoa powder, very dried-out citrus peel, dried grass, and smoked wood…whoa. Woodford Reserve Very Fine Rare Bourbon is dry, oak, and mesquite smoke-forward, but not in the vegetal and ashy peat way. There's a lot of sweet smoke, but it's not overpoweringly burnt, likely in part because of the lower proof that also takes away virtually all the heat. It's like opening up a smoker and getting smacked in the face with all that sweet honeyed wood and smoke. I kind of don't like regular Woodford Reserve, but this is captivating.
Swirling gives the alcohol some life, but it recedes quickly, replaced with a wave of lively honeycomb, dried oak and grass, vanilla, smoke, very dried citrus peel, something brightly floral (interesting), freshly cut apple, and a little dried peanut shell. It all teeters on the edge of honey smoked ham, so there's definitely something savory about the nose. Woodford Reserve Very Fine Rare Bourbon has a top-notch nose, so I'm impressed.
woodford reserve very fine rare bourbon taste & aftertaste
The flavors totally diverge from the nose, with gentler honey, vanilla, citrus, apple, and cherry sweetness followed by a soft pillow of oak, cocoa, powder, cinnamon, nuts, and dark chocolate bar. That combination of honey, vanilla, and cocoa come together to create yummy milk chocolate and fudge. It still pains me that the flavors are so gentle, yet clearly developed, complex, and as rich as they can probably be given the ABV. Why must I be tormented by this low ABV?
After "chewing", I taste some rich honeycomb, vanilla cream, a bite of fresh apple, citrus peel, chocolate, oak, cinnamon, nutmeg, clove, licorice, and a hint of cherry and peppermint. I can't quite explain it, but there's this enveloping candied sweetness and smoky tang. I'm also surprised at how much less oaky the flavors are than the nose is. Don't get me wrong it's still quite oaky, but it's a less intense, with more honey, vanilla, and fruit to complement the roasty and smoky oak. In this case, I think all the old bourbon manifests itself as sweet and roasted milk chocolate and fudge, a lot like Woodford Double Oaked. As a result of the criminally low 45.2% ABV, the flavors are more subtle and a tad dulled, but still mostly nuanced, rich-ish, and enjoyable so it's very easy and pleasant to drink. I hate to say it, but the flavors don't quite justify a "Top Shelf" rating, but it's so close.
The finish has a gentle honey, vanilla, licorice, citrus, apple peel, charred oak and dried grass that continue to be not so intensely oaky. After "chewing", I'm left with the same sweet honeycomb, vanilla, apple, and licorice wrapped in a thin veil of roasted oak, cinnamon, and raw cocoa powder, with mint appearing after a few minutes. The finish ends nicely minty and oddly reminds me a little of eggnog. Woodford Very Fine Rare Bourbon has a lovely finish to say the least.
Place on the Whiskey Shelf

I want to love Woodford Reserve Very Fine Rare Bourbon so badly, but it leaves me conflicted because it's so good (nearly "Top Shelf"), but also held back by the low ABV that doesn't belong in this particular release. I don't know why Woodford Reserve holds on to this antiquated notion that 45.2% ABV is "optimal". I say this because at its core, Woodford Reserve Very Fine Rare Bourbon is a mature, complex, and interesting whiskey that smells incredible and tastes very good, expertly crafted and easy to drink. The nose is explosively oaky, dry, and smoky yet somehow not brutish at all; and the flavors are loaded with honeycomb, vanilla, fruit, oak, and milk chocolate, taking a different direction than the nose that's almost as great.
I believe that Woodford Reserve Very Fine Rare Bourbon is generally a successful creation, but it's overpriced at $130-140 and terribly under-proofed – a missed opportunity for something potentially epic. I get that this Master's Collection release is unique because of the undisclosed 11 year age statement, the main reason why I bought this, but I only recommend this if you a) don't mind the price tag, or b) love Woodford Reserve / Brown Forman enough that you just have to know what it's like. Admittedly, I enjoy it a lot, it just leaves me wanting so much more.
Comments are closed.