Cooper's Craft Straight Bourbon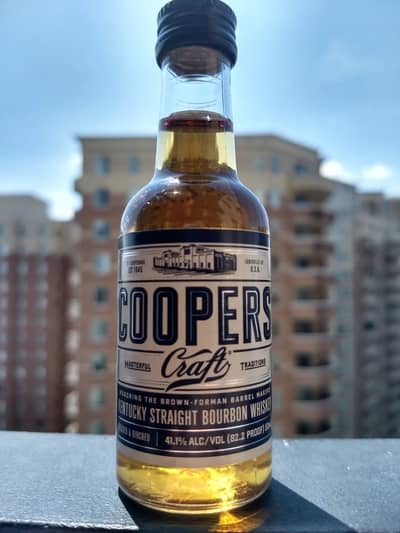 Distillery: Brown Forman
Type & Region: Bourbon, Kentucky, USA
Alcohol: 41.1%
Composition: 75% corn, 15% rye, 10% malted barley
Aged: NAS (least 4 years per straight bourbon rules)
Color: 1.1/2.0 on the color scale (burnished)
Price: $20-30
From the Cooper's Craft website:
"Coopers' Craft bourbon is a Kentucky Straight Bourbon Whiskey, which uses a unique beech and birch charcoal-filter finishing process for a smooth and flavorful bourbon. As the only major distiller to make its own new barrels, Coopers' Craft leverages our knowledge of barrels and expertise with wood to create a remarkably smooth bourbon that pays tribute to our Coopers."
Cooper's Craft is a relatively new brand from Brown Forman, the owners of Jack Daniel's, Old Forester, and Woodford Reserve among others. This bourbon is meant to celebrate Brown Forman's in-house barrel-makers, called Coopers, who go through the slow and challenging process of turning pieces of oak wood into barrels that magically transform unaged moonshine into whiskey. If you're curious, my Buffalo Trace Mash #1 vs Stagg Jr comparison provides more detail into just how much influence barrels and aging have on whiskey (spoiler alert: it's a lot).
Like Jack Daniel's, Cooper's Craft is also charcoal filtered. Instead of maple, Cooper's Craft uses beech and birch charcoal, which is supposed infuse something that maple may not, but I can't say for sure. In this Cooper's Craft review, let's find out if this bourbon will make the Coopers proud.
Cooper's Craft begins with the usual gentle honey, mint, and grain, much like most other lower proof bourbons. But after a few seconds, an unexpected and noticeable fruitiness cuts through everything and right into my nose. It's a fruit bowl blend of cranberries, blueberries, apples, and apricots that comes out of nowhere to provide a delightful surprise that adds character to an otherwise average bourbon. Now lest I forget, there also are hints of charred and aged oak, and cocoa, but they supplement the honey, mint, and fruit. The alcohol is also unsurprisingly quite calm.
Swirling brings out more oaky must and mint with some honey, as well as light vanilla butter cream and floral notes. The fruitiness is initially shy, but returns after about a minute, full of cranberries, cherries, blueberries, and citrus. The alcohol is a little stronger, but still doesn't pack much heft. The wholly unexpected fruitiness swoops in to save Cooper's Craft Straight Bourbon from being a letdown
cooper's craft taste and aftertaste
The flavors start with gentle caramel and apricots, followed by oak, cinnamon, and just a little grain. It's not particularly rich or complex, best described as unspectacular but not unpleasant either. There's virtually no alcohol, in line with what I would expect from a 41.1% bourbon. "Chewing" releases a little more caramel and vanilla buttercream followed by a small serving of berries, oak, cinnamon, pepper, and dough. The berries are a welcome addition and add a small extra dimension to the flavors. There's a gentle alcohol tingle, but that's about it. The flavors are far from intense, making it an easy bourbon to drink.
The aftertaste starts predominately oaky with a little honey and mint. Over time, it turns into light floral, grassy, and fruity berry sweetness that's quite pleasant. "Chewing" brings out the oak again that fades into minty fruit and honey. Cooper's Craft's flavors may start out somewhat flat, but they actually end on a high note. There are some quite interesting flavors to be found.
Whiskey is also for sharing, so I use Vivaplex, 12, Amber, 2 oz Glass Bottles, with Lids for smaller samples and Vivaplex, 12, Amber, 4 oz Glass Bottles, with Lids for larger ones. Full transparency – This is an Amazon affiliate link so I may earn a commission if you buy this or something else. Regardless, I actually use these myself.
Place on the Whiskey Shelf

I had exceedingly low expectations for Cooper's Craft, but I'm pleasantly surprised at how decent it is. Make no mistake, Cooper's Craft at its core is still an unremarkable bourbon with gentle honey, caramel, mint, oak, and spice notes that make it very drinkable. The fruity blend of berries, cherries, and citrus primarily in the nose and aftertaste, as if it were briefly finished in port or sherry barrels, add some welcome and unexpected character that keep it away from "bottom shelf+".
Compared to Jack Daniel's Old No. 7 and Woodford Reserve, Cooper's Craft smells and drinks like a more mature whiskey. It has better developed sweetness and fruitiness, and less slightly harsh wood and grain, making it one of the better Brown Forman whiskeys under $30. Even then, you can still do much better than Cooper's Craft in the $20-30 range, with options such as Evan Williams Bottled in Bond, Larceny, and Jim Beam Distiller's Cut that are more worthy of your consideration. Still, if you want Cooper's Craft, you probably won't be disappointed.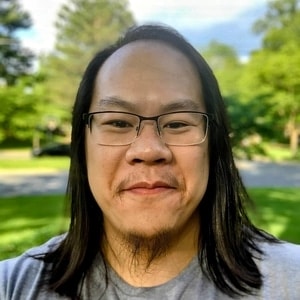 I have far too much fun writing about whiskey and singlehandedly running The Whiskey Shelf to bring you independent, honest, and useful reviews, comparisons, and more. I'm proudly Asian American and can speak Cantonese, Mandarin, and some Japanese.

There are no sponsors, no media companies, and no nonsense. Support The Whiskey Shelf by Buying Me A Shot.