bulleit 12 year rye review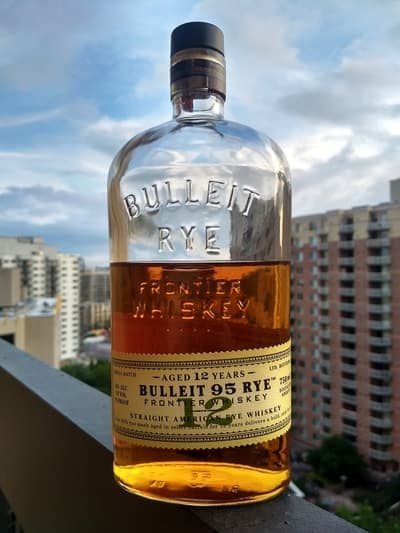 From the Bulleit website:
Surprisingly, this is so new that Diageo hasn't updated the Bulleit website to include this product.
bulleit 12 year rye overview
Bulleit 12 Year Rye is a Diageo-released but MGP sourced "limited" rye whiskey, even though I'm not sure how limited it actually is. Bulleit is best known for its non-age-stated Bulleit Bourbon and Rye, and also has a 10 year old bourbon and NAS cask strength bourbon. I'm very exciting about this Bulleit rye because 12-year-old rye whiskey is usually quite rare and expensive, but Bulleit is somewhat widely available and actually reasonably priced at around $50. On the other end of the spectrum, Kentucky Owl charges around $200 for its sourced 11 year old, 50% alcohol rye. WhistlePig charges over $100 for its sourced 43% alcohol Old World 12 year rye. Bulleit 12 is a steal in comparison.
Given that it's an age-stated rye whiskey using MGP's 95% rye mash, I think of Bulleit 12 Year Rye as the spiritual successor to Smooth Ambler's 7 Year Old Rye, an amazing rye whiskey that was discontinued around 2015. Read on for this Bulleit 12 Year Rye review to see if Diageo cut any corners to get it to $50.
bulleit 12 year rye smell
Bulleit 12 Year rye is both bright and fresh, yet dark at the same time. Honey comes first, and immediately followed by a rush of anise, licorice, and mint from the rye with underlying starfruit, citrus, and wood. Hints of brown sugar, vanilla, cocoa, cinnamon, and other spices pop out now and then, as well as a slight whiff of freshly baked rye bread. Bulleit 12 is not all that woody given its age, especially when many 12-year-old whiskeys aged in virgin charred oak tend to be heavily influenced by it. This rye whiskey is just chock full of herbal, grassy, and vegetal notes, including sage, dill, rosemary, and veggie spring mix. There's a moderate alcohol punch, but nothing out of the ordinary.
Swirling ramps up the alcohol and brings out a little more breadiness. Once the alcohol settles, the scents come flooding back but now with a little more green grapes, green apples, and oranges. The best way I can describe Bulleit 12 is that it smells "so fresh and so clean" (that was on purpose) like a fresh winter's morning in a pine forest at the end of a snowstorm. Bulleit 12 Year Rye's smells are flat out amazing and well developed. This is probably the most rye-smelling rye whiskey I've ever had. 
bulleit 12 year rye taste & aftertaste
Bulliet 12 Year Rye has the same initial honey and caramel sweetness that is quickly complemented by a burst of anise, licorice, and mint. It's very herbal and floral as expected with a pumpernickel bread savoriness and darkness, as well as a little bit of guava, green grapes, and dried citrus peel. The wood is not that strong, but it still adds enough cinnamon, cocoa, and cloves to keep it interesting. The alcohol is also nicely moderated, not too little, not too much. 
"Chewing" brings out much of the same, but with a little extra bread, wood, cinnamon, and spice in general, as well as a little more of the alcohol kicks at times. As a whole, this reminds me of wintermint / wintergreen tea. The flavors are definitely a little less herbal and floral than the nose is. 
The finish is especially interesting. The alcohol quickly tapers, followed by slightly gummy mint, anise, and honey that fade into lightly bitter oak, grass, orange peel, and long-lasting mint. It really does remind me of wintermint / wintergreen teas that leave me with a bright, fresh, and clean feeling.
Place on the Whiskey Shelf

I'm sold; Bulleit 12 Year Rye is an awesome rye whiskey, so fresh and lively yet earthy and herbal. This rye whiskey packs so much character and depth into "only" 46% alcohol, a testament to the comparatively long aging and excellent blending that keeps the wood in check. Bulleit 12 is a lot like WhistlePig 10, made from 100% Canadian rye, but much cheaper, making it a great value as well. Admittedly, as much as I love the potent and in your face anise, licorice, mint, and vegetal notes from the super high-rye mash, I know that it's not for everyone. It certainly is for me though. 
Regular Bulleit Rye is serviceable, but I'm absolutely amazed at how Bulleit 12 Year Rye is so interesting and delicious, yet accessible. It's truly rare these days. The 12 year age statement is no gimmick, there's actually great whiskey in the bottle as well. Great job Diageo, this may be the biggest surprise of the year for me.