Buffalo Trace Kosher Rye Recipe Review [In Depth]
Buffalo Trace Kosher Rye Recipe
From the Buffalo Trace website:
"In partnership with the Chicago Rabbinical Council (cRc), Buffalo Trace Distillery produced this Rye Recipe Bourbon Whiskey. Made with the same high quality grains as Buffalo Trace Bourbon Whiskey, this Kosher spirit was aged in specifically designated Kosher barrels…"
Buffalo Trace Kosher Rye Recipe overview
Buffalo Trace Kosher Rye Recipe Bourbon is one of three Kosher whiskeys that, starting in 2020, will be released annually after Passover, a major Jewish holiday. In addition to the Kosher Rye Recipe (my best guess is Mash #1 but I could be wrong) I'm covering in this review, there also is the Wheated Mash (used for Weller), and Straight Rye Whiskey (used for Sazerac).
If you don't know what Passover is, I recommend doing some research, it's very interesting. I'm not Jewsih and also no expert on Judaism or Kosher law, so I'll let
Buffalo Trace provide all the details
on what they did and why they call it Kosher. I can only really evaluate this based on how it drinks, and not its religious and cultural significance…although I can appreciate it to some degree.
What I will say is that this is pretty much 7 year old and 47% ABV Buffalo Trace, so it sort of sits between the standard Buffalo Trace and
EH Taylor Small Batch
in terms of proof. Let's find out if the Kosher designation, age-statement, and extra ABV create a better bourbon in this Buffalo Trace Kosher Rye Recipe Bourbon review.
Buffalo Trace Kosher Rye Recipe smell
As obvious as this sounds, Buffalo Trace Kosher Rye Recipe bourbon smells very much like the standard Buffalo Trace. I'm so certain of this because I did a Buffalo Trace comparison a few days before doing this review, so it's still pretty fresh in my mind. I smell sweet and floral honey, citrus, green grape, and bright cherry with hints of marshmallow and peach.
It's definitely fruity on the nose. Compared to Buffalo Trace, there's more of an underlying roasted oakiness and spice. The extra 2% ABV isn't that noticeable, but I'm also not doing this side by side.
After swirling I smell a little more musty and smoky oak with the honey, licorice, vanilla, cherry, green grape, cinnamon, and nutmeg I smelled before. This Kosher Rye Recipe has a very fragrant and enjoyable cinnamon note that is more than subtle but not too strong.
Buffalo Trace Kosher Rye Recipe taste & aftertaste
Buffalo Trace Kosher Rye Recipe starts off with vanilla and honey sweetness with citrus, cherry, apple, licorice, and a moderate dose of roasted oak, cinnamon, and nutmeg. There isn't much bite, on par for 47% ABV. The flavors are gentle for sure, but I wouldn't say that they're dull or boring either.
With "chewing" the flavors are again sweet with floral honey, vanilla buttercream, peach, citrus, licorice, smoked oak, cinnamon, and a little toasted grain, all with a light underlying note of black pepper from the oak.
The mouthfeel is actually not thin at all, so they may have not chill-filtered it, but I can't confirm that. While the Kosher Rye Recipe isn't huge on flavor, it's all still fairly well developed and layered. I'm actually quite enjoying this.
The finish is floral, sweet, and lightly oaky. There are some tannins mingled with the honey, citrus, and licorice, but it's very gentle. After "chewing" the finish is a little more oaky and spicy with cinnamon and black pepper, but the honey, licorice, and peach notes are still there.
It all tapers off into a lightly oaky, smoky, and herbal sweetness. I'm most surprised and perplexed by the smoky finish, but in a good way. The finish ends with a smoky mint that doesn't quit.
Buffalo Trace Kosher Rye Recipe Rating

I didn't have particular expectations for Buffalo Trace Kosher Rye Recipe Bourbon. So while it may not change the game, I'm surprisingly happy with how this bourbon turned-out. This sounds simplistic, but it truly is a slightly amped-up
Buffalo Trace
(or
Blanton's
it's not clear what mashbill is used) for that matter with a little extra floral sweetness, fruitiness, oak, and cinnamon with little to no extra heat.
The additional sprinkle of oak and cinnamon spice in the Kosher Rye Recipe adds a little more body and fragrance to the "dish", and it makes a real difference. I can hear Emeril shouting "BAM!" somewhere in the background as he throws down the spices.
This is a pretty good $40-50 bourbon, although I wouldn't pay more given what else is out there; and this isn't a "Top Shelf" bourbon for me. 
Then again, if you like the Buffalo Trace Mash #1 / Mash #2 profile (whatever it is), there isn't much out there that's similar except the occasional Russell's Reserve Single Barrel Bourbon and of course "just" Buffalo Trace. 
At the time of writing this review, I haven't compared it side by side to the standard Buffalo Trace or a single barrel store pick, so I can't confidently say just how much better or different the Kosher Rye Recipe is compared to those.
The last thing I'll say is that you should temper your expectations. Making it Kosher isn't going to transform it into something totally different and new (strictly in terms of scents and flavors). It is good though, so it was a worthwhile $44 purchase (after tax), although I don't feel the urge to get another one anytime soon.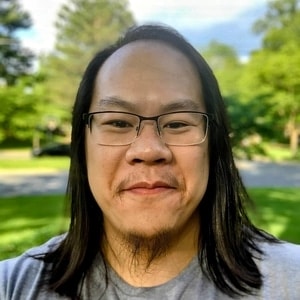 I have far too much fun writing about whiskey and singlehandedly running The Whiskey Shelf to bring you independent, honest, and useful reviews, comparisons, and more. I'm proudly Asian American and can speak Cantonese, Mandarin, and some Japanese.
There are no sponsors, no media companies, and no nonsense. Support The Whiskey Shelf by 
Buying Me A Shot
.