Buffalo Trace Kosher Wheat Recipe Review [In Depth]
Buffalo Trace Kosher Wheat Recipe Bourbon
Buffalo Trace Kosher Wheat Recipe Details
Distillery: Buffalo Trace
Type & Region: Bourbon, Kentucky, USA
Alcohol: 47%
Composition:
Buffalo Trace w
heated mash, speculated to be 70% corn, 16% wheat and 14% malted barley
Aged:
 7 years in virgin American white oak
Color: 1.2/2.0 on the color scale (chestnut, oloroso sherry)
Price: $40, but often marked up.
From the Buffalo Trace website:
"Buffalo Trace Distillery produced this Wheat Recipe Bourbon in a partnership with the Chicago Rabbinical Council (cRc). Made with the same grains as Weller Bourbon, this Kosher spirit was aged in specifically designated Kosher barrels. In order to satisfy Passover requirements, these barrels were sold to a non-Jewish executive in a ceremony witnessed by a representative from the cRc. After aging for seven years, this Wheat Recipe Bourbon was bottled…after ensuring the bottling lines were cleaned beforehand and that no contact was made with non-Kosher spirits."
buffalo trace kosher wheat recipe overview
Buffalo Trace Kosher Wheat Recipe is one of three whiskeys (2 bourbon, 1 rye) part of Buffalo Trace's annual Kosher release after Passover. This Kosher Wheat Recipe uses the same wheated mashbill as everything Weller, so in a lot of ways, you're getting a 7 year old age-stated Weller with an ABV between
Weller Special Reserve
and Weller Single Barrel.
To my understanding, most Wellers, apart from Weller 12 and William Larue Weller, are 5-6 years old, so this Kosher Wheat is also one of the older Buffalo Trace wheated bourbons you might find these days.
There's more nuance than that given the Kosher label so above I've included what Buffalo Trace has on their website, but I'm going to jump into the bourbon in this Buffalo Trace Kosher Wheat Recipe Bourbon review.
buffalo trace kosher wheat recipe smell
Right off the bat Buffalo Trace Kosher Wheat Recipe has quite a lovely nose with darker honey, apple, peach, orange peel, marshmallow, oak, cinnamon, and clove. There's an old fashioned cocktail vibe to it.
And even though there's no rye in the mash, I get a light licorice note that is probably from clove and anise. Either way, the nose is already quite dark and fruity, and is already more interesting than 
Weller Special Reserve Review
 and 
Weller Antique 107
.
After swirling, I smell honey, vanilla frosting, preserved citrus and apricot coated in sugar, roasted oak, cinnamon, clove, and cocoa powder. Occasionally, I smell a little candied pecan as well. The heat smells right for 47%, so nothing noteworthy there.
buffalo trace kosher wheat recipe taste & aftertaste
Buffalo Trace Kosher Wheat Recipe's flavors start with honey, vanilla, citrus, peach, cinnamon, and oak. As expected, there isn't much heat, but the flavors are more rich and potent than the 47% ABV might suggest. It's not so complex, but it's still a flavorful start.
With more time and "chewing", I taste very pleasant dark honey, vanilla, dried apricots, citrus, apple, cinnamon, oak, nutmeg, and clove. The slightly pronounced cinnamon, nutmeg, and clove notes (often referred to as spice) are a welcome and complex addition that I find unique in wheated bourbons and not rye'd ones.
Even with an extra pinch of wood spices, this wheated bourbon is more fruity compared to Buffalo Trace's other bourbons, wheated or ryed, and I'm enjoying it a lot. Buffalo Trace Kosher Wheat Recipe isn't particularly viscous, mind blowing, or complex, but there's there still a lot to uncover and appreciate, and I certainly am.
At first, the finish is lightly oaky and sweet with honey, ripe peach, cinnamon, and cocoa powder, later changing into candied citrus peel. With "chewing", it's lightly roasted and sweet again with honey, apple, dried citrus and apricot, cinnamon, and cocoa powder. It's a flavorful ending to a quite flavorful bourbon.
Sure I usually like to hate on Weller, but this is very good.
If you're shopping on Amazon, support The Whiskey Shelf by shopping through my affiliate link – Shop Amazon. I may earn a commission from your Amazon purchases.
Buffalo Trace Kosher Wheat Recipe Rating

The scents and flavors are livelier and richer than I anticipated, with more preserved citrus, dried apricot and peach, cinnamon, and clove that add a ton of character and enjoyment. Personality-wise, this reminds me more of Van Winkle 10 Year, which more spicy and clove-y, than Weller Special Reserve or Van Winkle 12 Year, which have more green apple and floral notes.
And while Buffalo Trace Kosher Wheat recipe is not the boldest or richest, everything is packaged together well into an enjoyable experience that I'm glad to have. The proof may be the main thing holding this back from being "Top Shelf", but other bourbon such as 
Widow Jane 12 Year Single Barrel Bourbon 
have knocked it out of the park even at < 50% ABV, so ABV and barrel selection may have a role in that.
I guess Weller Antique 107 Single Barrels and Weller Full Proof are there to provide the higher proof experience. I haven't had those yet and they're becoming more difficult to get by the second, as is this Buffalo Trace Kosher Wheat Recipe as people catch on. I'm not helping though am I?
Although price does not factor into the rating, Buffalo Trace Kosher Wheat Recipe is a very worthy $40 bourbon…if you can find it for that price. I'd buy another one if I could. Well done Buffalo Trace.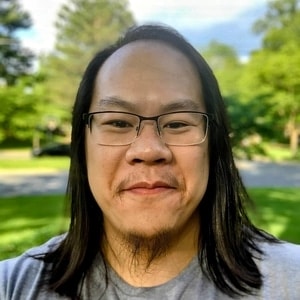 I have far too much fun writing about whiskey and singlehandedly running The Whiskey Shelf to bring you independent, honest, and useful reviews, comparisons, and more. I'm proudly Asian American and can speak Cantonese, Mandarin, and some Japanese.
There are no sponsors, no media companies, and no nonsense. Support The Whiskey Shelf by 
Buying Me A Shot
.