traverse city 12 year single barrel bourbon review
Traverse City 12 Year Single Barrel Barrel Proof Bourbon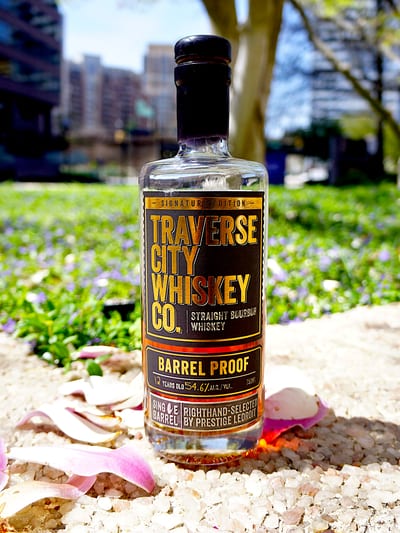 Distillery: Traverse City
Type & Region: Bourbon, USA
Alcohol: 54.6%
Composition: Probably 75% corn, 21% rye, 4% barley
Aged: 12 years
Color: 1.4/2.0 on the color scale (tawny)
Price: $120-130
From company website:
"Not all whiskey barrels are created equal. We've reserved our most flavorful for this Limited Edition release. Traverse City Whiskey, pure and uncut, bottled at full barrel proof. We've crafted Barrel Proof with life's simpler moments in mind—meant to be enjoyed smoothly and richly, whichever way you please."
traverse city 12 year single barrel bourbon overview
Traverse City is probably one of the best known distilleries from Michigan and has a fairly diverse range of sourced and homemade bourbons and ryes, with the sourced whiskey coming from MGP. I've eyed their barrel proof bourbon a few times, but never bought it given the uncertainty around the age, which was very likely to be ~4 years old. But when news got out that Traverse City Whiskey released 12 year old single barrel bourbons (sourced from MGP), I got excited and hoped to get one at some point. Lo and behold, the DC area did eventually get one of the 12 year old single barrels in 2020, picked by Prestige Ledroit who distributes the brand in the area. 
Reading the back label, they do mention (in small print) that this bourbon was aged for 7 years in Indiana then 5 years in Michigan, which is unique because Northern Michigan has its own distinct climate (very cold in the winter, quite moderate and nice in the summer) compared to Indiana. This also means that Traverse City moved these barrels from Indiana to Michigan in 2014-2015, right before the bourbon boom and disappearance of older MGP bourbons. I'm an admittedly huge MGP fanboy and 12 year old MGP bourbon is always worth investigating at least, so let's find out if this older MGP bourbon hits the spot in this Traverse City 12 Year Single Barrel Bourbon review.
traverse city 12 year single barrel bourbon smell
Traverse City 12 Year Single Barrel Bourbon has fragrant brown sugar, roasted oak, toasted vanilla, tobacco, dried cherry, apple, cinnamon, nutmeg, clove, cocoa powder, and a little licorice, dried grass, and candied pineapple. It's quite a dark, roasted and fragrant bourbon that doesn't have much heat so it's easy to smell for a while (and I did). At the same time though, everything is mashed together so nothing really stands out as special.
After swirling, this smells more oaky with brown sugar, toasted vanilla buttercream, concentrated orange, licorice, roasted oak, tobacco, cinnamon, clove, dried apple, candied pineapple, and some dried grassiness. There's a prevalent fragrant and mature oakiness that's refined and enjoyable. Over time, the sweetness concentrates and I get more maple syrup, dried blueberry and strawberry, orange, baked apple, peach, oak, tobacco, roasted coffee bean, and dark chocolate. This bourbon takes a long while to open-up, but it's worth the wait because it does smell amazing. This is going to sound counterintuitive, but as many scents as there are, they also still lack a certain definition that I associate with exceptional whiskey. 
traverse city 12 year single barrel bourbon taste and aftertaste
Traverse City 12 Year Single Barrel Bourbon starts off with herbal caramel, vanilla, licorice, fennel, orange, dried prune, roasted oak, cinnamon, clove, and candied pineapple. There's a lot of herbal rye here that I usually don't get as much of in other older MGP bourbon (e.g., Remus Volstead 14 Year Bourbon). As flavorful and rich as it is already, nothing quite pops.
"Chewing" brings more rich and flavorful herbal caramel and brown sugar sweetness, vanilla frosting, rock sugar, fennel, licorice, anise, orange, pineapple, dried berries, luscious roasted oak and tobacco, cinnamon, something floral, peppercorns, and dark chocolate that come from an MGP bourbon this old. Again, everything is very flavorful and feels right, but it lacks definition so it's just a mish-mash of flavors, similar to Elijah Craig Barrel Proof C919. I'm going to say this again – Traverse City 12 Year Single Barrel Bourbon is undoubtedly very delicious, but it just doesn't quite have that pop or wow factor to be truly exceptional and unforgettable as I had hoped for a 12 year old MGP bourbon. This is a great bourbon that doesn't reach its potential, but the bar is also outrageously high for a bourbon like this.
The 12 year old bourbon leaves a nice layer of oak tannins with caramel, candied orange peel, coffee grounds, licorice, and clove. With "chewing", I'm left with a oak and roasty-forward finish with oak tannins, roasted vanilla and caramel, licorice, dried citrus peel and baked apple, cinnamon, dark chocolate, and just a little thyme. It all ends a little like a latte – a little sweet, dark, and roasted. 
Place on the Whiskey Shelf

Traverse City 12 Year Single Barrel Bourbon is great in so many ways, but is held back by a lack of definition, clarity, and sharpness between the traits, making it a bit of muddled. Still, I've given this a "Top Shelf" rating because it is still so dang delicious and brings plenty of fragrance and flavor to the glass as a fairly on-profile MGP bourbon. Honestly, I still had hoped for more given all the stats so it's not a home run. Widow Jane 12 Year Single Barrel Bourbon Total Wine Select (also MGP) is still far more interesting and delicious for me, in part because it may have been off-profile for MGP with so much more dark fruit. It's just hard to tell if Prestige Ledroit made the best pick that they could.
If you like MGP bourbon, you'll definitely like this. The bad news is that this single barrel bourbon is long gone, although who knows if you might stumble on one somewhere along your journeys. The good news is that there are alternatives, primarily Remus Repeal Reserve, which comes directly from MGP and not through a third party blender / distiller. Starting with Remus Repeal Reserve Series 3, all the bourbon in the blend was at least 11 years old. Remus Repeal Series 4 upped it to all 12 year old bourbon, so maybe you're lucky enough to have distributed to your area. Traverse City 12 Year Single Barrel Bourbon isn't a home run / slam dunk, but it's still so good.
There's a lot of great content to come, so consider supporting The Whiskey Shelf on Patreon. Support here.
Comments are closed.