Remus Repeal Reserve Series 3 Bourbon​ review
Remus Repeal Reserve Series 3 Bourbon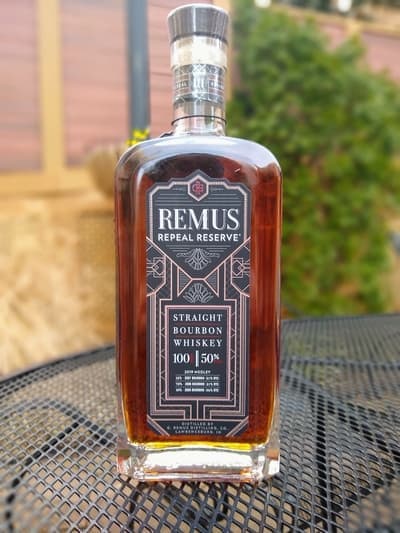 Distillery: MGP
Type & Region: Bourbon, Indiana, USA
Alcohol: 50%
Composition: 73.5% corn, 22.5% rye, 4% barley
Aged: 11 years in virgin American white oak
Color: 1.4/2.0 on the color scale (tawny)
Price: $80
From the Remus Repeal website:
"Introducing Remus Repeal Series III, the latest edition of the award-winning collection. Comprised of a medley of two different mash bills, Series III is carefully crafted to honor the repeal of Prohibition on December 5, 1933. Annually released on November 13th – King George's birthday – the 2019 limited edition of Remus Repeal Reserve features layers of caramel, candied fruit, chocolate, baking spice, smoke and leather, leading to a smooth finish with notes of caramel, and a hint of rye."
Remus Repeal Reserve Series 3 Bourbon​ review overview
Remus Repeal is one of MGP's own brands, part of their push to expand their own consumer-facing lineup and probably rely less on contract distillation and aging (I hear it's becoming quite expensive to source from them). For better or worse, MGP is best known for selling its whiskey to third parties such as Smooth Ambler and Barrell to name a few, not for their home-grown brands such as Remus Repeal and Rossville Union, but that may be starting to change.
Anyways, Remus Repeal was created to commemorate the end of prohibition (yay), and as Series 3 hints, 2019 marks the 3rd release of this bourbon. Each release so far has hovered around 10-11 years old, and MGP has been kind enough to clearly label how each Remus Repeal was blended. Series 3 is labeled as follows:
– 78% 2008 bourbon 21% rye (11 years)
– 12% 2007 bourbon 21% rye (12 years)
– 10% 2008 bourbon, 36% rye (11 years)
I applaud MGP's transparency and think it's a nice touch for whiskey nerds like myself. Let's spend some time with Remus Repeal Series 3 bourbon to find out if this is a worthy drink to celebrate the end of prohibition.
Remus Repeal Reserve Series 3 Bourbon​ review smell
All 11 years of Remus Repeal's oak aging come rushing out with immediate sweet and musty oak, honey, licorice, and occasional spritzes of freshly squeezed oranges and something floral. There's a lot of toasted oak, dried grass, cinnamon, and cocoa, but it's never overpowering and unpleasant. It contributes to the overall dark scents and integrates well with the sweetness while the alcohol dances around in my nostrils, but never causing a problem.
Swirling brings out more roasted, grassy, and musty oak notes mixed with caramel, marshmallows, cinnamon, and slivers of toasted walnuts (but not in the dried grassy and peanutty Beam or Heaven Hill way). It's not overpoweringly oaky, but definitely tells me that it was aged for quite a while. Secondary fruitiness comes next – cherry, peach, orange, and licorice (I know it's not a fruit) that actually become fruitier over time. There's a really nice balance of sweetness and oak that creates an excellent nose, so I'm a fan.
Remus Repeal Reserve Series 3 Bourbon​ review taste & aftertaste
Remus Repeal Series 3 bursts with intense caramel, vanilla, and citrus sweetness followed by toasted oak, cinnamon, and alcohol. It's a sweet yet dark and roasty bourbon where the alcohol doesn't detract from the experience, courtesy of the 100 proof. Things get really interesting after "chewing". I still get the very sweet caramel, vanilla, and citrus with roasted oak and cinnamon, but cherry and mint now appear. The alcohol does fuss a little after 3-4 seconds, so it's definitely still a 100 proof bourbon. Licorice also appears here and there, but mostly stays in the background, so the high rye components of the blend seem to take a back seat. One thing I find a little different is that while it's oaky and slightly burnt, it's not that spicy with cinnamon, clove, or nutmeg. The oak provides more grassy, toasty, and unsweetened cocoa notes. Not a bad thing, just an observation. 
Carmel, vanilla, and a little anise kick off the finish followed by oak and cocoa. After 30 seconds, it turns into lightly bitter and sweet orange peel, licorice, and melon that actually becomes fruitier over time as the oak subsides. Sweet caramel, honey, cherry, apple, and licorice come after "chewing" with some oak tannin and dark chocolate bitterness. Even after 1 minute I still taste some lingering anise and honey intermingled with oak that leaves my mouth a little dry. It's a great finish.
Remus Repeal Series 3 is 100 proof of flavor-packed whiskey that's still very balanced and rarely overpowering. While it doesn't bring anything unique or new to bourbon, oh man does it still taste great.
Place on the Whiskey Shelf

Remus Repeal Reserve Series 3 is a wonderful bourbon. Overall, I'm really enjoying the MGP bourbon profile as I become more familiar with it. The first MGP-sourced bourbon I reviewed (but not the first one that I've ever drank) was Potomac Wine and Spirit's Barrell 9 Year Bourbon, which is excellent. It has a very caramel and vanilla-forward character that's different than Buffalo Trace, Jim Beam, and Heaven Hill bourbons. Having recently done a comparison between Stagg Jr and a Four Roses OESK Private Select, MGP bourbon's caramel and vanilla forwardness with more subdued fruit and licorice reminds me a lot of Four Roses OESK, which makes sense since OESK has 20% rye, similar to Remus Repeal.
Admittedly, $80+tax is a hefty price to pay for whiskey, so this isn't what I would call a great value. But in context, sourced 11 to 12-year-old MGP bourbon will often cost at least $100 at retail if not more, so in a way it's kind of a bargain relatively speaking. If you're willing and able though, Remus Repeal Reserve Series 3 will provide a very enjoyable, rich, and deep experience that's worth a spot on your shelf.