the ambassador 12 year bourbon review
The Ambassador 12 Year Barrel Proof Bourbon 2020 Release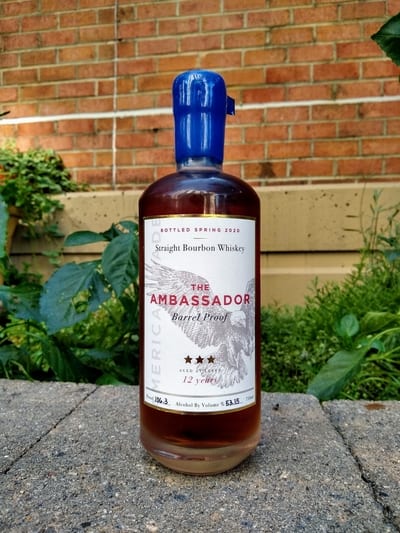 Distillery: Proof and Wood Ventures / MGP
Type & Region: Bourbon, USA
Alcohol: 53.15%
Composition: 75% corn, 21% rye, 4% barley
Aged: Label says 12 years, actually 13 years
Color: 1.3/2.0 on the color scale (russet, muscat)
Price: $130
From the company website:
"Small Batch, Barrel Proof Bourbon; Aged for 12 years; 75% Corn, 21% Rye, 4% Barley."
the ambassador 12 year bourbon overview
The Ambassador, part of Proof and Wood Venture's DC collection, is an annual release of at least 12 year old MGP bourbon to pay homage to the longer terms that Ambassadors to other countries can serve (in part because they're not elected officials). Like all the other whiskeys (rye and bourbon) in the collection, it's barrel proof (yay) and released in small batches or single barrels. As a result, each year's release will vary in age and ABV. This release, distilled in 2006 (from the back label) and bottled in Spring 2020 (from the front label), is actually 13 years old and was confirmed by the distributor Prestige Ledroit, who responded to my message. The label does still say 12 years old, but I wonder if that was to have consistent labeling. Who knows, maybe they're superstitious and they didn't want to use 13.
Why yes, I did say that The Ambassador Bourbon 2020 release is a 13 year old barrel proof MGP bourbon, swimming in the same realm as the legendary 10+ year old MGP bourbons of old (e.g., Smooth Ambler, Boone County, OKI). I don't know about you, but that's plenty to get get me interested in what's in the bottle. Let's not waste anymore time and find out more in this The Ambassador 12 Year Barrel Proof Bourbon 2020 Release review.
the ambassador 12 year bourbon smell
The Ambassador bourbon is initially oaky and sweet with caramel, vanilla, brighter red apple, brighter cherry and cranberry, dried orange and lemon, fennel, roasted oak, cinnamon, clove, a little tobacco, cocoa powder, coffee grounds, and a gentle floral character. I hope this makes sense – this bourbon has a lot of roasted oakiness but oddly lacks much low-end sweetness or really much low-end anything. It's like a crop top shirt…part of the bottom is missing.
After swirling, The Ambassador becomes brighter and more vibrant – honey, fragrant toasted oak (but not so burnt), dried cherry and blueberry, apple, orange, lemon, fennel, honeysuckle, pear, clove, cinnamon, and a little tobacco and smoke. Like some other older bourbons, there is an underlying oaky funk that hints at a port finish. This bourbon overall is a little more fruit and fragrant oak forward, but not so dark and bold. It's also not as rich or deep as I expected from a 13 year MGP bourbon. I expected something more roasty like Widow Jane 13 Year Single Barrel Bourbon. An older MGP bourbon for me mentally sets a high bar that The Ambassador didn't quite meet it, but maybe my expectations were too high. To say it one more way, The Ambassador Bourbon 2020 release is quite enjoyable, but also a bit too thin for my liking. Maybe it's a bit too diplomatic for its own good.
the ambassador 12 year bourbon taste and aftertaste
The Ambassador Bourbon 2020 release starts off with caramel, roasted vanilla, fennel, fresh orange and apple, roasted oak, cinnamon, clove, and dried berries. Oddly enough, there's more alcohol bite than I expected, especially given how gentle the scents were. Not only that, the flavors are unexpectedly bright and more vibrant with more surface level roast, rather than dark and brooding like I'd expect a 13 year old MGP bourbon to be.
After "chewing", I get slightly richer caramel, honey, roasted vanilla, fennel, brighter cherry, freshly squeezed orange, pear, roasted oak, cinnamon, clove, some port-like funk, and dried grass. The oak provides more of a moderate roastyness and earthiness, but not so much of the heavier char I expected. The Ambassador seems to have taken on more of herbal and fruity sweetness rather than darker oak and richness. I'm guessing that this was all intentional, so it's an interesting and unexpected approach to blending a 13 year old MGP bourbon. There's also a tad more alcohol bite in the flavors than the scents. For better or worse, I keep thinking this is just a little too watery for me, which is weird for a cask strength / barrel proof 13 year old MGP bourbon. Nonetheless, The Ambassador still tastes very good and continues to improve with each sip as the oak and roasted sweetness build, so that's a positive sign, but it doesn't quite hit all the right highs and leaves me a bit disappointed.
Roasty coffee grounds and cocoa powder lead the finish followed by honey, licorice, roasted vanilla buttercream, cranberry, fresh orange, and a little tobacco. Over time the brighter fruits come to the front. After "chewing" I get a mix of both fruitiness and darker roastiness that's bright cherry and berries, fennel, a spritz of orange, toasted oak, coffee grounds, and licorice. Over time, I'm left with more mint and pineapple. The Ambassador Bourbon has a bright and vibrant finish with a light roasted veil that's pretty interesting.
Place on the Whiskey Shelf

The Ambassador 12 Year Barrel Proof Bourbon 2020 is very good and kept getting better as I drank it, bringing an increasing amount of roasted sweetness, fruit, oak, and wood spices. In many ways, I do like the more bright fruit and toned-down oak. The downside is that it doesn't quite bring enough to the glass across the board or in one special way to reach "Top Shelf" status. This rating really does leave me conflicted because nothing is necessarily bad or off, it's just a strangely bright and light bourbon that doesn't necessarily make me think that this is a 13 year old and barrel proof bourbon. This is a thinner and not as good Widow Jane 12 Year Single Barrel Total Wine Select, or even Widow Jane 13 Year old Single Barrel Bourbon for that matter.
If I reviewed this blind, I'd probably say this was a 7-8 year old, 55% ABV, high-rye bourbon of some type, possibly a worse Russell's Reserve Single Barrel Bourbon or even John J Bowman Single Barrel Bourbon. As much as I enjoyed The Ambassador Bourbon, it also doesn't drink like a $130 bourbon. It smells and tastes more like one of those $50-60 bourbon I mentioned previously (but nowhere near as good as Russell's Reserve Single Barrel Bourbon). I've heard that the 2019 release was awesome (haven't had it), but I'm not going to say that the 2020 release is awesome. It's very good, but disappointingly so, so I would pass on this if you happen to find it.
There's a lot of great content to come, so consider supporting The Whiskey Shelf on Patreon. Support here.
Comments are closed.