Jack Daniel's Old No. 7
vs


Jack Daniel's Single Barrel Select
In the whiskey world, Jack Daniel's is the American king with its army of
Jack Daniel's Old No. 7
Tennessee whiskey bottles filling glasses everywhere (you can even find it everywhere in China). While that Old No. 7 is the best-selling product and great for various mixed drinks, it is not so great for sipping. The good news is that Jack Daniel's is so much more than that Old No. 7; there's a full range of whiskeys catered to different tastes and wallets.
This is where
Jack Daniel's Single Barrel Select
enters the picture. Barrels are specially selected and individually bottled to highlight what this Tennessee Whiskey has to offer, leading to variation between bottles. These offerings are especially revealing because you can't just blend away the bad with some better stock. Since the Single Barrel is an upgraded and premium whiskey that I actually like, I wondered how different it was from entry level Jack, which is a massive blend. Let's get into this Jack Daniel's comparison to see what we can find.
The below table outlines key facts and figures for each whiskey.

As an FYI, I bought and use these Glencairn glasses from Amazon for my reviews and comparisons (because they're the best): Glencairn Crystal Whiskey Glass, Set of 6, Clear, 6 Pack. Full transparency, this is an affiliate link, so I may earn a commission if you buy this or something else from Amazon.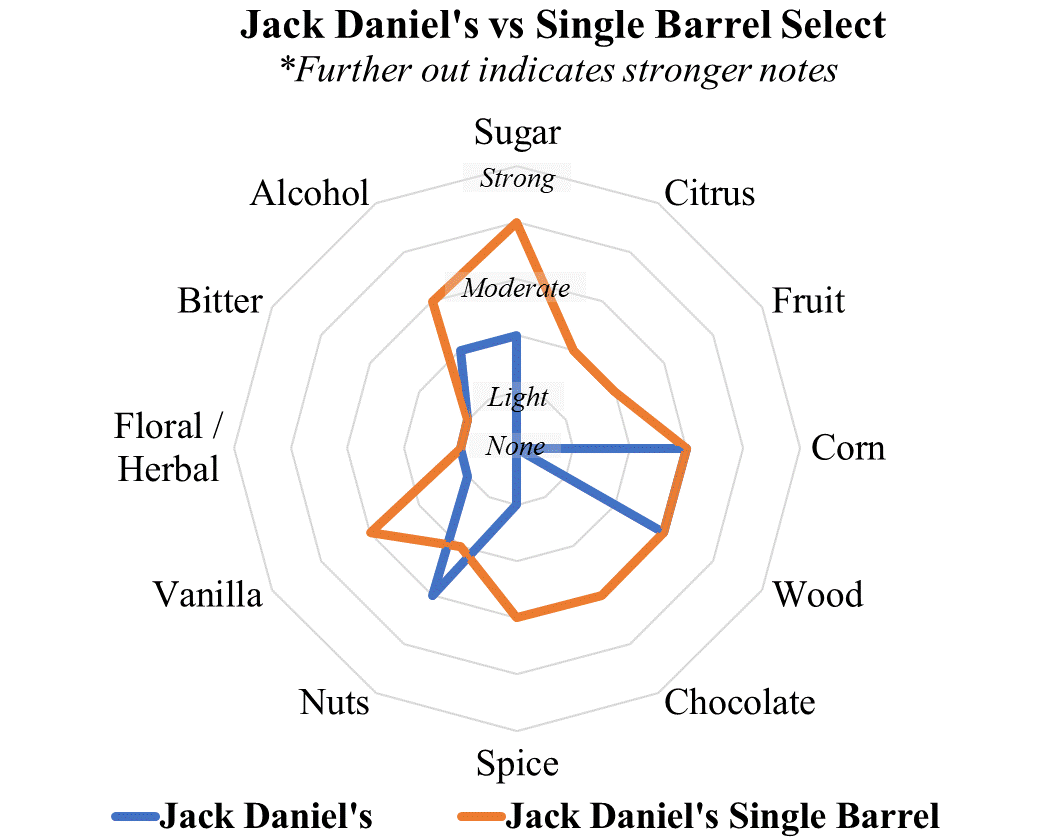 How to Read the Chart 
     Jack Daniel's is in blue and Single Barrel Select is in orange. The center of the circle indicates none of a trait. Further out the line indicates a stronger presence of that trait. 
The scale (from inside to out):
     – None
     – Light
     – Light-Moderate
     – Moderate
     – Moderate-Strong
     – Strong
Whiskey is also for sharing, so I use Vivaplex, 12, Amber, 2 oz Glass Bottles, with Lids for smaller samples and Vivaplex, 12, Amber, 4 oz Glass Bottles, with Lids for larger ones. Full transparency – This is an Amazon affiliate link so I may earn a commission if you buy this or something else. Regardless, I actually use these myself.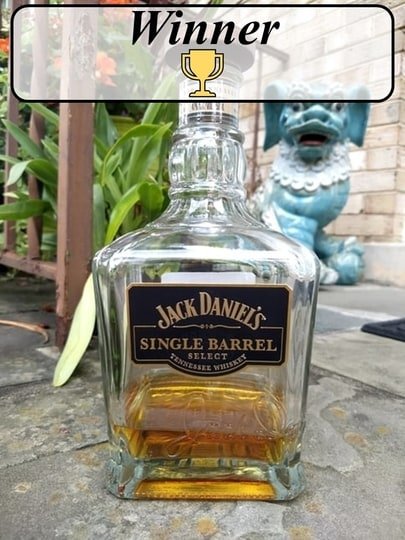 I admit that this is not a fair comparison. Jack Daniel's Single Barrel Select is superior, but you're also paying about double for a significantly better experience. Jack Daniel's Single Barrel is richer, sweeter, and more complex in every way, bursting with brown sugar, cherry cola, chocolate, and honey, with enough malt and woody spice for balance. The Single Barrel's Tootsie Roll-type traits are especially noticeable, and  is one of the sweeter whiskeys that I've had.
There is one interesting note: Old No. 7 smells and tastes nuttier and is equally as woody as the Single Barrel. I don't think it actually is, but its lack of sweetness and other complementary traits allows the woody and nutty youthfulness to run front and center, while it's been tamed in the Single Barrel. You can hide the youth and brashness in mixed-drinks, but the Single Barrel Select is a tasty whiskey that holds its own neat. If I had to drink Jack Daniel's, I'd always reach for the Single Barrel.
There's a lot of great content to come, so consider supporting The Whiskey Shelf on Patreon. Support here.
Maker's Mark Cask Strength Comparison