hughes bros. belle of bedford single barrel rye jack rose review
Hughes Bros. Belle of Bedford Single Barrel Rye Jack Rose Barrel Select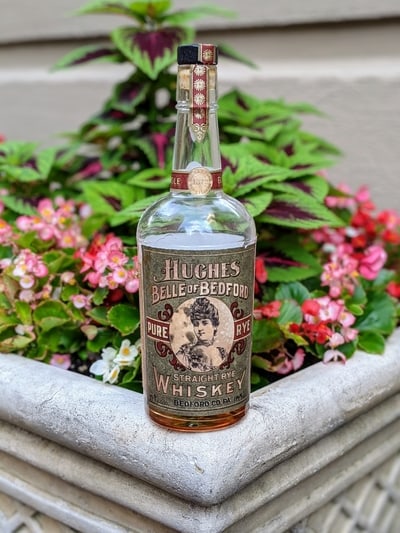 Distillery: Hughes Bros. (sourced from MGP)
Type & Region: Bourbon, Indiana, USA
Alcohol: 57.2%
Composition: 95% rye, 5% barley
Aged: 8 years 7 months
Color: 1.4/2.0 on the color scale (tawny)
Price: $80-110
From the company website:
"Today, this respected name [Hughes Distillery] in whiskey has been resurrected by John J's great-great-grandson, Cyrus Kehyari, with straight rye whiskey distilled in Lawrenceburg, Indiana, to specifications in keeping with the Hughes Bros. historic house style. Every barrel is carefully selected, the rye proofed with water from the Allegheny mountain spring on the original family estate, and each release is bottled by hand."
hughes bros. belle of bedford single barrel rye jack rose overview
MGP's 95% rye whiskey is making a huge resurgence, led by quite a few third party bottles who are either buying aged stock directly from MGP, having them contract distill whiskey, or buying whiskey and aging it further at their own location. In the ever growing pool of MGP rye, Hughes Bros Distillers rolled out their own higher proof rye whiskey and barrel proof single barrel program. 
In this review, we have Hughes Bros. Belle of Bedford Jack Rose Single Barrel Rye, picked by crew from the legendary whiskey bar and restaurant in Washington DC. I've been to Jack Rose a few times…and it's a spectacularly jaw-dropping place, so bring money and know that no matter what you buy, you still haven't bought enough. Anyways, this Jack Rose barrel pick, barrel #3702, was distilled 02/2012 and bottled 09/2020, making it 8 years and 7 months old. Slightly older barrel proof MGP rye sounds great to me, so let's find out if that's actually the case in this Hughes Bros. Belle of Bedford Jack Rose Single Barrel rye review.
hughes bros. belle of bedford single barrel rye jack rose smell
Hughes Belle of Bedford Rye Jack Rose Single Barrel is an MGP rye through and through with fennel, licorice, guava, honey, roasted oak, clove, rose, dried ginseng, and hints of dark cherry. It smells very good and with little heat, somewhat reminiscent of Kentucky Owl Rye Batch 1, but nowhere near as fragrant. Honestly though, there are very few ryes out there today that comes close to that Kentucky Owl.
Swirling helps coax out more fennel, licorice, honey, guava, vanilla, hints of rose and ginseng, orange peel, dried cranberry, pineapple, and an underlying simmering heat. There are moments where there's this light splash of orange, pineapple, and cherry / cranberry fruitiness that's great about rye whiskey in general. But while this Belle of Bedford Jack Rose Single Barrel rye has varied herbal and fruity scents, there's just something about it that doesn't really pop for me, which makes it enjoyable in the moment, but mostly unmemorable after that. You know what it is…this brings out everything good about rye whiskey, but doesn't take it any further. 
hughes bros. belle of bedford single barrel rye jack rose taste and aftertaste
Hughes Bros Belle of Bedford Rye whiskey brings a burst of roasty and earthy honey, fennel, licorice, vanilla frosting, blueberry, rosemary, thyme, roasted oak, and clove. There's some bite, but it's not a big deal. For a lack of a better description, this tastes good and has decent richness as many MGP ryes do, but is generally straightforward. With "chewing" there's honey, a lot of herbal fennel and licorice (on-profile for MGP rye), then earthy ginseng, rosemary, and thyme, then orange, cherry, roasted oak, and clove. This Jack Rose pick becomes more earthy and dry over time with more rosemary, dried ginseng, and roasted oak, all with the heat staying in check. That earthy and dry ginseng and oak are somewhat unique, but it still pales in impact and deliciousness compared to Redemption 10 Year Barrel Proof Rye, which is also a barrel proof MGP rye.
Herbal fennel and licorice, honey, guava, rosemary, and dried ginseng linger in my mouth at first. After "chewing" I'm left with a similar herbal fennel and licorice, guava, and earthy rosemary and dried ginseng.
I guess all I can really think is that this Hughes Belle of Bedford Jack Rose Single Cask Rye brings all the quintessential herbal, tropical, and slightly earthy MGP rye traits with a little more oak and dryness from the age, but the flavors don't ever go the extra mile to stand out or impress me. The flavors mostly stay surface level, with only the occasional showing of additional depth, so this isn't a "Top Shelf" bourbon. Without a doubt it's very drinkable and enjoyable, but "great" doesn't cross my mind. 
Place on the Whiskey Shelf

Expectations are always high when the Jack Rose name is on anything. Unfortunately, the team at Jack Rose missed the mark with their Hughes Bros. Belle of Bedford Single Barrel Rye Jack Rose Pick. It's not even that they picked only a good, but not great barrel, by their own standards, it still misses the mark in what you might call "normal people" standards for a barrel proof MGP rye of this age. It's still a solid MGP rye that brings everything you might expect from that, but it's far from anything particularly special, interesting, or memorable, especially for a $80-100 barrel proof rye. Since I haven't had any other single barrels from Hughes Bros or Jack Rose, but I've had quite a few excellent MGP rye whiskeys, I don't know if this is more an issue with Hughes Bros' stock or if the team at Jack Rose had an off day. Either way, I'm not so impressed. 
Jack Rose is an unforgettable place that will leave you in absolute awe (and rightly so), but their Hughes Bros Belle of Bedford Single Barrel pick doesn't give me that same feeling. It's probably best that only 180 bottles exist because I don't want too many more people to be disappointed from this. If you do happen to find this exact barrel #3702 (unlikely at this point), you can confidently pass. If you have an itch for MGP rye, I recommend Redemption 10 Year Barrel Proof rye and Sagamore Spirit Single Barrel Rye, both of which have far more flavorful and fragrant layers, and really do justice to MGP rye.
There's a lot of great content to come, so consider supporting The Whiskey Shelf on Patreon. Support here.
Comments are closed.