one eight untitled 17 review
One Eight Untitled No. 17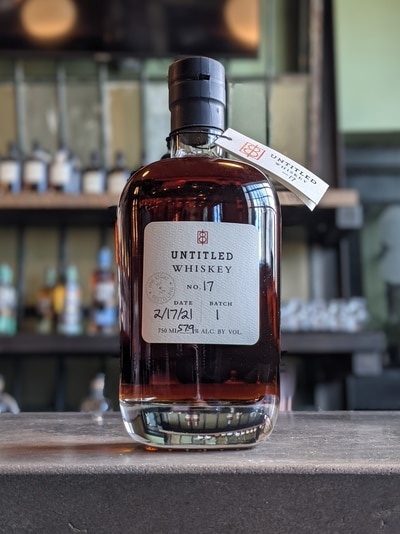 From the back of the bottle:
"As founding father of the bourbon industry, Colonel Edmund Haynes Taylor, Jr. left an indelible legacy. His dedication to distilling began at the close of the Civil War when he purchased O.F C. Distillery. There, he developed innovative techniques that are still in use today. Made by hand, this Small Batch Bourbon Whiskey has been aged inside century old warehouses constructed by E.H. Taylor, Jr.  Barrels are evaluated and selected to create a perfect blend of distinctive character that is like no other. This bourbon is a true sipping bourbon that honors the uncompromising legacy of E.H. Taylor, Jr."
one eight untitled 17 overview
One Eight Untitled 17 is another finished bourbon in the long-running series of sourced (and usually finished) whiskeys. This is the fourth Untitled Whiskey I've reviewed (9, 13, and 18 previously). This time, One Eight really goes into mad scientist mode using a 10 year old wheated bourbon finished in rum, Calvados, and Cognac (although I don't know if the finishes were done separately then blended together), then accented with 14 year old bourbon finished in Amontillado sherry.
One Eight Untitled 9 Antoinette Single Barrel immediately comes to mind, a 10 year old wheated bourbon finished for 2 years in Calvados barrels, and oh boy that was a wacky bourbon that left me entertained and confused. In the One Eight Untitled 17 review, let's find out this combination of finishes leads to something great, or it's an experiment gone terribly wrong.
one eight untitled 17 smell
One Eight Untitled 17 smells very rich but odd. It has caramel with a lot of very ripe apple (from the Calvados), a blend of milk and dark chocolate, roasted oak, vanilla, freshly squeezed orange, cherry, hints of molasses (probably from the rum), and more subtle soy sauce notes. The scents are very dark, but more from the caramel, calvados, and chocolate, and less so the oak. Even through all of that, the scents are still quite fruity, although the Calvados is a tad overpowering at first and tapers off as my nose adjusts. At least for me, it's hard to tell where the cognac and amontillado finishes are, but maybe that was on purpose.
After swirling there's a lot of very ripe apple (with the peel) blended with cinnamon, clove, and candied orange, then vanilla, peach, roasted oak, cherry, and hints of molasses. The best description I can give is apple cider bourbon using super ripe apples and just a dash of soy sauce. It's all very fragrant, distinctive, and interesting, but likely polarizing for some because that Calvados is still very wacky. Even with the added finishes, Untitled 17 is still calvados-forward with more subtle cognac, rum, and amontillado accents. I can't always pick out each finish, but the fact that the Calvados isn't always as overpowering means the other finishes are there. I personally like this a lot, but I bet quite a few people would turn away in disgust.
one eight untitled 17 taste and aftertaste
Untitled 17 has very sweet caramel, very ripe apple, a little dark berry, molasses, slightly funky vanilla buttercream, roasted oak, cinnamon, and a hint of soy sauce. It's certainly rich, interesting, and a little out there, but also not nearly as aggressively Calvados-forward as Untitled No. 9."Chewing" brings big caramel and apple flavors up front followed by vanilla, orange, molasses, cherry, blueberry, oak, and cinnamon. These are big, bold, dark, and interesting flavors with enough heat to remind me that it's cask strength. I especially like how fruit-forward it is and how its delivered in such a unique yet challenging way.
The finish continues to be dark and fruity with honey, ripe apple, cherry, orange, oak tannins, vanilla, and cinnamon. It's not too drying or tannic, having more ripe apple, cherry, orange, oak tannins, vanilla, and roasted oak. "Chewing" makes it a little fruitier with a lot of apple, less orange, caramel, vanilla, some dry oak, and cinnamon. It's a logical continuation of the flavors.
Place on the Whiskey Shelf

I think One Eight Untitled 17 is great, but still weird in a similar way to Untitled 9 (100% calvados finished). The fusion of calvados, rum, cognac, and amontillado finishes creates this awesomely fruity and interesting bourbon that challenges me to keep smelling and tasting, but the Calvados is still the most prominent component. It's less overpowering than it was in One Eight Untitled No. 9 Antoinette Single Barrel, but Untitled 17 can be a little straightforward at times in how calvados-forward it is, lacking that next level of depth, oomph, and "wow" that may be smothered by the Calvados. I wonder what this would have been like if the percentage of each finish was shifted away from the Calvados.
For me, Untitled No. 17 is another polarizing, yet successful, release that will meet the need of most finished whiskey lovers, but gross-out anyone who doesn't. For better or worse, it pushes me to keep figuring out what the heck I'm drinking. One Eight, keep it coming because I like what you're doing, but I will say that Untitled 13 is still my personal favorite.
There's a lot of great content to come, so consider supporting The Whiskey Shelf on Patreon. Support here.