One Eight Distilling Untitled No. 9 Antoinette Single Barrel Bourbon review
One Eight Distilling Untitled No. 9 "Antoinette" Single Barrel Bourbon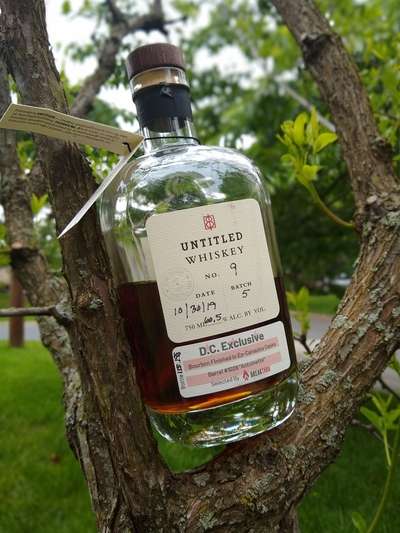 Distillery: One Eight Distilling (sourced from unknown distillery)
Type & Region: Bourbon, Kentucky, USA
Alcohol: 60.5%
Composition: Unknown
Aged: 8 years in virgin American white oak then 20 months in a Calvados cask
Color: 1.8/2.0 on the color scale (old oak)
Price: $70-90
From the company website:
"Untitled Whiskey No. 9 is a six year-old wheated bourbon blended and finished for 8 months in Limousin French oak Calvados casks (I recognize this is for the standard No. 9 release). This is a bourbon that reads like a fruit forward Speyside Scotch. Months in Calvados casks impart a dry minerality, with toasted oak and crisp apple notes."
One Eight Distilling Untitled No. 9 Antoinette Single Barrel Bourbon overview
One Eight Distilling's standard Untitled No. 9 Whiskey is a 6 year old wheated bourbon finished for 8 months in Calvados casks and bottled at 43%. I was never particularly interested in that release given the low proof, but this "Antoinette" single barrel immediately caught my eye when I saw it sitting on the shelf. Untitled No. 9 Whiskey "Antoinette" single barrel cranks everything up to 10, taking an 8 year old cask strength wheated bourbon and aging it for a full 20 months in Calvados casks: a huge bump in aging and finishing. I believe that 3 barrels were released for the DC market: Antoinette, Pamplemousse (picked by the distributor), and one picked by Prav. If you're wondering, I can't say where the wheated bourbon was sourced.
The first thing I noticed before even opening the bottle is how dark this is. 8 year old bourbon by itself is never this dark, so the Calvados finish (maybe first-fill) must have imparted a ton of color in 20 months. Even after reviewing Sagamore Spirit's Calvados Finished Rye, I'm still not too familiar with Calvados-finished whiskeys given how rare they are, so time to go to class in this One Eight Distilling Untitled Whiskey No. 9 Antoinette single barrel bourbon review.
One Eight Distilling Untitled No. 9 Antoinette Single Barrel Bourbon smell
My first sniff immediately makes me think, "what the heck is this?". It's this dark, dusty, and kind of earthy, funky, and fungal smell of dark honey, overripe apples, chocolate tootsie rolls, vanilla, cinnamon, dried mushrooms, and old wood. It's not oaky in the traditional burnt sense, but instead provides this omnipresent darkness that coalesces with the Calvados. The Calvados blasts through in the apple and funk, reinforcing that this was finished long enough for the Calvados to unpack and make itself at home. It also brings this light mintiness that I've smelled in apple brandy but doesn't exist in wheated bourbon. Untitled No. 9 is like sherry-aged Scotch in how dark it is with ripe and dried fruits, just with apples instead of grapes. The peat-like vegetal, fungal, and earthy scents are the most surprising, but without the ash or mesquite. The alcohol is also quite demure for 121 proof.
Swirling emits more of the same, and I'm still confused. The Calvados finish, apart from the baked ripe apple and cherry, still has that peaty, earthy, fungal, dried ginseng, and smoky vibe. There's a ton of super ripe dark fruit flying everywhere with dark chocolate and funky buttercream (I've learned that buttercream actually smells a little off, almost spoiled). Maple syrup also appears after the whiskey starts to dry on the sides of the glass, ending with a little mint. No. 9 also has a spoonful of this savory, chocolatey, and salty scent like pu'er tea and soy sauce. Believe me, I feel just as crazy writing it as you feel reading this. At this point, Antoinette isn't bourbon anymore – it has morphed into a scotch-bourbon-calvados hybrid that doesn't want to be categorized.
I'm completely caught off guard by One Eight's Untitled No. 9 Antoinette; it's the most unique and out-there bourbon I've ever smelled. It's a wacky yet rich and layered nose that's kind of mesmerizing, and I'm struggling to do it justice. 
One Eight Distilling Untitled No. 9 Antoinette Single Barrel Bourbon taste & aftertaste
Untitled No. 9 Antoinette has an intense sweet, fruity, dark, and medicinal sweetness of honey, baked ripe apples, vanilla, cinnamon, and cocoa. It's a little oaky and very dark from fruit instead of oak, but I can't quite describe the medicinal funk to it. There's a little mint as well, likely from the Calvados since there's not rye. The kick isn't bad at all.
With "chewing", I taste a thick burst of medicinal apple and honey sweetness, vanilla, chocolate, cinnamon, oak, and what you might call a little dried ginseng. While it's apple-y, don't think apple pie, think herbal apple cider. My best attempt at describing the herbal funk is a mixture of black licorice, mint, dried mushrooms, and maybe balsamic vinegar. In some ways it tastes like there's some weird rye in there, but it all comes from the Calvados. Like the nose, the flavors are very dark, coming from ripe apples, cinnamon, chocolate, and soy sauce (for real), while there's less of the traditional oak darkness. The chocolate is noteworthy in how it's this wacky ripe milk chocolate (if that even exists). Mint build with subsequent sips while the alcohol, while a tad biting at times, overall is subdued.
The finish is interestingly fruity, herbal, and oaky. That herbal and earthy overripe apple-y sweetness with chocolate really lingers, tapering off into fresher apple and mint after a few minutes. After "chewing", the heat follows into the finish with herbal apple, honey, chocolate, and oak. Oh boy, Untitled No. 9 Antoinette single barrel has a set of wildly unique and viscous flavors; I keep jumping between loving it, and finding it too weird even for me. The Calvados is not subtle and will take you on a joy ride.
Place on the Whiskey Shelf

What the heck did I just drink? As much as I've written, I'm still at a loss for what to write. One Eight Untitled No. 9 Antoinette Single Barrel is one of the strangest and funkiest bourbons I have ever had. Like any other divisive food/drink, I have wildly fluctuating opinions on it all at the same time. For the most part, I think this is actually an excellent bourbon, so strongly molded by the Calvados that this is less of a "finish" and more of a "merger" between the two parts.
If you can handle the funk, there's a lot to unravel given how bold, rich, and varied it is; and it's not every day that you can say you had a great whiskey with soy sauce-like characteristics. Then again, I can see a lot people disliking Antoinette's…what you might call "off putting" character, and that's fair. At bare minimum, these rare Calvados finishes provide a unique experience. I've been thoroughly amused by this.
Where could One Eight have sourced this Calvados barrel? I'd love to try some to figure out if that Calvados is as apple-y, weird, and funky as Untitled No. 9 Antoinette single barrel. Buy this if you dare, you might just find out you really like it.
Comments are closed.