one eight untitled no 13 review
One Eight Distilling Untitled Whiskey No. 13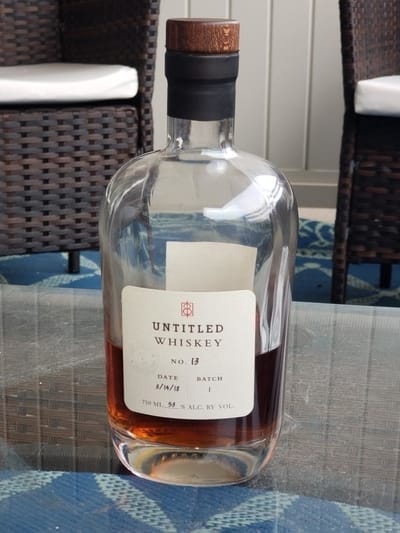 From the One Eight website:
"Presenting Untitled Whiskey No. 13, a 10-year old high rye bourbon rested in a combination of Cognac, Spanish brandy, Amontillado, Oloroso and Pedro Ximenez sherries. The nose on this whiskey is bright and fresh, reminiscent of expressed grapefruit peel and maple sap. The palate starts with candied orange peel before richer, fruitier notes of blackberry jam and maraschino cherries appear. The finish stays on the tongue long after swallowing with hints of chestnut honey and tiramisu."
one eight untitled no 13 overview
One Eight is a distillery located in Washington DC that offers a range of spirits including homemade and sourced whiskeys. Their best-known line of whiskeys has to be the Untitled series: sourced whiskeys finished in a range of interesting things such as wine, brandy, and even coffee. If you ever get a chance, I recommend visiting the distillery for a tour and for a 3-pour flight so you can get familiar with some of what they offer. It's a great time and a worthwhile experience.
The topic of this review is One Eight's Untitled No. 13, a 10 year old bourbon (source unknown) finished Cognac, Spanish brandy, Amontillado, Oloroso and Pedro Ximenez sherry barrels. That's 5 different finishes! Fun fact – while Cognac is French, the rest of the finishing components are Spanish. I'm a big fan of sherry and still drink them on occasion, so that is something also worth investigating if you want to try something new and expand your whiskey knowledge. It's interesting that they chose to use so many finishes because it's likely that some notes will get lost in the huge mix, but we'll find out what happens in this One Eight Untitled No. 13 bourbon review. 
one eight untitled no 13 smell
One Eight Untitled No. 13 is dark, fruity, and actually quite minty to boot. There's dark honey (not so much toasted sugar), spiced oranges with clove stuck into it, toasty and old wood, cinnamon, dark chocolate, and mint. The various finishes provide a lot of dark fruitiness – ripe red apples and citrus, but not so much berry the first time around as I would expect from the Oloroso and Pedro Ximenez (i.e., Jimenez) sherry finishes. All this dark fruitiness and sweetness reminds me of Joseph Magnus Cigar Blend. There's nothing to write home about with the alcohol as it hangs out in the back.
Swirling brings out the nutty and funky sherry notes with prunes, dates, honey, baked apples with cinnamon and clove, candied and spiced fruits from Cognac, and just a little vanilla. The sherry notes really start to take over, but not in a negative way, kind of like a sherry-aged Scotch. The wood provides some wood spice (think cinnamon and clove) but otherwise takes a backseat, providing gentle background scents and a refreshing mintiness. While the heat wakes up a little bit, it quickly calms down. The nose is very interesting and fragrant, showcasing the finishes with the dark fruits, nutty, and funky (almost aged cheesy) sweetness from the sherry and brandy.  
one eight untitled no 13 taste & aftertaste
The wine finishes in the Untitled No. 13 really comes out on the first sip, bursting with plum and date followed by dark honey, oak and cinnamon. It's quite sweet and tasty, and not too hot. "Chewing" brings more sweet bursts of sherry and brandy in the form of honey, prunes, concentrated sun-dried grapes, plums, cinnamon, oak, anise, and sherry-influenced funk. On a side note, you have to try sherry to truly understand the funk that comes from Amontillado, Oloroso, or Pedro Jimenez sherries that are aged without the yeasty flor protecting it from the air. 
There's a really nice balance of wine sweetness, bourbon sweetness, spice, and wood. The oak is tame, primarily contributing cinnamon and nutmeg and less tannic bitterness. I'd expect the 10 year old bourbon and Cognac to be quite tannic at times, but it really isn't, likely due to the finishes. The most noteworthy thing for me is that the wine and brandy finishing are certainly more intense on the palate than on the nose, and it's very flavorful.
The finish is nutty and sweet from the sherry followed by tapering oak tannin and alcohol tingle that fade into oak and a sprinkle of cocoa powder. The oak and cocoa keep going and going. With "chewing", the finish is sweet, fruity, funky, and oaky. The fruit and sherry funk from the palate carry into the finish mixed with roasted oak. The oak stays for a while as mint appears. I wish that the sweetness lasted longer because it can get a tad too bitter on the finish, but a minor complaint at best.  Taken as a whole, I am loving the flavors – the sign of an excellent bourbon.
Place on the Whiskey Shelf

One Eight Untitled No 13 is a fantastic bourbon that again shows off how finishing, if done right, adds so much to the final bourbon. I've been drinking more finished whiskeys lately and learning a lot about them in the process. Every finish is unique and adds layers of variety and nuance to already interesting whiskey. In this case, the Amontillado, Oloroso and Pedro Ximenez finishes are more prominent for me with noticeable nutty, funky, and dark fruit traits. Every smell and taste is very enjoyable and makes me think "wow, this is so good". My primary critique is that I wish the scents and flavors were a little deeper and more nuanced. There are so many varied notes to enjoy, and while they often they pop and wow, they can also be a little shallow at times, leaving me wanting more. 
As unfair as it is to say, Joseph Magnus Cigar Blend immediately comes to mind as a similar bourbon. Both Untitled and Cigar Blend are from DC-based distilleries offering a 10+ year old sourced bourbon finished in brandy and sherry barrels with 50+% alcohol. The comparison truly isn't fair as the Cigar Blend is $200+ while the Untitled 13 is $70-90. While the Untitled No. 13 is half the price, I can honestly argue that the Cigar Blend is at least twice as rich, deep, and interesting – truly transcendent bourbon. This in no way takes away from how wonderful Untitled Whiskey No. 13 is because the best compliment I can give is that it's baby Cigar Blend. It's just that Cigar Blend takes everything further and deeper.
If you like finished bourbons and/or especially like sherry-forward finishes, this is one to buy for your shelf. The finishes make it unique and the execution makes it delicious. If you can get it for under $80, it's certainly worth buying because it's great.