Maker's Mark vs
Maker's Mark Cask Strength
     I love cask strength whiskeys. They are uncut and uninhibited whiskeys straight from the barrel in their purest form. The smells, tastes, and alcohol are in full force, but do all those things make it better? There is always the risk that the alcohol becomes too powerful for its own good, detracting from the whiskey as a whole. When distillers release cask strength versions of their normal products, it's interesting to see how they compare. Are they better? Worse? Let's find out in this ongoing series called Cask Strength Comparison.
     Today, we are comparing Maker's Mark and Maker's Mark Cask Strength (batch 15-05). Maker's Mark is a wheated bourbon, meaning that while corn makes up most of the grain mash (minimum 51%), wheat is used instead of rye as a secondary grain. Other well known wheated bourbons include the "Pappy" line of bourbons, the "Weller" line of bourbons, and Larceny. I enjoy Maker's Mark, giving the regular version a "Mid Shelf" rating and this batch of cask strength a "Top Shelf" rating. I consider Maker's Mark cask strength to be one of best widely available wheated bourbons on the market. Pappy and Weller bourbons are just too difficult to find and drink regularly.
As an FYI, I bought and use these Glencairn glasses from Amazon for my reviews and comparisons (because they're the best): Glencairn Crystal Whiskey Glass, Set of 6, Clear, 6 Pack. Full transparency, this is an affiliate link, so I may earn a commission if you buy this or something else from Amazon.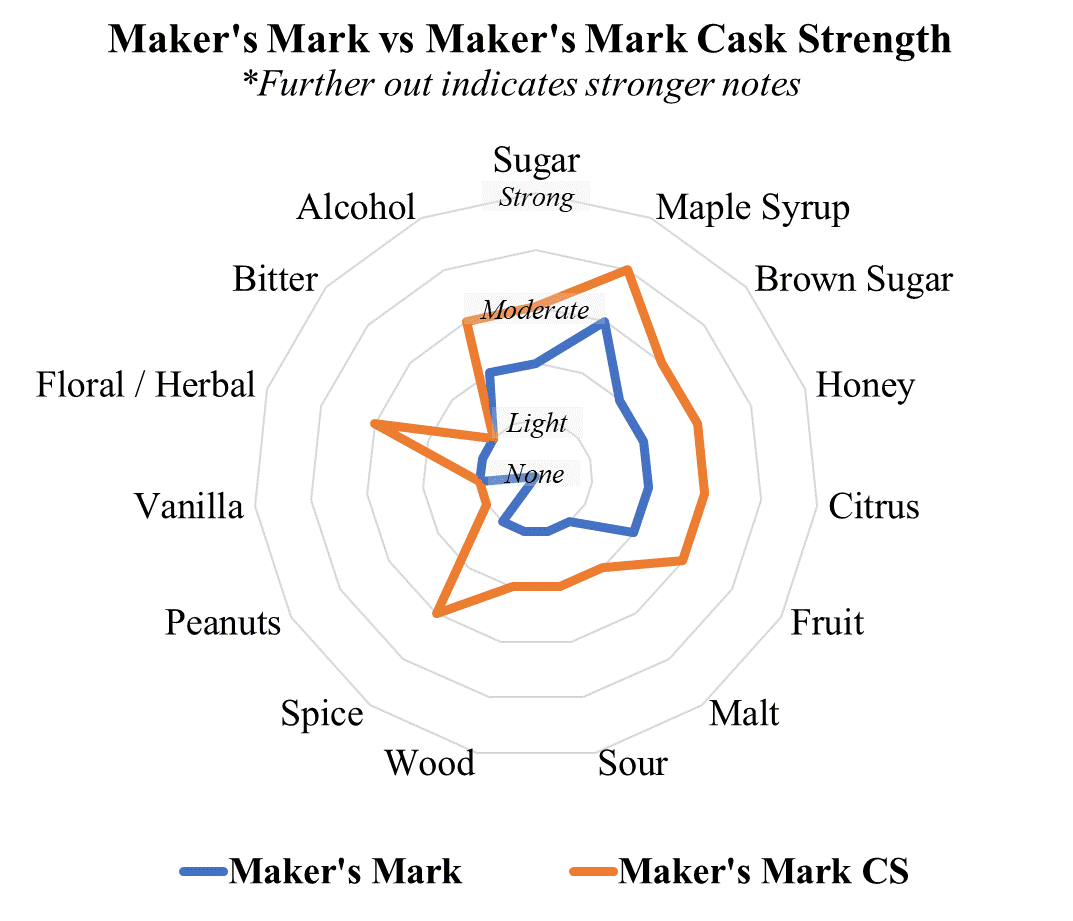 How to Read the Chart
Regular Maker's Mark is in blue, and cask strength is in orange. The center of the circle indicates none of a trait. Further out the line indicates a stronger presence of that trait.
The scale (from inside to out):
– None
– Light
– Light-Moderate
– Moderate
– Moderate-Strong
– Strong
Whiskey is also for sharing, so I use Vivaplex, 12, Amber, 2 oz Glass Bottles, with Lids for smaller samples and Vivaplex, 12, Amber, 4 oz Glass Bottles, with Lids for larger ones. Full transparency – This is an Amazon affiliate link so I may earn a commission if you buy this or something else. Regardless, I actually use these myself.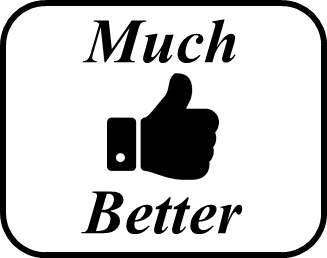 The Maker's Mark Cask Strength is a significantly better bourbon and greatly improves the overall experience, but the regular one isn't bad either. Given that these two come from the same mashbill, these two bourbons are unsurprisingly similar. Both are citrusy, sweet, and malty, supported by wood, spice, and floral notes. The extra 10% alcohol amps up the flavors already present in regular Maker's Mark, especially boosting the sweet and spicy notes. The extra proof also introduces more wood and peanut flavors. While the alcohol is more potent, it always stays in check to allow everything else to shine. An excellent offering by Maker's Mark.