weller antique 107 review
Elijah Craig Barrel Proof (Batch B515)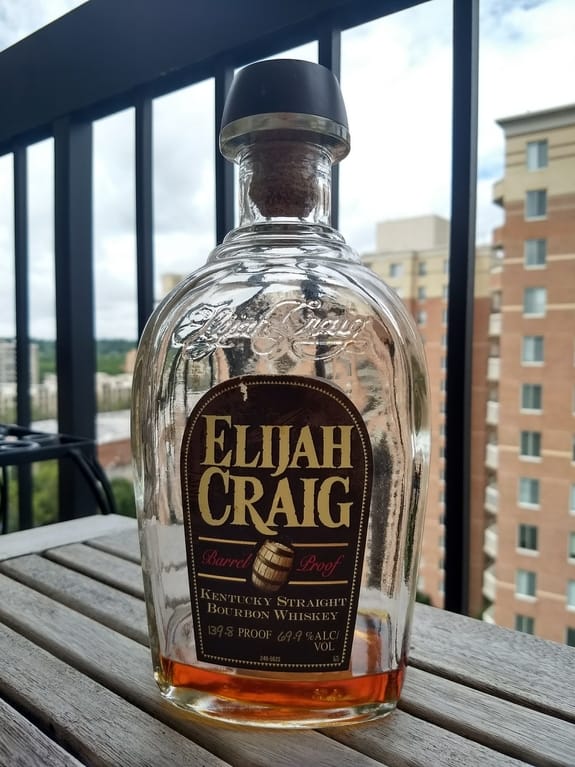 Distillery: Heaven Hill
Type & Region: Bourbon, Kentucky, USA
Alcohol: 69.9%
Composition: 75% Corn, 13% Rye, 12% Malted Barley
Aged: 12 years, aged in virgin American white oak (purchased in 2015)
Color: 1.6/2.0 on the color scale (mahogany)
Price: $60-70 MSRP (750mL), but can be $100+ in some markets
From the Heaven Hill website:
"To sip our Barrel Proof Bourbon is to experience Bourbon in its purest form—uncut, straight from the barrel, and without chill filtering. Each bottle is hand labeled with its unique proof and batch number but the nose, taste, and finish of every sip is pure Elijah Craig. We're proud to say that remarkable consistency earned us the award of Whisky Advocate's "Whisky of the Year."
Elijah Craig Barrel Proof Review
     *I first want to give a shout-out to my brother, who bought this for me on his way back from Kentucky.
Eljiah Craig Barrel Proof is one of Heaven Hill's flagship products. Elijah Craig bourbon (the 47% and barrel proof varieties) are widely acclaimed. The 47% version won "Best Small Batch Bourbon" at the 2018 San Francisco Spirits Competition, and the barrel proof won Whisky Advocate's 2017 "Whisky of the Year".
A fun fact, Elijah Craig 12 (not barrel proof) was one of the first bourbons I ever purchased (years ago when they still had the age statement on the lower proof version). This is a small batch product with multiple releases per year. As such, each release is different, and this one from 2015 (batch B515) is no different.
The bottom of the Elijah Craig website provides the exact batch numbers for all their releases. The challenge is that it's often difficult to find given strong demand and limited supply.
*Note: I did not add any water to this as part of my review.
As an FYI, I bought and use these Glencairn glasses from Amazon for my reviews and comparisons (because they're the best): Glencairn Crystal Whiskey Glass, Set of 6, Clear, 6 Pack. Full transparency, this is an affiliate link, so I may earn a commission if you buy this or something else from Amazon.

Elijah Craig Barrel Proof Review
Intense roasted wood and pine needles immediately rush up my nose, followed by moderate alcohol that shockingly doesn't send me reeling. It's very bold and excellent. The wood and spice make me think that it's a high-rye bourbon, but it's not. My guess is that some of the barrels blended into this batch came from higher-up in the warehouse where more vigorous aging and evaporation occurred, leading to more wood flavors and greater proof. 
Once I've adjusted, the second smell contains noticeable peanuts and peanut shells, honey, and caramel, in addition to the primary scents of roasted wood and pine. It's potent yet pleasant.

The smell stays the same throughout drinking. When there is less liquid in the glass, wood and pine are still prominent, but sweeter notes such as caramel and bubblegum come to the foreground. When the glass is empty, the smells remain the same but with minumal alcohol intensity.
This is a very rich-smelling bourbon that doesn't smell like its 70% alcohol. It's strong, but not as overpowering as you might expect. Elijah Craig Barrel Proof's smell is like a powerful tiger biding its time waiting to pounce on unsuspecting prey. I can see some people being turned-off by the upfront intensity, but I enjoy it.

Elijah Craig Barrel Proof Review
If the tiger was waiting in the shadows while I smelled, it pounces when I taste. The first taste explodes with mint spice, brown sugar, corn, and peanuts. The mint and spice are especially prominent, reminding me of botanicals in gin. If I didn't already know the mashbill, I'd swear it had 25-30% rye in it. 
The mouthfeel is thick with alcohol, yet well balanced with the other strong flavors, and never overpowers them. Towards the end of each sip, there's an underlying dryness and bitterness, reminiscent of the last drops of black tea in a pot.

The alcohol really takes over on my second taste when I let this Elijah Craig sit in my mouth. The 70% alcohol makes it difficult to let it sit there for more than 6 or 7 seconds before swallowing. Even with all that alcohol, wood, spice, honey, and peanuts are strong and noticeable. 
After swallowing, the alcohol burn quickly subsides and the aftertaste calms. There are lingering notes of wood, spice, peanuts, and botanicals. It's a little bitter, but very good. I enjoy the wall of flavor from this bourbon. It doesn't hold anything back, and I appreciate it.

Whiskey is also for sharing, so I use Vivaplex, 12, Amber, 2 oz Glass Bottles, with Lids for smaller samples and Vivaplex, 12, Amber, 4 oz Glass Bottles, with Lids for larger ones. Full transparency – This is an Amazon affiliate link so I may earn a commission if you buy this or something else. Regardless, I actually use these myself.
Place on the Whiskey Shelf

Elijah Craig Barrel Proof is an excellent bourbon and a great example of high proof not overpowering everything else. The smells and flavors are rich and powerful, yet so delicious and enjoyable. If you can handle it, you'll be greatly rewarded. My only complaint, and it's a small one, is that it lacks some type of fruit note (citrus, cherry, etc) that would make it almost a "Top Shelf+" bourbon.
Since Elijah Craig Barrel Proof is a Heaven Hill product, I can't help but compare it to Henry McKenna 10 Single Barrel. They are completely different drinks, even with the same mash bill and comparable aging. Elijah Craig has more alcohol (69.9% vs 50%) yet smells more mellow and pleasant.
The Elijah Craig may burn a little more when drinking, but the exponential increase in flavor makes up for it. It's the superior drink, and you're going to pay more for it. Buy this if you can find it, but please leave some for me too.