Wild Turkey Rare Breed Bourbon vs Russell's Reserve Single Barrel Bourbon
Wild Turkey Rare Breed
and
Russell's Reserve Single Barrel Bourbon
are two great and readily available bourbons. While they come from the same distillery and use the same mashbill, they are otherwise quite different. Rare Breed is a batched product blended from barrels of various ages (~6-12 years) while Russell's Reserve comes from a single barrel (~8-10 years).
Russell's Reserve was also created to have a different profile than Wild Turkey-branded whiskeys (from what I recall more to Jimmy Russell's liking), hence the different brand name. The question then is, if you have $40-60 to spend, which one should you buy?
I already highly recommend both, so it's more of a matter of understanding how different they are in this Wild Turkey Rare Breed vs Russell's Reserve Single Barrel Bourbon Comparison.
Before we get started, I do want to mention that this particular Russell's Reserve Single Barrel is a little different from the usual ones you might find. Apart from being a store pick (most of them are single barrels selected by the distillery), this one is ~10 years old based on the 11/19/2009 distilled date and 12/16/19 dump date, older than the usual 8-9 years.
Every barrel is going to be different anyways, so your experience will likely vary from mine regardless of whether it's a store pick. This Rare Breed comes from Batch LL/GA from January 2018, which also may be a little different than the releases you will find now.
That's a lot of qualifications, but this comparison should still provide some directional guidance for what to expect, so let's find out just how different they are in this Wild Turkey Rare Breed vs Russell's Reserve Single Barrel Bourbon comparison.
Whiskey is also for sharing, so I use
Vivaplex, 12, Amber, 2 oz Glass Bottles, with Lids
for smaller samples and
Vivaplex, 12, Amber, 4 oz Glass Bottles, with Lids
for larger ones. Full transparency – This is an Amazon affiliate link so I may earn a commission if you buy this or something else. Regardless, I actually use these myself.
These two bourbons are drastically different (and great), and turns out I prefer Russell's Reserve Single Barrel Bourbon Total Wine Select. I'm a sucker for the more mature and evolved fruitiness, refined oakiness, tobacco, tropical and floral-ness, and less heat. Russell's Reserve Single Barrel, or at least this one, is the far more developed and refined bourbon.
It's just so damn good and easily competes with $100+ bourbons. Rare Breed is the more brash and burly bourbon with more sugars, oak, spice, earthiness, and heat – a quintessential bourbon. This batch LL/GA (January 2018) Rare Breed's added rosemary and thyme earthiness reminds me of a better 
Old Forester Barrel Strength Bourbon
, and this Russell's Reserve reminds me of a calmer and just as good 
Stagg Jr
.
Your choice will depend on your preferences, but both deserve a place on your shelf. I'm still thoroughly amazed that the same mashbill aged for different amounts of time and barrel selection / blending make such a drastic difference. It goes to show that blending and barrel selection are truly an important art.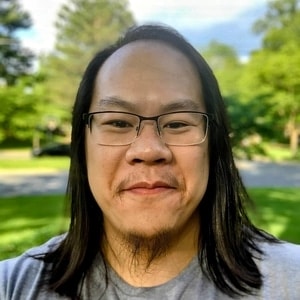 I have far too much fun writing about whiskey and singlehandedly running The Whiskey Shelf to bring you independent, honest, and useful reviews, comparisons, and more. I'm proudly Asian American and can speak Cantonese, Mandarin, and some Japanese.
There are no sponsors, no media companies, and no nonsense. Support The Whiskey Shelf by 
Buying Me A Shot
.
Maker's Mark Cask Strength Comparison
Comments are closed.