single cask nation 24 year bourbon review
Single Cask Nation 24 Year Old Bourbon (Pre-fire Heaven Hill)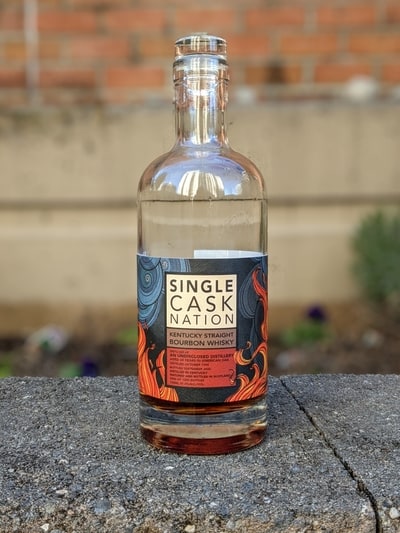 Distillery: Undisclosed (it's Heaven Hill)
Type & Region: Bourbon, Kentucky, USA
Alcohol: 47.4%
Composition: Likely 78% corn, 10% rye, 12% barley
Aged: 24 years in American white oak
Color: 1.7/2.0 on the color scale (burnt amber)
Price: $300
From Single Cask Nation website:
"We were offered a parcel of 24yo Kentucky bourbon (currently being stored in Scotland) which is from a distillery that had a very famous fire some years ago. This whisky was produced pre-that fire. 12 years of its life was spent in KY, 12 years of its life in the UK (and has been sitting out of wood now for a short period of time). It was distilled in October 1994 and bottled in November 2020. This global release is 1500 bottles at 47.4% ABV."
single cask nation 24 year bourbon overview
There are a lot of interesting bourbons out there, but Single Cask Nation 24 Year Bourbon (pre-fire) is even more so. In early 2021, Single Cask Nation released this 24 year old Kentucky bourbon, distilled October 1994 in Kentucky and bottled September 2020…in Scotland of all places. 1500 bottles were distributed globally, 1200 of which were sold in the US. Given the age of this Kentucky bourbon and the subtle / not so subtle hint to a fire in the 90's suggests that the bourbon comes from Heaven Hill, which experienced a massive fire on November 7, 1996. The only other Heaven Hill bourbons I can think of that are remotely this old are Heaven Hill 27 Year Barrel Proof and Evan Williams 23 Year.
I don't know how this bourbon ended up in Scotland around 2008, but it's also so interesting that this was aged in Kentucky for 12 year (and thus was in a nearby rickhouse when the fire happened) then for some reason sent to Scotland to age for another 12 years, where it was eventually bottled for our consumption. This bourbon has had quite the journey to Scotland and then back to the US and into my whiskey shelf.  Let's experience a piece of bourbon history and exploration in this Single Cask Nation 24 Year Bourbon review. 
single cask nation 24 year bourbon smell
The first smell is just…whoa. This 24 Year Old Bourbon is very dark with roasted caramel, preserved cherry, fragrant roasted oak, burnt vanilla, freshly ground coffee beans, dried cranberries and other berries, roasted almond skins, dried orange peel, and aged gouda cheese. There's a ton of roasted character and wood, but it's also not overly burnt. To state the obvious, this smells very old, although I notice the odd lack of bottom end something to round out the lower-end depth and richness. There's a lot of oak, but not necessarily a ton of low-end bass to fill out everything from top to bottom.
With swirling, it's still very dark with roasted caramel, freshly ground coffee beans, roasted oak, vanilla, dried orange peel, dried peach, tobacco, licorice, and candied ginger. There's more of that old wood funk and dark chocolate orange ball. The oak is so fragrant, defined, and refined like Lux Row 12 Year Double Barrel Bourbon (also sourced from Heaven Hill), making it so easy to smell over and over. This is how you pull off a 24 year old super-old bourbon, but then again 12 out of 24 years in Scotland makes a big difference. Scotland's weather is far less extreme than it is in Kentucky, slowing down the oak aging process. I miss some of that dark caramel and fruitiness to round out the low end, but dang this still smells incredible.
single cask nation 24 year bourbon taste & aftertaste
Single Cask Nation 24 Year Old Bourbon crams a ton of roasted caramel, chocolate, oak, cinnamon, vanilla, dark berries, nutmeg, clove, coffee grounds, and orange peel into its 47.4% ABV, which I think is cask strength. It's very oaky and roasty but still well balanced between the sugars, oak, fruit. Then again, if you bought a bottle, I'm pretty sure you already expected it to be very oaky.
With "chewing", I find even more roasted caramel and vanilla sweetness first, then oak, tobacco, cocoa powder, coffee grounds, caramel nougat, dried orange peel, dried apple, a lot of cinnamon and nutmeg, and berries towards the end. Everything is awash in roasted oak, but is nowhere near overdone because there is so much roasted sugar sweetness, vanilla, and just enough fruit for contrast to create this excellent bourbon. Just like the scents, the oak is very well defined, refined, and actually a little reserved, with only a gentle tinge of alcohol that always allows me to appreciate every flavor. This definitely has the richness of a 55% ABV bourbon, minus the heat, but the lack of some viscosity and low end roundness holds it back some. Still, you're not going to find many bourbons that taste like this…maybe Remus Volstead 14 and Woodford Very Fine Rare Bourbon are directionally similar.
The oaky flavors transition into honey and refined oak tannins followed by licorice, vanilla, apple skins, and cocoa powder. To no surprise, the finish tapers-off into a long-lasting oak, tobacco, roasted vanilla, and cocoa powder. "Chewing" leaves a nicely balanced sweetness and oakiness with caramel, oak tannins, vanilla bean, cinnamon, dried berries, and a little licorice. The finish goes on and on…and on and on while not drying out my mouth that much.
Place on the Whiskey Shelf

Single Cask Nation 24 Year Old Bourbon (pre-fire Heaven Hill) is a roasty, rich, and plain awesome bourbon. All the roasted sugars, toasted oak, and cocoa powder make it smell and taste very old and one of the oakiest bourbons I've ever had, but thankfully it's far from being overoaked, partially a product of the 12 out of 24 years of less intense aging in Scotland. Twenty four years of oak aging in Kentucky would probably have led to a very different result.
Now is it worth $300? Purely based on how it smells and tastes, probably not, but honestly where else am I going to find a bourbon this unique? A lot of the price, which I think is reasonable, includes the inherent cost of a bourbon this old and its novelty. In terms of somewhat obtainable substitutes, I highly recommend Lux Row 12 Year Double Barrel Bourbon (also sourced from Heaven Hill). Even at half the age, it actually has a very similar mature and refined oakiness, but in a more fragrant and flavorful package that I prefer. This recommendation isn't that helpful since it's a Kentucky-only release, but it's at least obtainable. My main point is that Single Cask Nation 24 Year Old Bourbon is quite the distinctive and excellent bourbon that I'm glad to have had, but it doesn't quite reach the echelon of otherworldly best bourbons I've ever had.
There's a lot of great content to come, so consider supporting The Whiskey Shelf on Patreon. Support here.