Flying Ace Cask Strength Bourbon review
Flying Ace Cask Strength Bourbon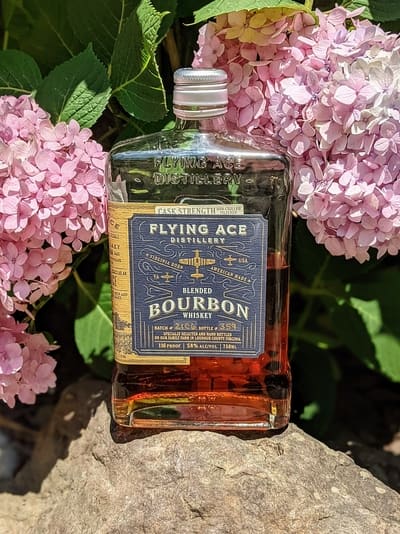 From the company website:
"Our Blended Bourbon is a combination of two 6 year old bourbons and a 15 year old light whiskey that creates a balanced, unique flavor profile. The grain forward nose gives way to hints of rose petal, allspice and honey. Combined characteristics of caramel, maple syrup and crème brulee add to the body and complexity of this blend. Finishing with distinct undertones of honeysuckle, white pepper and gingerbread make our Blended Bourbon truly one of a kind."
Flying Ace Cask Strength Bourbon overview
Flying Ace is a new brewery and distillery out in Loudon County, Virginia, close to the West Virginia and Maryland borders, that opened up in April 2021. As of mid-2021, the brewery and distillery are up and running, but their homemade bourbon isn't ready yet (but the white dog is being produced). Because they plan on aging their homemade bourbon for a few years before releasing it, Flying Ace went to MGP to source and blend their own bourbon, leading to the Flying Ace Cask Strength Blended Bourbon in this review. This is a blend of 6 year old bourbon (both the 21% and 36% rye mashbills) and 20% 15 year old corn whiskey. It's called blended bourbon because corn whiskey was added, but the blend is still a majority bourbon. I'm always down to try cask strength bourbon, so let's find out if this blend was successful in this Flying Ace Cask Strength Bourbon review.
Thanks to Hadi, owner of Flying Ace, for inviting me out to visit the farm / brewery / distillery / restaurant / cool place to be. I purchased this bottle myself, so all opinions are still my own. 
Flying Ace Cask Strength Bourbon smell
Flying Ace Cask Strength Bourbon gives off darker honey, sweet grains, baked apple, cinnamon, clove, graham cracker, fennel, rosemary, and a little vanilla and caramel. There's a decently interesting grain-forwardness and earthy rosemary that reinforces that its younger MGP, but at first it smells pretty good.
After swirling I smell honey, caramel, rosemary, fennel, apple and orange, roasted oak, cinnamon, and toasted graham cracker. The balance leans towards the earthy and herbal notes, and in many ways reminds me of Barrell's Stellum bourbon. Then again, both Flying Ace and Stellum used younger MGP bourbon as the base. As a whole, Flying Ace Cask Strength Bourbon smells decently fragrant, but it's not that complex or deep, missing much meaningful depth or richness.
Flying Ace Cask Strength Bourbon taste and aftertaste
Flying Ace Cask Strength Bourbon leads with herbal and earthy honey, fennel, rosemary, licorice, baked apple, cinnamon, vanilla, and roasted oak. Now the more herbal and earthy MGP flavors come out, providing equally sweet, herbal, earthy, and oaky flavors with less focus on fruit. The 58% ABV bites a little, but that's normal to me.
After "chewing" I taste sweet, herbal, and earthy honey with fennel, rosemary, thyme, vanilla, bubblegum, roasted grains, dried apple and orange, roasted oak, cinnamon, and clove. Flying Ace Cask Strength Bourbon is earthy and herbal-forward, reinforcing that this tastes like younger and not as well-developed MGP bourbon. It just doesn't have a stand-out or particularly interesting trait. I will add a side comment that not all young MGP tastes that young (e.g., Kooper Family Single Barrel Bourbon at 4-5 years old). That mainly means that this cask strength bourbon tastes pretty good, but I'm not that impressed. It's generally straightforward, although far from unpleasant.
The finish is lightly sweet, earthy, and herbal with honey, rosemary, fennel, roasted oak, dried apple, dried cracker, and roasted grains. Over time, the roasted apple comes to the front, which changes up the long-lasting finish. After "chewing" I get a similar balanced honey, earthy rosemary and thyme, herbal fennel, roasted oak, dried apple, cinnamon, and dried cracker, with the apple growing over time as the other things fade.
Place on the Whiskey Shelf

The inaugural batch of Flying Ace's Cask Strength Blended Bourbon is solid and enjoyable, but it doesn't do enough to keep my attention. For better or worse, it reminds me a lot of Stellum Bourbon (part of Barrell) in how herbal, earthy, grainy, and young it is. That's good in the sense that the quality of blending is on-par with Barrell, but not great in the fact that Stellum isn't particularly noteworthy either. Funny enough, I was more drawn to the white dog when I tried samples at Flying Ace. The white dog isn't necessarily better, but it's far more interesting for me.
Price has no impact on the rating, but as a consumer who actually purchased this bottle for this review, I think the blend needs to improve to justify the $65 price tag. There's already lot of great $50-70 bourbon and it is getting even more crowded as craft distilleries such as New Riff, Wilderness Trail, Woodinville, and many others hit their stride with very good 4-7 year old releases that are becoming more widely distributed. Flying Ace Cask Strength Bourbon smells and tastes a tad too young and under-developed to stand-out.
If you were wondering what to get from Flying Ace, I recommend the white dog or the beer. Flying Ace Cask Strength bourbon isn't bad, it just doesn't do it for me, but I'd totally go back to visit.  
There's a lot of great content to come, so consider supporting The Whiskey Shelf on Patreon. Support here.