sto 914 small batch review
StilltheOne 914 Small Batch Bourbon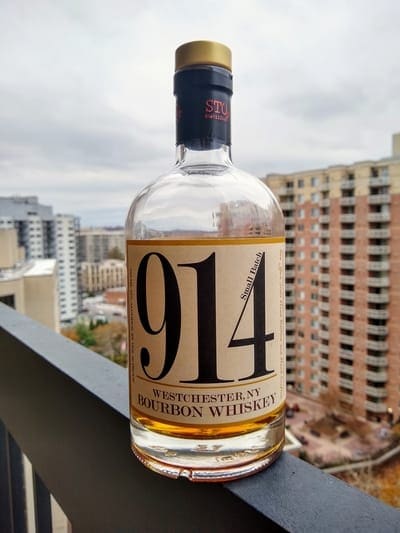 Distillery: StilltheOne (STO)
Type & Region: Bourbon, New York, USA
Alcohol: 45%
Composition: Corn, wheat, and barley. Ratios are undisclosed
Aged: ~35 months virgin American white oak
Color: 1.1/2.0 on the color scale (burnished)
Price: $35-45 for 750mL
From the STO website:
"It just so happened that one memorable evening, while relaxing and going over a book of unique beer recipes, we came across an old style pilsner recipe utilizing corn as an adjunct to malted barley. Now, using corn in beer is no revelation, but this unique recipe surprisingly specified degermed corn (i.e. without the oily endo sperm, aka corn meal). We blended NY corn with NY wheat and immediately knew we had something special upon the first taste. It was sweet, floral and soft in taste and after aging in a new American oak barrel it developed into a rich, flavorful spirit with hints of honey, vanilla, and burnt orange."
sto 914 small batch overview
Before this review, I had never heard of StilltheOne Distillery (STO), but that's not surprising. STO is a young craft distillery located in Port Chester, NY, about an hour north of New York City in Westchester county. When I lived in New York City I actually spent quite a lot of time up in Westchester county, including in Port Chester, so this distillery takes me back to a very different time in my life.
Reminiscing aside, I bring up this distillery because I'm reviewing StilltheOne's 914 Small Batch bourbon, aged for 35 months in barrels of an undisclosed size with the no.4 char. 914 Bourbon is produced and aged in New York State using local grains (surprisingly not sourced), part of the growing distillery scene in the state. Even more interesting, this is a wheated bourbon, so that should perk up your bourbon senses.
While I don't buy or drink much craft whiskey, I received this as a generous gift (not from the distillery) from someone who grew up in the area, so I will give this bourbon a fair evaluation. Don't get me wrong, some craft whiskey turns out to be very good (e.g., Jacksonville's Manifest Rye and Baltimore's Old Line Cask Strength Single Malt), but a lot of it also ends up…shall we say…not great. In this StilltheOne 914 Bourbon review, let's find out if this craft bourbon is worthy of a spot on your whiskey shelf.
*I'd like to thank Will for gifting me this bottle
sto 914 small batch smell
914 Small Batch Bourbon begins with caramel and honey, but immediately follows with dry and grassy nuttiness that reminds me of Heaven Hill's Larceny. I personally like Larceny, so this isn't a negative in any way. Past the sugar and grass, I smell a little baked bread sprinkled with dried apples and cinnamon, as well as faint notes of oak must. The 914 isn't particularly oaky or spicy; the oak manifests itself more as lightly dried or toasted. There's also not much heat to speak of yet.
After swirling, I still smell honey, vanilla, dry grassy nuttiness, and a hint of orange. The dark sweetness starts to show itself as the glass settles, bringing a little more citrus, fruit, and floral quality. It's finally starting to open up, and it's quite fragrant. The oak definitely comes off more as dried grass than charred wood, and there are light dough notes with hints of something darker, maybe cherry. The scents become more intensely dark and sweet with brown sugar, caramel nougat, and maple syrup as some of the liquid starts to dry in the glass. It's supplemented with a little chocolate, vanilla, cinnamon, citrus, dough, grassy nuttiness, and something slightly herbal and vegetal. STO 914 Bourbon has enough layers to make it interesting. So far so good.  
sto 914 small batch taste & aftertaste
STO 914 Bourbon is sweet with honeyed oranges followed by vanilla, slightly bitter oak, black pepper, corn, cinnamon, and nutmeg. Again, it's not very oaky, but there's enough to provide a slightly roasty and spicy backbone. There's a slight kick on my tongue, but nothing is ever harsh or unpleasant.
"Chewing" and spending more time with the bourbon, reveals caramel and a little brown sugar followed by chocolate, cinnamon, corn, dried oranges, and vanilla. More sponge cake-like vanilla appears as I chew through it more. Oak, roasted dark chocolate, and black pepper start to appear in the middle and back as complementary spices, providing a slightly darker dimension. There's definitely a minty and herbal presence, but it easily could be the cinnamon and something I can't quite identify because 914 bourbon has absolutely no rye in the mash. The grassy nuttiness in the nose is also nowhere to be found in the flavors.
On the finish, STO 914 has a mix of honey, baked bread, oak, and cinnamon. The unexpected mintiness continues with a drop of citrus oil added to it. The finish is slightly bitter from the oak, but overall is clean and refreshing. After "chewing", I'm left with a bright, refreshing, and slightly herbal finish of honey, a little dried wood and cinnamon, flowers, dried citrus peel, and nutmeg. There's definitely something herbal and vegetal in there, almost like chive or green onion. Overall, StilltheOne 914 Bourbon's flavors are bright and vibrant, but thankfully not too thin. At 45% alcohol, it's not particularly viscous, but that's fine as well. 914 Bourbon is very drinkable and pleasant, far from being an underdeveloped bourbon, so I'm happy about that.
Place on the Whiskey Shelf

I'm pleased to say that STO's 914 Small Batch Bourbon is actually pretty good to drink neat. It's not mind-blowing, but for something that was only aged for 35 months, there's actually nicely developed caramel, citrus, vanilla, oak, and grass notes that keep getting better over time. In all honesty, this is on the cusp of a "Mid Shelf+" rating, but it's not quite there yet. Regardless, STO's bourbon doesn't smell or taste "rushed", so you could fool me into thinking that this was older, and the 914 really does hold up against widely produced and distributed wheated bourbons such as Larceny and Maker's Mark. The verdict is still out on Weller Special Reserve since I haven't had it yet, but I imagine that it is comparable.
Still, there is room for improvement with additional aging, but that just can't be rushed. The proof can be changed though. StilltheOne Distillery, if you're reading this, please increase the proof. It doesn't have to be cask strength, but I truly believe that there's enough here to proof it up without overloading all the pleasant notes with alcohol. Regardless of the proof, I'm excited to see where STO goes with this bourbon in the coming years. I can honestly see this being amazing at 5-6 years old, giving the big boys a run for their money.