Peg Leg Porker Tennessee Bourbon Review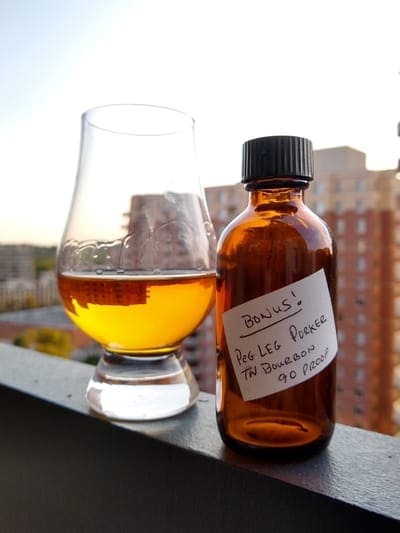 Distillery: Peg Leg Porker (sourced from Dickel)
Type & Region: Tennessee Bourbon / Whiskey, USA
Alcohol: 45%
Composition: 84% corn, 8% rye, 8% barley
Aged: 8 years in virgin charred oak barrels
Color: 1.1/2.0 on the color scale (burnished)
Price: $35-40 MSRP
From the Peg Leg Porker website:
"Peg Leg Porker Bourbon is the signature bourbon from Award Winning Pitmaster, Carey Bringle. Having a deep love for bourbon and appreciation for the fact that bourbon and BBQ pair together so well, Carey Bringle is the first Pitmaster in the US to start his own bourbon brand. Peg Leg Porker 8 year old was first released in 2015 and quickly gained popularity across the state of Tennessee. It was awarded the prestigious Gold Medal at the San Francisco World Spirits competition the first year of its release."
Peg Leg Porker Tennessee Bourbon (yes also known as Tennessee whiskey) is a virtual unknown for me. It seems to have fairly limited distribution and I only obtained it from a sample that my buddy brought over from a trade he made with someone else. I guess that can be a good thing because I probably won't have any bias towards or against it. Like it says on the website, this brand was founded by Carey Bringle, a barbeque Pitmaster, who wanted to carry over his love for barbeque to bourbon.
Using "Tennessee Bourbon" is an interesting decision, especially when Jack Daniel's and George Dickel call it "Tennessee Whiskey". It just goes to show that "Tennessee Whiskey" may be bourbon after all, but let's not get into that argument. After I did the actual smell and taste test, I verified that Peg Leg Porker is sourced from George Dickel. Let's dive into this Peg Leg Porker Tennessee Bourbon review to find out how much I enjoy my first experience with it.
That first sniff welcomes me with sweet honey, caramel covered crushed peanut shells, and grass with a little vanilla and sliced oranges. For a Tennessee bourbon, this smells a lot like George Dickel (I did this review before doing any research). Combined, it smells like Whole Foods freshly crushed roasted peanut butter with a dab of honey and extra peanut shells for a slightly earthier and grassier smell. Past the general sweetness and nuttiness, I smell underlying roasted oak, cinnamon, nutmeg, and spice as well as a baked bread, all very normal for Tennessee whiskey / bourbon (whatever you want to call it). There's also a gentle heat that's to be expected. I've read that the wood used to charcoal filter this is supposed to infuse a distinct smoky wood note, but I don't smell anything different from the usual charred oak and tobacco.
After swirling, Peg Leg Porker becomes mustier and smokier with sweet caramel, orange, vanilla, nuts, and grass. It's all wrapped up in a thin blanket of oak and spice. Buried in there is some roasted bananas foster with a cherry on top. I may be getting a little more of that smoky woodiness now as well, but it's very easy to miss. Peg Leg really smells like being out at a farm in autumn as the grass starts to dry. Peg Leg Porker is surprisingly quite fragrant and enjoyable to smell.
peg leg porker taste & aftertaste
Peg Leg Porker Sweet begins with sweet corn, orange, vanilla creamsicle, and crushed roasted peanuts lined with oak and spice. The nutty sweetness screams George Dickel, and I'm pleasantly surprised at the taste. It's fairly straightforward but still very enjoyable to drink.
"Chewing" definitely brings out more of the sweet honey, caramel, vanilla, orange and peach juice, and banana flavors followed by some dark and bitter oak, cinnamon, nutmeg, and clove on a thin slice of bread. The trademark Dickel bright, sweet, and mineral-y vitamin and rock sugar flavors, sort of like Fruity Pebbles, are also present. The alcohol has a slight kick, but mostly adds a little thickness to the palate to prevent it from feeling thin and watery. The nuttiness surges a little right as I swallow as the flavors fade into the finish.
Sweet nuttiness with oak, grass, and a drop of citrus oil follow into the finish and fade into a pleasant and gentle oak dryness and bitterness. The sweetness is prevalent throughout the flavors but gives way to the oak over time. After "chewing", the bright Fruity Pebble mineral notes come to the front and transform into an alcohol tingle on my tongue with grass, caramel, roasted banana, nuts, oak, and cinnamon extract that taper into mint and oak. It's a satisfying end to a good bourbon. 
Place on the Whiskey Shelf

I'm pleasantly surprised with my first experience with Peg Leg Porker Tennessee Bourbon. What it lacks in depth and complexity, it makes up for in overall enjoyability, approachability, and drinkability. Even at 45%, there's just enough richness from the caramel, honey, fruit, mineral-y Fruity Pebbles, oak, and spice to make it interesting, very different than Jack Daniel's Old No. 7 and Gentleman Jack.
As I mentioned in the smell and taste sections, Peg Leg Porker has the telltale signs of a George Dickel whiskey, especially from the slightly nutty, grassy, bright mineral, and rock candy-like sweetness and fruitiness. At the same price (if you can still find it), I recommend George Dickel Bottled in Bond 13 Year because it is so much richer, developed, and interesting. Then again, it's not a fair comparison because the Bottled in Bond is older and higher proof. In addition, it winning Whisky Advocate's 2019 Whisky of the Year makes it even more difficult to find now, especially at the ~$40 MSRP.
Overall, Peg Leg Porker Tennessee Bourbon is an enjoyable, albeit often straightforward, whiskey that you can't go wrong buying. I won't be looking to add this to my shelf, but I also won't deter you from buying it for yourself.