Old Fitzgerald 15 Year Bottled in Bond Bourbon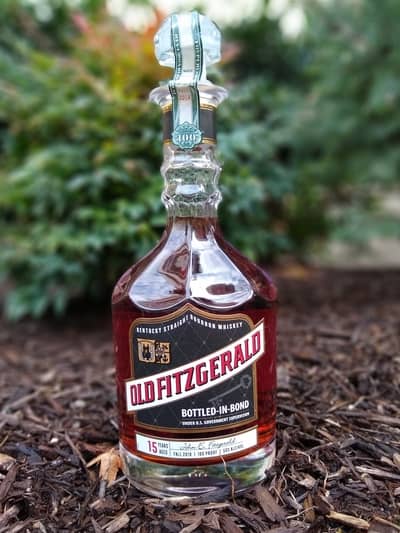 Distillery: Heaven Hill
Type & Region: Bourbon, Kentucky, USA
Alcohol: 50%
Composition: 68% corn, 20% wheat, 12% malted barley
Aged: 15 years in virgin American white oak
Color: 1.4/2.0 on the color scale (tawny)
Price: $150, much more on secondary
From the Heaven Hill website:
"Each Spring and Fall, a new edition of the Old Fitzgerald Bottled-in-Bond decanter series is released. Bottled in an ornate decanter inspired by an original 1950's Old Fitzgerald diamond decanter, the series reflects the traditions of both the Old Fitzgerald history tied to John E. Fitzgerald and the historic Bottled-in-Bond designation. The Old Fitzgerald line is well-known for its distilling pedigree as the brand was first registered in 1884 by S.C. Herbst, and was eventually sold to Julian P. "Pappy" Van Winkle during Prohibition. In 1999, Heaven Hill bought the Old Fitzgerald brand and began distilling it at the Bernheim Distillery in Louisville."
old fitzgerald 15 overview
In its current version, Old Fitzgerald is Heaven Hill's premium line of bottled in bond wheated bourbons stored in stunning decanters. It started off in Spring 2018 with Old Fitzgerald 11 Year, then the 9, 13, and now 15 year. Each of the releases, with the exception of the 14 year that was distillery-only and overlapped with the 13 Year, was released every 6 months in line with the distilling seasons as defined by the bottled in bond laws. I won't get into Old Fitz's history because I don't want to pretend that I know it. Heaven Hill already does a good job of summarizing the brand's history.
What I do know is that the Old Fitzgerald bourbons have some of the most beautiful bottles that I've ever seen. They ooze class and elegance, and actually make me want to keep them for future use. The cork even has a glass knob on the top, reinforcing its decanter-like appearance and function. This is a bottle worth keeping after the bourbon is long gone. Nonetheless, the bourbon inside the bottle matters most, so let's find out if the bourbon is worthy of the gorgeous presentation in this Old Fitzgerald 15 Year Bottled in Bond bourbon review.
Old Fitzgerald 15 Year just smells amazing and old. You really want to let this breathe for 20-30 minutes in order to get the full dark, rich, and complex experience, because the alcohol can run a little hot at times. After letting it sit, I'm launched into super dense, dark, and rich caramel, maple syrup, vanilla, honey, dried orange peel, and cherry extract lined with abundant roasted oak, toasted cinnamon, clove, cocoa powder and baked apples. Cloves are especially pungent in this one, and there's even notes of freshly cut ginger. The wood brings roasty hints of must and dried walnuts, but is not over-oaked. It's just dark, old, and great.
The alcohol wakes up after swirling and takes a while to settle down, so I strongly recommend that you keep the Old Fitz 15 as unagitated as possible. Once everything calms-down, everything is packed with dense roasted sugars – caramel nougat, freshly burnt crème brûlée, vanilla, Nutella-like hazelnut, walnuts, cinnamon, and a hint of paprika. Dark fruitiness moves in the background – spiced orange, cherry, apricot. It even ebbs and flows into pungent dark chocolate, all under the constant presence of old wood and wood spice that are nicely restrained, almost delicate in a way. I could spend a lot of time smelling this very rich and interesting Old Fitzgerald 15 Year Bottled in Bond (and believe me I did). 
old fitzgerald 15 taste & aftertaste
Old Fitzgerald 15 explodes with caramel, vanilla, orange, and cherry sweetness. There's a muted bready note with potent (but not overbearing) doses of oak, cinnamon, clove, chocolate, and old wood. We're talking freshly burnt crème brûlée that's so sweet and a little burnt but oh so delicious. In some ways it also reminds me of maple chocolate pecans coated in orange zest. The 100 proof is a tad hotter than I expected, but it still tastes amazing.
Post "chewing", I taste caramel, honey, and toasted vanilla sweetness wrapped up in roasted oak, dried oranges, cinnamon, clove and dark chocolate. There's just a little bit of lemon, marshmallow, and candied ginger. As with most Heaven Hill whiskeys, there is grassy nuttiness, but it's dialed back. The alcohol is a little more aggressive this time, but the flavors still go back and forth between caramel, fruit, 75% cocoa chocolate bar, alcohol, and spice – really fantastic and fun. The flavors are brighter and more vibrant than I expected from something 15 years old. While it's not absurdly dark or musty, there is an underlying dark chocolate and old wood presence throughout to remind me of its age. Old Fitzgerald is an incredibly deep, rich, and flavorful bourbon.
The finish eases into sweet honey, caramel, and vanilla oakiness with a little alcohol bite that turns into lightly bitter dark chocolate, hazelnut, nutmeg, orange peel, and coffee grounds. Older bourbons can sometimes have an exaggerated oaky and bitter finish, but not with this Old Fitz. Further exploring the finish after "chewing", I'm left with lingering alcohol tingle with balanced caramel, vanilla, oak, cinnamon, orange, and nutmeg. It's less bitter now, with long lingering citrus peel, walnut, and spearmint, a wonderful end to a wonderful bourbon.
Place on the Whiskey Shelf

Old Fitzgerald 15 Year Bottled in Bond is utterly excellent. It's intensely sweet – the boozy crème brûlée of bourbon, citrusy, oaky, and spicy. Even better, it's definitely not over-oaked. I can also ardently say that Old Fitz 15 surpasses Van Winkle 12 Year Lot B and is the best wheated bourbon that I've ever had (William Larue Weller not withstanding since I haven't had it yet). $150 MSRP and much higher secondary prices are surely a high price to pay, but no one said that this was going to come cheap or easy unfortunately. Putting my sanity hat back on though, Maker's Mark Cask Strength will honestly get you 70-80% of the way there for $40-50. Talk about diminishing marginal returns.
For the sake of full disclosure, I really struggled with whether I should rate this "Top Shelf+". I went back and forth over the 3 times I sipped Old Fitz for this review, but in the end, I had to stick to the top end of "Top Shelf" because it wasn't a definite "hell yeah" for me. I've undoubtedly enjoyed every single sniff and sip, but I was always left with small nuggets of doubt that held me back from vaulting it to the next top tier. Let's be clear though that "Top Shelf" is an exceedingly strong rating already. If I put it to numbers, this would be 0.1 points away from "Top Shelf+".
The one small thing that held me back is the heat in both the smells and flavors. Fifteen year and 100 proof bourbon should probably be less hot in my opinion, especially as I start dabbling with other ~100 proofers such as Joseph Magnus Cigar Blend (totally different I know) and even Remus Repeal Reserve Series 3 (11 years) that are equally or far less hot. This is certainly nitpicky, but every detail matters for that "Top Shelf+" rating. Overall though, Old Fitzgerald 15 Year Bottled in Bond is a standout wheated bourbon and one worth acquiring if you are able. The bourbon really is as beautiful as the gorgeous decanter that presents it.
Comments are closed.