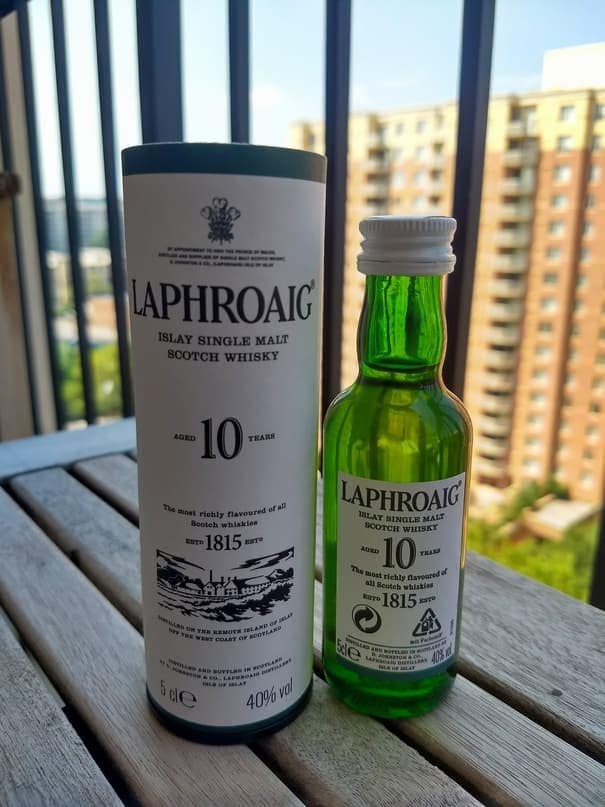 Distillery: Laphroaig
Type & Region: Scotch, Islay, Scotland, UK
Alcohol: 40%
Composition: 100% Malted Barley
Aged: 10 years, aged in ex-bourbon barrels
Color: 1.1/2.0 on the color scale (auburn, polished mahogany)
Price: This 50mL bottle was free from the distillery, $50 MSRP (750mL)
From the Laphroaig website:
"Our 10 Year Old is the original Laphroaig, distilled the same way today as when Ian Hunter invented it more than 75 years ago. It is the foundation of all other Laphroaig expressions. In making Laphroaig, malted barley is dried over a peat fire. The smoke from this peat, found only on Islay, gives Laphroaig its particularly rich flavour. Those enjoying the 10 Year Old will first notice the bold, smoky taste, followed by a hint of seaweed and a surprising sweetness. This full-bodied variant is the foundation of all Laphroaig expressions and comes with a long finish."
     Laphroaig is one of the legendary Islay distilleries, known worldwide for their peated Scotches. Laphroaig 10 is their flagship Scotch. The distillery is located right next to the water that separates Islay from mainland Scotland, and next to the also legendary Lagavulin distillery. The combination of peat and the distillery's proximity to salt water definitely help create a unique and easily recognizable Scotch. I acquired this travel-size bottle from the distillery as part of my visit and have been waiting for the right time to drink it. I haven't had Laphroaig 10 in a while, but have really enjoyed Laphroaig 10 Cask Strength, one of my favorite peated Scotches, and Laphroaig 18.
     This starts as a nice smelling Scotch. Peat is prominent, but not overpowering, with a mix of smoke, mesquite wood, rotting wood, and salt. It's more of a thin, smoky, and dusty peat, and less of a savory, meaty peat. There's also a light to moderate sweet citrus and honey note that balances out the peat. The alcohol is also quite light, as expected from a 40% Scotch.
     Swirling the Laphroaig 10 introduces a noticeable chemical and industrial smell, like burnt rubber or gasoline, that's mildly unpleasant. Light citrus sweetness still resides underneath the peat / chemical smell, as well as the smell of wet grass. When the glass is empty, I can smell a light, earthy mix of wet grass and dusty soil.
     This is polarizing for me. On one hand, I enjoy the smoky, musty, woody, and salty aspects of the peat, as well as the light sweetness that complements it. On the other, the burnt rubber and gasoline greatly detract from the overall smell. I don't remember Laphroaig 10 smelling like this, so I'm not sure if it's something weird with this bottle. 
     The first sip is moderately peaty, but doesn't aggressively leap out at me, with a light amount of citrus and honey sweetness. There's also a noticeable taste of freshly ground black pepper and light burn of alcohol that together, poke my tongue. After aggressively swishing the Laphroaig 10, I can taste the same iodine, chemical, and burnt rubber taste that was on the nose. It's an industrial, metallic, medicinal, and overall unpleasant mix. I can't tell if it's from the peat or the alcohol. Even though that taste isn't very strong, it unfortunately still overshadows everything else. 
     The strange taste of burnt rubber and iodine lingers in the aftertaste, as well as light notes of wet grass, black pepper, and raw vegetable greens. Smoke lingers the longest.
     I really like peated Scotches, but this doesn't do it for me. The peat tastes incomplete, resulting in a less savory (and less rewarding) flavor. The taste as a whole has nice individual components, but the overall lack of complexity and the unpleasant chemical and rubber tastes ruin it.  
Whiskey is also for sharing, so I use Vivaplex, 12, Amber, 2 oz Glass Bottles, with Lids for smaller samples and Vivaplex, 12, Amber, 4 oz Glass Bottles, with Lids for larger ones. Full transparency – This is an Amazon affiliate link so I may earn a commission if you buy this or something else. Regardless, I actually use these myself.
Place on the Whiskey Shelf
     I really wanted to like this, just like I've enjoyed every other Laphroaig product I've ever had. There are some things that I like about this, but I can't tell if the burnt rubber / gasoline smell and taste is isolated to my travel-size bottle or is a standard Laphroaig 10 trait. The cask strength version doesn't have that unpleasantness, so it's hard to say. Regardless, I can't recommend this based on this sample alone. If you can find it and are willing to spend the extra money, I suggest that you buy Laphroaig 10 Cask Strength. 
Comments are closed.