Kooper Family Sweetheart of the Rodeo Bourbon​ review
Kooper Family Sweetheart of the Rodeo Bourbon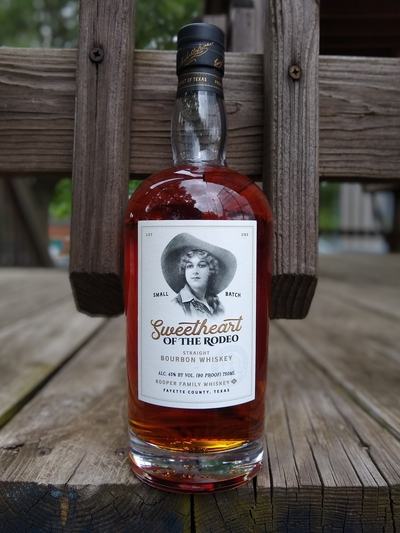 Distillery: Kooper Family (sourced from MGP)
Type & Region: Bourbon, Texas / Indiana, USA
Alcohol: 45%
Composition: 75% corn, 21% rye, 4% barley
Aged: 4 year in virgin American white oak
Color: 1.3/2.0 on the color scale (russet muscat)
Price: $40
From the Kooper Family website:
"Sweetheart of the Rodeo straight bourbon whiskey is slowly aged to perfection and patiently mellowed in select charred American white oak barrels by Troy and Michelle Kooper in the warm winds of Fayette County, Texas. During prohibition, historic Fayette county was well known throughout the state as the pride of great whiskey making in Texas. A hundred years later, the Kooper Family continue that long held tradition with their beloved Sweetheard of the Rodeo Straight Bourbon Whiskey. Sweet and nuanced, but brimming with the grit and power of a proud Texa"
Kooper Family Sweetheart of the Rodeo Bourbon​ overview
To be transparent, I didn't know anything about Kooper Family Whiskey until I was asked to review two of their whiskeys, one being the Sweetheart of the Rodeo Straight Bourbon, a non-chill filtered 4 year old straight bourbon sourced from Indiana and aged in Ledbetter, Texas. Whiskey is all about learning and exploration, so I'm always excited to learn something new. Also, the Texas climate (with Kooper Family located about 60 miles east of Austin), introduces weather unique from Kentucky or Indiana that could affect the barrel aging process and impact the end bourbon, also potentially interesting. 
Kooper Family Whiskey was founded in 2012, but only started sourcing unaged white dog in 2015. Their website provides a lot of detail, so it's worth reading. For now at least, it appears that their whiskeys are only sold within Texas. Anyways, Kooper Family Whiskey is taking an interesting hybrid sourcing, aging, and blending approach that's part Barrell Craft Spirits and part start-up craft distillery. They source unaged spirit to age in Texas, as well as source aged whiskey to ultimately blend together into whatever they choose. That said, I believe that Sweetheart of the Rodeo is completely aged in Texas from sourced white dog from MGP. That's all good background to know, but let's find out about the result of all that work in this Kooper Family Sweetheart of the Rodeo Bourbon review.
Thank you to Troy Kooper from Kooper Family Whiskey for providing this bottle with no strings attached. All opinions are still my own.
Kooper Family Sweetheart of the Rodeo Bourbon​ smell
Kooper Family Sweetheart of the Rodeo Bourbon comes out of the gate with toasted maple syrup and caramel, followed by toasted grain, vanilla, licorice, guava, oak, cinnamon, dry apple, and dried grass, constantly reminding me that this is sourced from MGP. That's not a bad thing though, just an observation. The nose is actually quite toasty and dry, even grassy, and the sweetness and oak jump back and forth for the lead. It's not overoaked, but the oak has a constant and forthcoming presence that makes me think that the Texas weather had a major part in all of this. There isn't much heat either, making the nose pleasant.
The alcohol perks up after swirling and it takes a minute to calm down afterwards. Roasted oak, dried leather, and cinnamon come more to the forefront this time mixed with toasted caramel, vanilla, cocoa, and dried cherries, apples, and oranges. There's this light anise and roasted banana note as well that adds to the fragrance. I'm noticing this theme of toasted and dryness across the nose, but it's far from overdone or unpleasant. I'm also glad that the nose isn't thin because I've complained about my fair share of 90 proof whiskeys with lacking noses. I like this so far.
Kooper Family Sweetheart of the Rodeo Bourbon​ taste & aftertaste
Kooper Family Sweetheart of the Rodeo Bourbon is sweet up front with spiced maple syrup, caramel, and vanilla with oak, cinnamon, baked apples, and a little licorice and citrus. Like in the nose, the oak is not shy, adding tannic and dry notes to the sweetness after a few seconds. The alcohol does pack a little more heat than expected though.
"Chewing" still provides a lot of upfront maple syrup, caramel, and vanilla sweetness followed by oak, cinnamon, clove, mint, dried citrus peel, and roasted grains. For 4 years old, the oak is quite pronounced, again maybe from the raging Texas heat that boosts the oak and bourbon interaction inside the barrel. The flavors have this wildness about them that I like. While I wouldn't say that Sweetheart of the Rodeo Bourbon's flavors are that complex, they still have enough character and enjoyable kick to them, aided by the moderately viscous mouthfeel from non-chill filtration. This time around, that wildness also means that the heat bites more like a 100 proof, not a 90 proof, bourbon.
The finish starts off with caramel, vanilla frosting, mint, a slice of apple, and licorice with a little oak tannin and grass. After a minute, everything fades away into this lingering citrus note that's quite nice. With "chewing", the finish has oaky honey, crème brulee, mint, and cinnamon. After about a minute I get more toasted grains, mint, and even banana that really stick around. The oak doesn't want to be forgotten, and the finish does become slightly more tannic with each sip. 
Place on the Whiskey Shelf

Kooper Family Sweetheart of the Rodeo Bourbon is an intriguing bourbon that I've enjoyed drinking more than Buffalo Trace, Eagle Rare (non-store pick), and Russell's Reserve 10 Year. I'm a sucker for MGP bourbon, and Sweetheart of the Rodeo Bourbon has that signature MGP toasted sweetness that's dialed-down compared to Remus Repeal Reserve Series 3 (11 year old bourbon sold by MGP) and Potomac Wine and Spirits Barrell 9 Year Single Barrel bourbon (9 year old bourbon sourced from MGP). The slightly turned-up oakiness and dryness make it smell and taste older than it actually is, and I even had friends comment unprompted about the oak.
I think Kooper Family did a very good job blending it all together, but I do have two burning questions. First, why 90 proof? If there are only two year-round releases (Kooper Family Rye being the other for those not familiar), why not bottle at 100 proof to better show off the tasty bourbon. Don't get me wrong, I didn't feel particularly robbed at 90 proof, but I greedily want more. Second, when can we expect some single barrel bottlings? New Riff and Wilderness Trail's 4-year-old single barrel cask strength offerings are doing very well, and there's ample opportunity for Kooper Family Whiskey to do well too.
Going into this review, I didn't know what to expect from Kooper Family Sweetheart of the Rodeo Bourbon, but I'm happy with it. I've actually been reaching for this from time to time because I truly enjoy it. There's already a lot going for it and the bourbon seems to be just starting to hit its stride, so it's only going to continue to get better. Keep it coming Troy.