kavalan sherry single cask review
Kavalan Sherry Single Cask Whiskey Selected by The Whisky World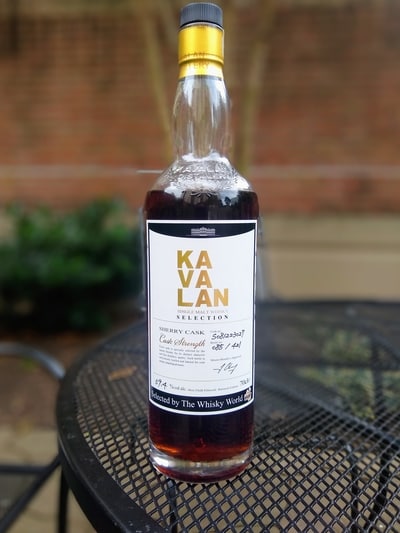 Distillery: Kavalan
Type & Region: Single Malt Whiskey, Taiwan
Alcohol: 59.4%
Composition: 100% malted barley
Aged: 10 years in a sherry cask
Color: 1.9/2.0 on the color scale (brown sherry)
Price: $140 (700mL) +  shipping
From the Kavalan website:
"Matured in top quality special edition Oloroso sherry casks, Kavalan Solist Oloroso Sherry is bottled at the distillery, without any colouring or chill-filtration. It is a naturally smooth and rich whisky with a complex character. Clean and complex with multiple layers of dried fruit, nuttiness and spices, it has some marzipan and vanilla touches to it as well."
kavalan sherry single cask overview
Kavalan is a growing name in world whiskey, and one that I was initially encountered in 2016. They are a Taiwanese distillery, founded in 2005, doing their own take on single malt whiskey, offering a broad range of bourbon, sherry, cognac, moscatel, port, other wine-matured whiskeys. I've previously had some great experiences with their cask strength bourbon-aged whiskey, although it's no guarantee that everything they make will be great. This time around, I'm reviewing The Whisky World's selection of Kavalan Sherry Single Cask Whiskey, from cask S081223027 (meaning it was barreled in 2008) and bottled on 8/6/2019, making this over 10 years old.
Taiwan is certainly an interesting place to make whiskey given its location near the equator. In general, it's intensely hot and humid for over half the year, creating an environment for the oak and whiskey to interact that's different than it is in Scotland or even Japan. The more hot and humid climate also accelerates the aging process, allowing Kavalan to release younger whiskeys. This plays into Kavalan's favor given how relatively young the distillery is. Most of the Kavalan Single Casks I've seen are in the 5-8 year range, making this 10 year old Kavalan Sherry Single Cask Whiskey unique. Let's see what this Taiwanese whiskey has to offer in this The Whisky World Kavalan Sherry Single Cask Whiskey review.
kavalan sherry single cask smell
Kavalan Single Sherry Cask Whiskey is densely dark, rich, and fruity right out of the gate. I hate the state the obvious, but this smells like high proof Oloroso sherry – it's unmistakable. There's prunes, dates, super dark honey, preserved cherries, sherry-aged funk, vanilla, and dried orange peel. On top of that there's some nutty walnuts and almonds, again reinforcing the strong sherry influence. Even at 10 years old in the intense Taiwanese heat, the oak isn't remotely overbearing, but instead provides some musty and toasted oak, cinnamon, and cocoa. The 59.4% still has some punch after 30 minutes resting in the glass, leaping out to sting me every now and then.
Swirling doesn't change much – it's still intensely sherry forward with dates, prunes, dark honey, dark cherry, dried berries, and a little citrus and refreshing mint. It also still has that aged gouda cheese savory funk, which is normal for older Oloroso sherry. In some ways it comes together like a dark pie filling with a spring of mint – just a super rich and fragrant nose. Kavalan Single Sherry Cask is an absolute sherry bomb that isn't all that subtle but nonetheless is wonderful and intense in its own unique way.  
kavalan sherry single cask taste & aftertaste
Kavalan Sherry Single Cask Whiskey washes over me with a dark, sweet, and chocolatey fruit explosion led by prunes, dates, cherries, dark honey, and dark chocolate. Just like the nose, it's obviously sherry-matured and has that nutty sherry funk. This whiskey isn't so oaky, but I can taste the toasted darkness, spice, and vanilla that are gentle and not harsh. The flavors so far are incredibly thick and rich, and definitely not subtle. 
With "chewing", it's still viscous and very dark fruit forward from dates, prunes, and honey with an interesting funky and earthy chocolate and cinnamon note. It's a little fungal as well like a peated Scotch, but without the smoke, probably coming from the unique interaction between whiskey and wood in the Taiwan climate. The wood itself also comes off less toasted and more earthy and fungal, like dried mushrooms. It works well because this is a very sweet whiskey that tastes like a very big and rich oloroso sherry, but it's still well balanced between the sherry sweetness, oak earhiness, and subtle herbalness. The bite also isn't all that bad so it's easy to "chew" on it for a while. This is delicious and captivating, yet a little strange.
Both interesting and odd, Kavalan Sherry Single cask has this starfruit-like finish with honey, dates, something earthy, oak tannins and cinnamon; then leaves this slightly dried dark berry, oak, and starfruit note. After "chewing" there's tons of dark fruits with some oak char, cinnamon, and cocoa. As long as it was aged in the intense Taiwan heat, it's not tannic at all. Instead, there's this interesting mint and guava note, as if there was some rye in the mash (it doesn't), with all of it ending in a dry and slightly mushroomy finish. I dig it.
Place on the Whiskey Shelf

Oh boy, Kavalan Single Sherry Cask is a lovely sledgehammer of fragrance and flavor. This whiskey didn't waste any time in the oloroso sherry cask, absorbing tons of prunes, dates, cherries, and other dark fruits. This is a sherry bomb, with extra sherry and oak, that gives Macallan a run for its money. The nearly year-round Taiwanese heat and humidity also ramped-up the wood interaction, adding more Laphroaig-like earthy, fungal, mint, and must flavors (but not the smoke) that Scotches 10-15 years older don't even have. Even with all that oak interaction, it still didn't impart harsh oak tannins, just the roasted yet gentle oak that provides a body and darkness around the lovely sherry.
As intense as the sherry notes are, it's also nearly as dark, herbal, and earthy so that it's not overpoweringly syrupy. For a sherry-matured Scotch lover, it all comes together nicely. Unlike many of the sherry-matured Scotches I've had, this Kavalan Single Sherry Cask doesn't have many of those brighter citrus and cherry notes; but then again this is a Taiwanese take on single malt and should be different.
Regardless Kavalan Single Sherry Cask Taiwanese Whiskey is an absolute treat, although the $140 price + shipping it from Europe is pricey. If you can stomach the price, this holds its own compared to Macallan, the best known sherry aged Scotches on the planet, and brings something totally different to sherry-matured single malt whiskey. If you think about it, Kavalan is kind of deal considering that the low ABV Macallan 15 Year costs around $150 and cask strength Macallan is probably well over $1000. If you see a Kavalan Single Sherry Cask and don't mind the price, I recommend that you buy it.