Foursquare 2004 Exceptional Cask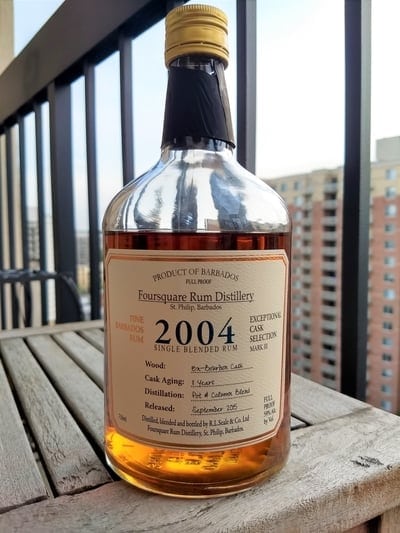 From the back of the bottle:
"A blend of rums from the artisanal pot distillation and traditional twin column continuous distillation of Foursquare, distilled in 2004 and aged for eleven years in ex-bourbon casks. Pure rum, no sugar or other flavor has been added."
I don't drink much rum, but I've realized that it's time to diversify given the insane whiskey boom. I'm fortunate to start with Foursquare 2004 Single Blended Rum, an 11-year-old tropically aged rum from Barbados. Foursquare though is not some "craft" distillery. It's made by the creators of Dooley's and Seale, a well-known producer, who is trying to push the industry towards higher standards and transparency.
Unlike bourbon and Scotch, rum production and labeling have few rules. Foursquare has taken extra steps to be transparent, such as age statements that indicate the minimum age and no additives, emulating whiskeys regulations. As a result, it's very clear what goes into the bottle, and the aging is especially noteworthy. Eleven years of tropical aging is a long time, especially when the year-round Caribbean heat makes Kentucky feel like Canada, resulting in significantly more spirit lost to evaporation.
Even though this is a whiskey blog, I'll still review Foursquare on its own merits, but will also provide my thoughts on how it compares to whiskey. I admit that this is unorthodox, but there's so much to learn by reviewing other spirits. For one, it can help us better pick out the rum influence in rum-finished whiskeys. Enough about that, let's review Foursquare 2004.
*Forewarning, Foursquare 2004 is unmanageably hot when first opened, but transforms after a few weeks. 
Foursquare 2004 is initially very sweet from rock sugar, caramel, and vanilla, as well as coconut water and a splash of pineapple juice. Vegetal, herbal, and floral notes, reminding me of lightly roasted sugarcane juice with some leftover fibers and slightly overripe bananas go hand in hand with the sweetness, adding an interesting contrast. I also find a sprinkle of candied ginger and bright, but not too sweet, cherries reminding me of a sherry-finished Scotch. Even though it's been tropically aged for 11 years, I don't smell much wood, cinnamon, or nutmeg. It's actually fairly subdued, reminding me that this has been aged more like a Scotch or American whiskey (aged in used barrels), rather than bourbon. There's also a slight tropical fruit smell that's not quite as tropical as it is in high rye whiskeys such as WhistlePig 10. Overall, it's fairly bright and shiny, but letting it sit in the glass as you drink makes the scents seem darker over time. Giving the bottle a few weeks to mellow really brings down the alcohol intensity from a 8.5 to a 6.5, letting the rum present its true self. 
Swirling kicks up the alcohol, but it quickly subsides. I still smell sugar cane, honey, caramel, and vanilla, as well as a little more cocoa and cinnamon, but now I start to get some brown sugar as well. It honestly is starting to smell more and more like bourbon. Still, the dead giveaway that it's rum is the herbal and medicinal sugarcane that is completely absent in bourbon. It's not more or less sweet than bourbon, it's just different and very good. 
Foursquare 2004 Taste & Aftertaste
There's an immediate burst of medicinal brown sugar and herbal sugarcane with hints of coconut water and grilled banana. While there is a moderate wood influence with some cinnamon, nutmeg, and cloves, it's not deeply charred at all. It makes sense since Foursquare 2004 is aged in used bourbon barrels, not newly charred virgin oak. Combining it with the candied ginger and fruits such as slightly under-ripe pineapple lend Foursquare 2004 to be more like Scotch than bourbon. Regardless, oh man this is great. The alcohol is pretty potent, but has calmed quite a lot in the past few weeks.
Chewing gives me more time to process. The sweet crystallized sugar and herbal freshly pressed sugarcane juice, combined with caramel and vanilla, stand front and center supplemented by vegetal and grassy flavors that I can't quite describe. It reminds me a little of certain Chinese medicines, but obviously far sweeter and not as bitter. I taste a little more roasted oak, cinnamon, and nutmeg, but it's far from being anything like bourbon, although the heat is comparable to any other high-proof whiskey. The clear giveaway that Foursquare 2004 it not whiskey is the sugarcane sweetness. Sugarcane tastes very different than corn, barley, or rye and also has a unique medicinal and herbal quality that I don't even find in high rye bourbons or rye whiskey.
Sugarcane sweetness lingers on the finish, but wood tannin bitterness and spice reappear, pushing the finish to bourbon-esque. "Chewing" offers more of the same, with rock sugar and sugarcane leading the finish and transitioning to wood, pineapple, and nutmeg that last a while.
Place on the Whiskey Shelf

I initially was a little disappointed with Foursquare 2004 Exceptional Cask, but over time it has transformed into not only an interesting and excellent rum, but an awesome spirit for this whiskey lover. The complex and rich sugarcane and herbal intensity that comes from its lengthy tropical aging and full proof are a fun and interesting change of pace from whiskey. The Scotch-like wood influences, spices, and fruits are also familiar, but unique in their own way. And while I haven't consumed much rum in my life, drinking it as a whiskey lover, all I can say is that Foursquare 2004 Exceptional Cask is great and worth drinking / buying if you have the chance.