axe handle bourbon review
Axe Handle Distilling Bourbon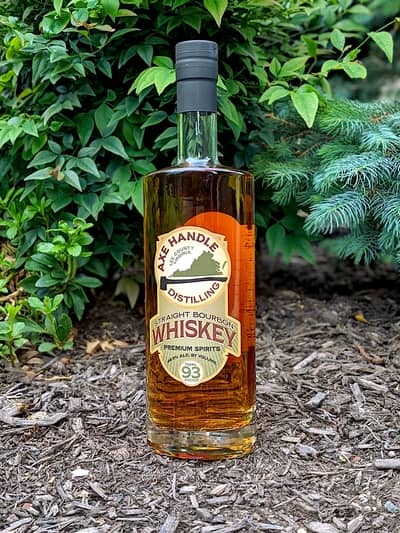 Distillery: Axe Handle Distilling
Type & Region: Bourbon, USA
Alcohol: 46.5%
Composition: Probably 75% corn, 21% rye, 4% barley
Aged: 4 years
Color: 1.1/2.0 on the color scale (burnished)
Price: $35-40
From the back of the bottle:
"A small distillery tucked away in the heart of the Appalachian mountains."
axe handle bourbon overview
Axe Handle Distilling is a new Southwest-Virginia-based distillery distilling gin and whiskey. Since the distillery itself is so new, it doesn't have its own aged whiskey yet and like many others, has gone to MGP to source bourbon and create its own blend. Bryan personally let me know that this is 4 year old MGP bourbon with added Southwest Virginia water. Let's find out what this upstart distillery has in the bottle in this Axe Handle Bourbon review.
Thank you to Bryan and Heather Hogan for sending me this bottle. My opinions are still my own.
Axe Handle Bourbon starts off with a lightly sweet and smoky mix of honey, smoked wood and grains, graham cracker, vanilla, licorice, fennel, peach, rosemary, pine, and apricot. It definitely smells like a younger MGP bourbon, akin to Stellum Bourbon – that sweetness and grain wrapped up in a thin layer of herbal and earthy scents. The scents are very similar after swirling – honey and smoky oak and grains at first, then vanilla, a little more citrus, apricot, licorice, fennel, pine, cinnamon, rosemary, and baked apple. There's a little bit of everything, but it just smells so young and somewhat thin. It's not bland, but it's also that that noteworthy.
axe handle bourbon taste and aftertaste
At first, I taste honey, vanilla, apricot, dried grains, licorice, fennel, roasted oak, and cinnamon. It has this youthful graininess that's part dried oak and dried grains that are more forward than I'd like to taste in this case. The sweetness, fruitiness, and spiciness haven't had enough time to develop to offset the oak and grains, but at least the heat isn't bad at all. There's a little bit of everything here, but it's clearly young.
After chewing I get honey, slightly sour vanilla buttercream, baked apple, cinnamon, clove, roasted oak, smoke, fennel, licorice, and youthful graininess. Now I get some of this tannic dryness and bite towards the back that I don't love, maybe because there isn't enough of everything else to effectively balance it. The flavors are thin, and it seems like the sweetness hasn't matured enough. There's nothing off about Axe Handle Bourbon, but there isn't anything great about it either.
Oak tannins pick up in the finish with supporting honey, vanilla, licorice, fennel, and light breadiness and graininess. After "chewing" there's this slight tannic bite and dryness, then honey, dried apple, roasted oak and clove.
Place on the Whiskey Shelf

Axe Handle Bourbon is a serviceable MGP-sourced bourbon that smells and drinks a bit too young and thin for my liking. I have no idea how it was blended, but on smell and taste alone it's under-proofed. As a result, it's decent enough to drink but doesn't do much to get my attention, so I'm hard pressed to recommend it also given the price and how crowded the market already is for under $40 whiskey. It just doesn't really do it for me, but it also doesn't push me away in disgust.
As a whiskey enjoyer, human, and person who understands how business works, it definitely hurts me to give Axe Handle Bourbon a "Mid Shelf" rating. There are numerous challenges for any upstart distilleries. It can't be easy to get sourced stock in the first place, let alone older stock, to create the bourbon you want. After that, pricing it in a way to make enough money and also get people to buy it is even more difficult. The business is certainly competitive, and I hope Axe Handle Distilling takes the next step to make this bourbon better, because using MGP is a great starting point.
There's a lot of great content to come, so consider supporting The Whiskey Shelf on Patreon. Support here.
Comments are closed.