weller antique 107 review
Yellowstone Limited Edition Bourbon 2020 Armagnac Finish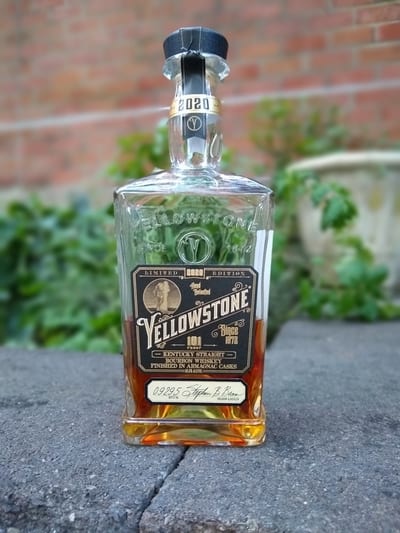 Distillery: Limestone Branch
Type & Region: Bourbon, Kentucky, USA
Alcohol: 50.5%
Composition: Not disclosed
Aged: 7 years in virgin American white oak + Armagnac finish
Color: 1.3/2.0 on the color scale (russet muscat)
Price: $100
From the Limestone Branch website:
"While each release of Yellowstone Limited Edition is different, one thing always remains the same: a promise of top-shelf flavor with humble complexities. This year's offering features a 7-year small-batch bourbon finished in French Armagnac barrels. A rustic, full-bodied brandy, Armagnac boasts notes of toffee, butterscotch, and chocolate, which complements the sweeter flavors of bourbon — especially when paired with the bold, oaky flavor of the 7-year bourbon."
weller antique 107 overview
Limestone Branch is a fairly new distillery, founded in 2011, by Steve and Paul Beam (yes, those Beams) and located in Lebanon, KY. They offer a few products that I'm going to completely ignore, because this review is about their Yellowstone 2020 Limited Edition Bourbon, the 6th release. While each release has been unique, varying in age and some releases being wine-finished, this 2020 Yellowstone Limited Release goes in a new direction with the Armagnac finish. I can't speculate why they chose that finish, but I wouldn't be surprised if the success of other Armagnac finished whiskeys gave them some inspiration.
As I mentioned before, each release has differed in age, and this year's release uses a 7 year old bourbon (undisclosed source) proofed down to 101 proof. There are no details on the length of the finish or the types of Armagnac barrels that were used, but my best guess is that the bourbon was finished for no more than 8-10 months, since most companies seem to finish theirs for 3-6 months. To my knowledge, only Bardstown Bourbon Company and High West even try to finish their whiskeys for 12+ months and actually tell us about it. I could go on all day about finished whiskeys, but let's save that for another time and dive into this Yellowstone 2020 Limited Edition Bourbon finished in Armagnac barrels.
Yellowstone 2020 Limited Edition Bourbon kicks it off with caramel, dried citrus sweetness, and an enveloping oakiness that's not too dark or burnt, followed by an underlying marshmallow pillow, cherry, cinnamon, clove, and dark apples that provide some roundness and softness. The Armagnac finish seems to add dark citrus, vanilla, and dark berry and cherry fruitiness. It's not hugely fruity, in the upper range of moderate, but it's a nice addition to the base bourbon. I don't think that this should come as much of a surprise, but this Yellowstone bourbon has a moderately dry and grassy nuttiness to it. Given Yellowstone's connection to Jim Beam, this bourbon could possibly be 7 year old bourbon from Jim Beam, although there is a chance that it's sourced from Heaven Hill. The 101 proof is pretty calm, so nothing to report there.
After swirling, the grassy nuttiness and sweet roasted corn come first, undoubtedly from Jim Beam or Heaven Hill bourbon. The nuttiness is followed by citrusy honey, lightly burnt vanilla, cinnamon and nutmeg-covered baked apples, sweet maltiness, and peppermint sprinkled on top. As the bourbon settles, dark fruitiness reappears – primarily cherries and berries. It's not a major fruity presence, but it's noticeable enough given that the Jim Beam / Heaven Hill base bourbon usually isn't this fruity on its own (assuming I'm correct about the source). The second time around, the Armagnac finish seems to add softer vanilla marshmallow, round and gentle dark sweetness, and a little extra body to the scents, so I'd say that the finish is present enough to get the point across, but not quite big enough to elevate it to something amazing. It still smells quite good though.  
weller antique 107 taste & aftertaste
Yellowstone 2020 Limited Edition Bourbon's flavors turn it up a notch, with a bigger burst of caramel, citrus, vanilla, and dark berries (grapes, prunes, and a little blueberry) followed by roasted oak, cinnamon, clove, and a little mint. The Armagnac finish definitely pumps-up the fruitiness that's less present in the base Jim Beam, Knob Creek, or Booker's (assuming it's sourced from Beam). There's not much alcohol bite at first, but it does surge a little right as I swallow. So good so far though.
With "chewing", I taste nutty honey, caramel, citrus, and vanilla sweetness followed by roasted oak, roasted corn kernels, cinnamon, and nutmeg. I can't escape the thought that this is finished Knob Creek or something. The more delicate dark fruits don't quite show up here, and it takes some searching to find lighter blueberry and red grapes, but it's moderate at best. This Armagnac finish does add a delicious extra dose of fruitiness with a little candied ginger, as well as extra viscosity and body.
At first, the finish is sweet, nutty, and dry with caramel, citrus, vanilla, grassy nuttiness, oak, and a little mint. It just screams Jim Beam, Knob Creek, or Baker's (whatever works for you). After "chewing", the finish is very nutty and sweet with that signature Beam nutty funk, honey, oak tannins, citrus, vanilla, and just a little mint and cocoa. The tannins build sip after sip. To be honest though, as much as I'm enjoying this Yellowstone Limited Edition (and I am), I'm still not that impressed because it lacks any standout traits and generally falls flat even with a fairly broad array of flavors.
Place on the Whiskey Shelf

The good news is that I like Yellowstone Limited Edition 2020 Bourbon Armagnac Finish. I could drink this all day and be content. Unfortunately, it's not a $100 bourbon (FYI price does not factor into the rating), with the combination of 7 year old bourbon + Armagnac finish creating a good, but not exceptional level of complexity, depth, and richness that should be expected from a bourbon like this. The Armagnac finish seems to add layers of dark sweetness, roasted vanilla, and dark berries, making it smell and taste more refined, although it feels like the finish was just hitting its stride as it was bottled. More time may have done wonders for this bourbon. Ultimately, nothing stands-out in a way that is memorable or makes me say "wow". My best description of Yellowstone Limited Edition 2020 Bourbon is that it's a finished Knob Creek Small Batch (100 proof) or Baker's 7 Year (107 proof), with all the signature Beam grassiness and nuttiness.
Now for a bit of a tangent. I also happened to recently review Barrell Whiskey Private Select Armagnac Finish (American whiskey not bourbon), and I can definitely say that I like Yellowstone better than the Barrell Whiskey. Yellowstone smells and tastes noticeably rounder and richer, with more Armagnac influence and virtually none of that arid dryness from the American whiskey in the Barrell. I could go on and on, but I'll end by stating that Yellowstone Limited Edition 2020 Bourbon Armagnac Finish is good, but far from a must-have. The finish makes this bourbon unique and it certainly makes the bourbon better, but for a $100 limited edition release, it needs to be more.