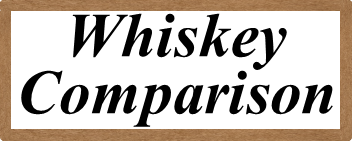 WhistlePig 10 vs Smooth Ambler Old Scout 7 Year Rye​
WhistlePig is one of the hottest rye whiskey brands in the market right now, and you can count me as a fan. In some ways, WhistlePig 10 is now the gold standard of older and attainable (but not necessarily affordable) age-stated rye whiskey, taking over the mantle from Smooth Ambler. At this point, you can find WhistlePig everywhere. When Smooth Ambler Old Scout 7 Year Rye (SAOS 7 Year Rye) was discontinued around 2015-2016, buyers lost an amazing and relatively affordable whiskey. 
Since I have both bottles and like them both, I want to explore how WhistlePig 10, the hot brand in rye whiskey, compares to the Smooth Ambler Rye, the star who was forced into early retirement. It's the WhistlePig 10 vs Smooth Ambler Old Scout 7 Year Rye comparison, let's see what we find.
The below table outlines key facts and figures for each rye whiskey.
* Note that WhistlePig sources some of its whiskey from MGP and some from Canada for its single barrel select store picks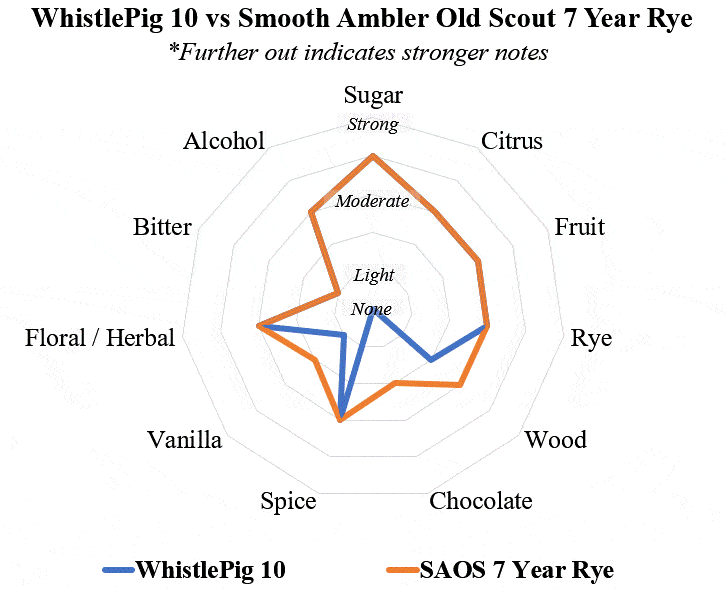 How to Read the Chart 
     WhistlePig 10 is in blue, and Smooth Ambler Rye is in orange. The center of the circle indicates none of a trait. Further out the line indicates a stronger presence of that trait. 
The scale (from inside to out):
     – None
     – Light
     – Light-Moderate
     – Moderate
     – Moderate-Strong
     – Strong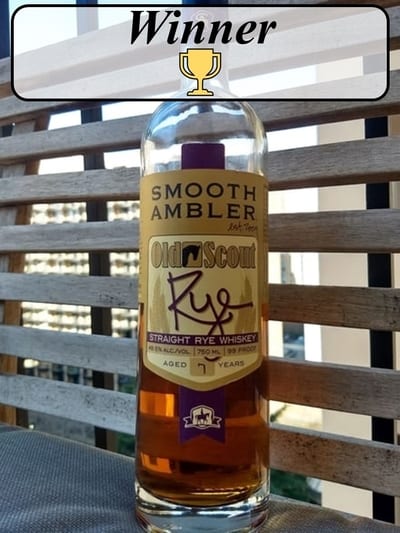 WhistlePig 10 and SAOS 7 Year Rye are similar in many ways, but also have distinct personalities that help me tell them apart. Both exhibit similar rye-forward floral, mint, clove, fennel, and anise traits, and are also very fruity and sweet with honey, tropical fruits, and oranges. The main difference is that WhistlePig is brighter and more vibrant while the Smooth Ambler Rye is darker, richer, and more mature (yes even though it's younger). It could just be the difference between Alberta and MGP rye whiskey.
The extra wood, brown sugar, vanilla, cocoa, and dark fruit notes in the Smooth Ambler Rye, make a huge difference. WhistlePig is like Sprite (bright citrus and carbonation) and SAOS is like root beer (sassafrass and other dark spices). WhistlePig is also a tad more alcohol-forward on the nose and palate.  
Even though both are excellent rye whiskeys, I personally prefer Smooth Ambler Old Scout Rye 7 Year. Unfortunately, I probably won't be able to get another bottle anytime soon, so WhistlePig 10 will do great when I want to splurge. Bulleit 12 Year Rye is another excellent option, also coming from MGP.
Maker's Mark Cask Strength Comparison