Whisky Broker Speyside 23 review
Whisky Broker Speyside 23 Year Single Malt Scotch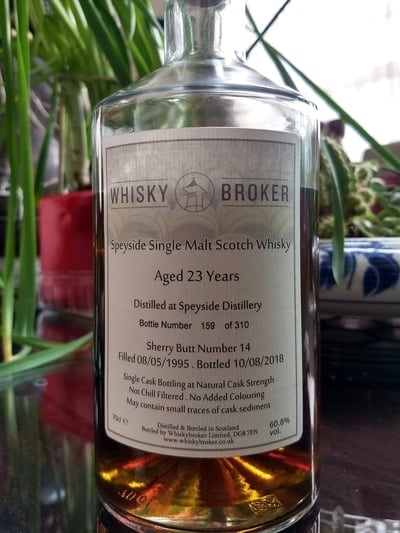 Distillery: Speyside Distillery
Type & Region: Scotch, Scotland, UK
Alcohol: 60.8%
Composition: 100% malted barley
Aged: 23 years in a single sherry butt (single cask)
Color: 1.1/2.0 on the color scale (burnished)
Price: $120-150 MSRP (700mL)
There's honestly not much information on the internet about this bottle apart from what little is said on whiskey auction sites and Whiskybase.
Whisky Broker Speyside 23 Overview
I don't know much about Whisky Broker Speyside 23 Single Malt. To my understanding, the Speyside Distillery, obviously from the Speyside Region, is not a household name in the way that Macallan, Glenlivet, and Glenfiddich are. The Speyside Distillery sells a range of Scotches under various labels such as Spey, Glentromie, and Scottish Prince labels, all of which I've never seen before. Mystery and uncertainty aside, what you need to know is that this Speyside 23 is a single cask Scotch that was bottled by Whisky Broker Limited, an independent bottler at cask strength and non-chill filtered. I'm reviewing bottle 159 of 310, filled on 5/8/1995 (using American date format since I'm American) and bottled on 8/10/2018, aged for a little over 23 years in a sherry butt.
Whisky Broker Speyside 23 Smell
Whisky Broker's Speyside 23 has all the telltale signs of lengthy sherry aging. I smell the dark and rich honey, molasses, dates, berries and plums, as well as vanilla and something akin to coconut meat. Underneath the sherry sweetness is a constant stream of cinnamon, nutmeg, and allspice, as well as light breadiness and walnut-like nuttiness. There's definitely also an underlying burning fury that smells like part ethanol and part unripened banana peel, but it somehow restrains itself. 
Swirling provides more of the same with molasses, dates, raisins, berries, plums, and hints of banana, dried orange peel, and vanilla. It smells like a stronger and hotter oloroso sherry. Buried in the Scotch is a slight cheese funk that I didn't expect, but doesn't detract from the nose. The alcohol also becomes stronger, leaping out of the glass from time to time to sting my nose. The Speyside 23 is very fragrant and pungent with nearly just as much heat to boot. 
Whisky Broker Speyside 23 Taste & Aftertaste
The Speyside 23, as expected from a sherried Scotch, starts very sweet but with a potent kick. I taste cherry and orange marmalade on a small slice of bread covered in a lot of cinnamon, nutmeg, and ginger. It's more spicy than woody. Even with 23 years of aging and all that sweetness and fruitiness, the Speyside 23 carries a lot of heat that singes my mouth. It's very rich, dark, and hot. "Chewing" through my second taste, I still get very sweet honey, molasses, blueberries, cranberries, oranges, vanilla, and chocolate. Underneath is cinnamon, nutmeg, pepper, charred wood, malt, and ginger that add additional layers of complexity and intrigue. The flavors are definitely very dense, complex, and interesting. And oh boy does the alcohol kick. 
As the heat subsides, I taste a sweet and slightly malty finish with lingering peaches and charred wood. With chewing, I get honey, berries, and dates mixed with charred wood, cocoa powder, and cinnamon that leave a tingling grassy and slightly bitter sensation in my mouth. It's a lengthy and delicious way to end the sip.  
Place on the Whiskey Shelf

Oh man Whisky Broker's Speyside 23 is excellent. I love the developed, rich, and interesting fruity scents and flavors from well-aged sherried Scotches such as this. My only real complaint is that for 23 years old, it's surprisingly still very hot. Then again, the 60.8% alcohol is higher than average for cask strength Scotch, which usually ranges from 50-57%. I could have added water, but I almost never do for these reviews. 
Other comparably aged sherried Scotches I've reviewed such as Craigellachie 21, Ben Nevis 18, and Ben Nevis 21 are nowhere near as hot, but every Scotch has its own character, especially single cask ones. Regardless, I enjoyed drinking Speyside 23 and recommend it if you can  find it and are willing to pay for it.