Tullamore Dew Phoenix review
Tullamore Dew Phoenix (batch 13/27668)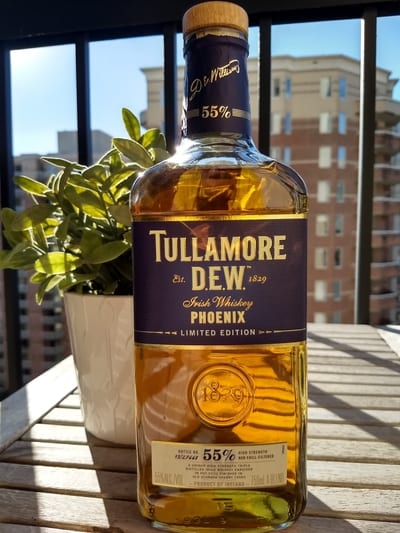 Distillery: Tullamore Dew
Type & Region: Irish Whisky, Republic of Ireland
Alcohol: 55%
Composition: Unknown blend of malted barley and grain whiskeys
Aged: NAS in unknown barrels, finished in oloroso sherry casks
Color: 0.3/2.0 on the color scale (pale gold)
Price: $55 MSRP (750mL)
From the back of the bottle:
"In 1785, Tullamore witnessed a devastating hot-air balloon accident. The resulting blaze nearly destroyed the town but immeasurably strengthened her people. Since that day, they placed a phoenix in the town's coat of arms. Driven by their positive spirit, the town's renaissance in the ensuing decades saw the establishment of the Tullamore distillery in 1829. Fittingly this special limited edition whiskey can only be found at airport stores. It is a triple distilled blend of all three types of Irish whiskey; golden grain, malt and pure pot still whiskey. It is characterised by its high content pot still whiskey finished in old oloroso sherry casks."
Tullamore Dew Phoenix Overview
     Tullamore Dew, one of the large Irish whiskey distillers but a far second to Jameson, is often known for their entry-level Tullamore Dew Original in the green label. Years ago, I happened to pass by Tullamore Dew on my drive from Galway to Dublin, and it's a gorgeous place: very green and lush. 
     Tullamore Dew Phoenix was first released in 2013, so this review for batch 13/27668 is for one of the first batches ever released. It's a blend of 3 different types of Irish whiskey aged in ex-bourbon casks and then finished in oloroso sherry casks. I don't know how the tri-blend impacts the whiskey, but it's still worth noting. The most unique thing about this is the high proof, uncommon for Irish whiskey except for Redbreast 12 cask strength. As a side note, unlike what it says on the box, this actually can be found local retailers. Does any of this matter? I first let it sit for 30 minutes, so let's dive into the review.
Tullamore Dew Phoenix Smell
     Tullamore Dew Phoenix smells strongly of alcohol, but not in the soft yet pleasantly intense way that Buffalo Trace Mash #1 does. It's unpleasant and harsh like catching a whiff of nail polish remover or industrial chemicals. There are only light sweet notes of honey, green apple, pear, and grains, and virtually nothing indicating that it was finished in sherry casks. If there is, it's drowned out by the alcohol constantly stabbing my nostrils. 
     The best comparison is High West Silver Oat Whiskey, a truly awful joke of a whiskey. I can't even say that it's as bad as moonshine because that would be insulting to moonshine, which can be pretty good. I also can't argue that's it was poorly stored. It was always kept indoors and sealed inside the box that came with it. I waited months to finish this review to give the Phoenix a chance to mellow, but it never really did. Tullamore Dew Phoenix just smells unappetizing. 
Tullamore Dew Phoenix Taste & Aftertaste
     Unfortunately, Tullamore Dew Phoenix tastes very much like how it smells. There's the same harsh metallic and chemical alcohol taste from bad grain whiskey that unpleasantly burns my entire mouth. Even though it's called Irish Whiskey, it clearly doesn't taste like it. I only taste a little malt, honey, vanilla, and citrus, as if it were barely aged at all and / or made predominately with grain, not malt whiskey. It's an offense to Irish Whiskey, and significantly worse than any other Irish Whiskey that I've ever had. Unfortunately swishing it releases more alcohol that drowns the little bit of sweetness that's there. 
     The unpleasant alcohol lingers on my tongue with a little bit of sharp wood and pepper, honey, green apple, and pear. Although once the alcohol subsides, I am left with a lingering pleasant and fruity sweetness, but too little too late. In short, Tullamore Dew Phoenix tastes terrible.
Place on the Whiskey Shelf

     I'm shocked at how bad Tullamore Dew Phoenix is. You can't sell this mess to people, especially at $55 per bottle. This is cheap liquid fire even worse than Jack Daniel's (which is surprisingly not as terrible as I thought). Buffalo Trace Mash #1 is significantly better and enjoyable to drink, even though it has a higher proof (62.5%) and is aged for a whopping 0 seconds. Even letting the whiskey settle in the bottle for a few months and breathe for 30 minutes before the review didn't make much of a difference. The rough alcohol always comes with a vengeance to overpower the light fruit and sugar sweetness. 
     There is only one small redeeming quality that keeps it from the truly terrible "Just Don't" rating: there's is a somewhat pleasant sweetness underneath the torrential downpour of alcohol, and it especially shows itself on the finish when the alcohol finally subsides. Maybe the newer releases are better, but I'm likely never going to know. I don't anticipate trying any newer releases unless someone hands it to me free of charge. Do yourself a favor and just don't. Save your money and yourself.