This is Not A Luxury Whisky review
Compass Box's This is Not A Luxury Whisky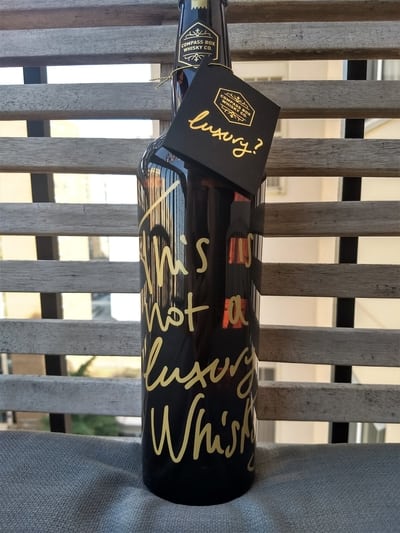 Distillery: Compass Box (Independent bottler)
Type & Region: Scotch, Scotland, UK
Alcohol: 53.1%
Composition: Blend of single malt and grain whiskeys
Aged: NAS (in reality 19 years since Compass Box provides information)
Color: 1.1/2.0 on the color scale (burnished)
Price: $180-250 MSRP (750mL)
From the Compass Box website:
"Inspired by a 1929 surrealist artwork, 'This is not a luxury Whisky' is a compelling, lingering, complex Blended Scotch packaged in a style that we hope also poses questions about what it is that makes a luxury whisky a 'luxury"
This is Not A Luxury Whisky Overview
This is Not a Luxury Whisky, a 2015 limited release of only 4,992 bottles, is a blended Scotch whiskey from Compass Box, the independent bottler and blender known for its unique blends and "controversial" transparency. Blended Scotch whiskeys, such as those from Johnnie Walker, tend to get a bad rap for often being cheap and low-quality, using cheaper grain whiskeys and unaged neutral grain spirits to water down the more expensive single malts. Instead, "This is Not a Luxury Whisky" spares no expense and uses incredibly old and rare grain whiskeys to complement the older malts. The breakdown is as follows: 79% malt from Glen Ord (19 year) / 10.1% grain from Strathclyde (40 year) / 6.9% grain from Girvan (40 year) / 4% malt from Coal Ila (30 year).
It's impressive to see that 21% of this blend is at least 30 years old and 17% is 40 years old. I also appreciate the higher proof (potentially cask strength), making it an amped up yet comparably priced Johnnie Walker Blue that isn't cheaply watered-down. Let's find out if "This is Not a Luxury Whisky" is in fact a luxury whiskey.
This is Not A Luxury Whisky Smell
     Wow, This is Not A Luxury Whisky's nose is so subdued, yet deep. The old age and high proof don't leap out of the glass and flood me as expected. I instead have to dive-in and unravel them on my own. I smell an interesting mix of sherry-influenced vanilla, berries, citrus, and honey lined with a slightly malty base. It's different than the various sherry-aged Ben Nevis Scotches I've reviewed that are louder, and hotter (Ben Nevis 18 and Ben Nevis 21 Old Malt). Then again, 40-year-old grain whiskey can be incredibly mellow, contributing to the overall calmer personality. Underneath the sweetness is a dash of almonds, nutmeg, and cardamom. The 30-year peaty Caol Isla is mostly contained, giving off only small puffs of musty wood, smoke, and earth. It's surprisingly light given that peaty Scotches can really take over a blend. The alcohol is also very reserved. 
     Swirling arouses the date, honey, fruit, berry, dried orange, and walnut scents from the sherry. As I keep sniffing, I'm able to get brief notes of tropical pineapple, but it's easy to miss. The swirling also seems to have brought out the scent of gently smoked meat covered in a light rub that's earthy, fragrant, and minty, as well as something slightly buttery and creamy. While the nose is not particularly big and loud, it's still very layered and interesting thanks to its incredible maturity.
This is Not A Luxury Whisky Taste & Aftertaste
The flavors slightly flip the script from the nose. The peaty Caol Isla in the blend appears first with moderately savory and briny smoke, followed by a dense and fruity base of berries, honey, and vanilla with a little cocoa, like a slightly smoked fruit tart. Charred wood, spice, and black pepper combine with the alcohol to tingle my tongue as well. While it's smoky, it's far from something like Laphroaig 10.
On my second tasting, I again first taste peaty smoke and grass that give way to grape, cherry, date, apple, lemon, kiwi, honey, and malt sweetness with a little nutmeg. The longer I let it sit in my mouth, the more I taste oranges and berries. A moderate poke of crushed black pepper and alcohol tingle my tongue followed by a little bit of wood and spice, though it's not nearly as woody or spicy as I expected from something this old. There's a lot of wonderful flavors packed into this, and I appreciate that Compass Box didn't water it down.
"This is Not a Luxury Whisky" finishes sweet with lingering berries, papaya, and honey, followed by pepper, spices, and charred wood. After the sweetness fades, I'm left with a slightly smoky, earthy, and savory taste, as well as rye whiskey-like mint. It's a very oily and complex finish that lasts seemingly forever.
Place on the Whiskey Shelf

Compass Box's "This is Not a Luxury Whisky" is a wonderfully delicious Scotch. It's not nearly as loud and intense as other "Top Shelf" rated cask strength sherry-influenced Scotches such as Craigellachie 21 or Ben Nevis 21 Old Malt Cask, but it's still great in its own way. It's a more mature, calm, and composed Scotch that gently bathes you in dense and deep fruit, peat, wood, spice, and just a little smoke instead of trying to overwhelm you all at once, likely heavily influenced by so much of the blend being at least 30 years old, and 17% being 40 years old whiskey.   
At 53.1% alcohol, it's so easy to drink yet so interesting and complex. I'm just a little disappointed that it doesn't absolutely blow me away as I had hoped, especially for something this expensive (but still better than the terribly disappointing Glenlivet 25). It's a little too calm and mature for its own good, but that's more of a personal preference than a real critique. If you can afford it and want it, you should definitely buy it. If you don't, not to worry, there's plenty of great whiskey out there for a lot less.