weller antique 107 review
The Irishman Founder's Reserve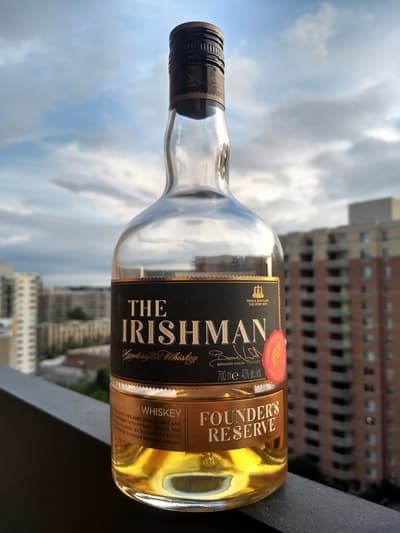 Distillery: Buffalo Trace
Type & Region: Irish Whiskey, Republic of Ireland
Alcohol: 40%
Composition: 100% barley (mix of malted and unmalted)
Aged: NAS in ex-bourbon casks
Color: 0.8/2.0 on the color scale (deep gold)
Price: $30-40 MSRP
From the Walsh Whiskey website:
"The Founder's Reserve is a unique take on the old Irish Pot Still Whiskey and is the original and signature blend created by founder Bernard Walsh. It is a blend of two styles, Single Malt and Single Pot Still. The proportions used are 70% Single Malt and 30% Single Pot Still. This is unusual in itself, as it is the only Irish blended whiskey to contain 100% whiskey distillates from the copper pot still. This results in a much more flavoursome whiskey. The Founder's Reserve is triple distilled and matured in Bourbon Casks."
weller antique 107 review
The Irishman Founder's Reserve is an Irish whiskey sold by Walsh Whiskey, founded in 1999 interestingly as an Irish Coffee company. The Irishman whiskey itself wasn't launched until 2007, and the company is also known for selling Writer's Tears. Since it's a relatively new operation, they source for their whiskey. I found on Forbes that Walsh Whiskey sources their pot still whiskey from Midleton and malt whiskey from Bushmills, both huge distilleries with globally known brands. I bought this bottle in 2014 from Duty Free in Dublin before it had been released in the US, but now it's pretty widely distributed. Let's dive into The Irishman Founder's Reserve review.
weller antique 107 review
As light as the nose is, influenced by heavy handed dilution, the nose is actually quite nice and complex. Floral honey stands out, intermingled with oranges, pineapples, berries, and other tropical fruits. It's as if the honey came from beehive housed in the middle of a huge flowery meadow near the ocean on a tropical island. At the same time, there are some slight maraschino cherry, dried orange, crushed almond, and dried undertones that add dark and savory scents, as if it had been finished in sherry barrels. There's also hints of wood and cloves. Alcohol is virtually nonexistent at 40%, but some of that is also attributed to the fact that I've adjusted to higher proof whiskeys.
Swirling doesn't change the scents. I still smell that nice tropical sweetness with honey, pineapple, orange, blueberry, and papaya, as well as hints of dark sugars underneath. It's a very pleasant nose that constantly reminds me of what it could have been at a higher proof.
weller antique 107 review
Much like the nose, The Irishman Founder's Reserve starts sweet with honey, vanilla, and pineapple. It's pretty tropical with underlying grassy cocoa from the malted barley and just enough wood and allspice kick to prevent it from being overly sweet. The 40% alcohol is very mellow, making it incredibly easy to drink. 
"Chewing" transforms the flavors into so much more. While it's still sweet with honey, vanilla, and flowery nectar, lemon and lime-like Sprite appears, as well as more cocoa powder from the roasted barley (as if there was a splash of Stout beer in the barrel as the whiskey aged). Hints of wood and cinnamon also appear. It's an interesting contrast between lighter and darker flavors, but is by no means a woody Irish whiskey. The biggest surprise for me is how viscous and creamy The Irishman is. Most 40% alcohol whiskeys are very thin, but the 100% pot still whiskey adds a much thicker and rounder mouthfeel, as if it were upwards of 60% but with minimal burn. The alcohol isn't completely absent, but it feels more like soda fizz than anything else.
The finish is a nice mix of honey, wood, spice, and leftover alcohol vapors. Remnants of wood tannins, grass, and floral notes linger the longest. 
Place on the Whiskey Shelf

For the past 4 years that I've had The Irishman Founder's Reserve open, I never thought that it was particularly interesting. But oh boy was I wrong. Taking the time to slowly review it showed me it's actually a quite delicious and interesting Irish Whiskey. I really like the well balanced sweet and tropical traits that somehow still stand out even though it was heavily watered down to 40%. I bet that the Irishman would be incredible at 46-50%.  
If you're looking for an Irish Whiskey for around $30 (but can sometimes be found for even less), about the same price as Jameson and Bushmills, I highly recommend that you give The Irishman Founder's Reserve a try. It definitely smells and tastes like a more luxurious Irish Whiskey at a fairly wallet-friendly price.