weller antique 107 review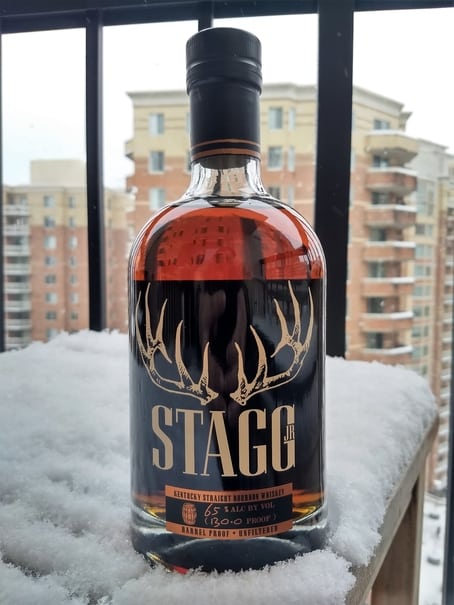 Distillery: Buffalo Trace
Type & Region: Bourbon, Kentucky, USA
Alcohol: 65%
Composition: Mash #1, speculated to be 75% corn, 10% rye, 15% barley
Aged: 8-9 years, aged in virgin American white oak
Color: 1.4/2.0 on the color scale (tawny)
Price: $50-60 MSRP (750mL), but can be $90+ in some markets
From the Buffalo Trace website:
"George T. Stagg built the most dominant American distillery of the 19th century, during a time known as the Gilded Age of Bourbon. Uncut and unfiltered, this robust bourbon whiskey ages for nearly a decade and boasts the bold character that is reminiscent of the man himself."
I'm traveling back in time to review Stagg Jr batch 7, released in the fall of 2016. I somehow found this bottle in December 2018 and was happy to buy it. Stagg Jr, the child / younger brother of ~15-year-old George T Stagg, is a small batch bourbon released twice a year that uses the low-rye mash #1, also used for bourbons such as Buffalo Trace. 
Stagg Jr is a nice treat because it's one of Buffalo Trace's (relatively) most affordable and accessible cask strength whiskeys, with EH Taylor Barrel Proof, Weller Full Proof, and anything from the Antique Collection being nearly impossible to obtain. I really like Stagg Jr batch 10, the first one ever I reviewed, so let's see if batch 7 is great as well. 
*I let this sit for 45 minutes before reviewing to let the alcohol calm down. It may melt your face-off if you don't wait.
Buffalo Trace Lineup of Reviews
Stagg Jr batch 7 immediately shows off dense vanilla, brown sugar, and dark fruits such as plums, raisins, and cherries, that come together to form a cola / root beer base. It's not syrupy sweet, but a dark and savory sweetness that makes it smell very interesting. Underneath, there's healthy servings of buttercream with hints of citrus, roasted wood, and fresh corn. So far, Stagg Jr isn't as intensely woody or spicy as I expected from a cask strength bourbon, but it certainly contributes to the overall dark and dense nose. Batch 7 also flexes its alcohol, but it doesn't seem to unleash the same hellfire that batch 10 does.
Swirling riles up the heat, but it remains manageable. It also brings out more vanilla, brown sugar, and molasses sweetness, like roasted marshmallows drizzled in peach, apple, date, and plum concentrate. The spice component stays fairly subdued with moderate cinnamon, nutmeg, mint, roasted and musty corn and nuts, and a slice of baked apple. Hiding under all of that is a little grated orange rind and guava hard candy (like the one that comes in the green packaging) that is easier to catch when there's a lot less liquid in the glass. Stagg Jr overall is very complex and well put together.
Stagg Jr Taste & Aftertaste
A wave of sugar, fruit, vanilla, and corn sweetness immediately wash over my taste buds, followed by cinnamon, nutmeg, anise, and wood. Stagg Jr is thick and round with bold flavors and alcohol that are a little more herbal like root beer rather than Coke. It's a lot of process all at once. "Chewing" through the oily bourbon brings out even more fruity and malty sweetness with some spice and wood. It's full of molasses soaked peaches and apples with vanilla, cinnamon, cloves, anise, charred wood, and a sprig of mint, sort of like a spiced marshmallow covered in fruit. The spices pop immediately after swallowing as the bourbon goes to warm my stomach. The alcohol in batch 7 may not quite be hellfire, but it will still rough you up if you're unprepared.
Sweet honey and caramel corn with residual alcohol burn appear first on the finish, ending with dark fruits, wood, spice, and mint. After "chewing", the finish starts sweet with honey, brown sugar, peaches, and anise, and quickly fades into charred oak with honey, mint, and herbs, like the heavily charred crust on barbequed meat. Stagg Jr is incredibly viscous and oily, making the finish last for ages. Did I mention that it's also delicious?
Place on the Whiskey Shelf

Simply put, Stagg Jr batch 7 is excellent and one of the top bourbons that I've drank recently. As intense as it is, the scents and flavors are complex, deep, interesting, and not as face-meltingly hot as batch 10 could be at times. Be warned though, the 65% alcohol and overall intensity may still abuse you a little, but you'll probably enjoy it nonetheless. Batch 7 is also an exceptional value at ~$50 MSRP (but often marked up to $70+). While you probably won't find much of it left on the shelves, subsequent batches such as batch 9, 10, and 11 have also been known to be awesome.
If you love high-proof bourbon, Stagg Jr is the way to go as long as Buffalo Trace doesn't screw it up like Jim Beam did when they jacked up the price of Booker's.