Smooth Ambler Old Scout 5 Year Single Barrel Bourbon review
Smooth Ambler Old Scout 5 Year Single Barrel Bourbon Total Wine and Spirits Select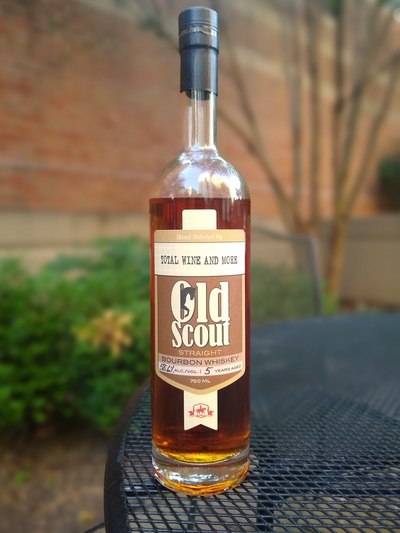 Distillery: Smooth Ambler (sourced from MGP)
Type & Region: Bourbon, USA
Alcohol: 58.6%
Composition: 60% corn, 36% rye, 4% barley
Aged: 5 years in virgin American white oak
Color: 1.1/2.0 on the color scale (burnished)
Price: $50 MSRP
From the Smooth Ambler website:
"A select, single barrel edition, Old Scout Single Barrel is bottled at a unique cask-strength with each release reflecting the exact barrel proof of the distinct cask in which the whiskey was aged."
Smooth Ambler Old Scout 5 Year Single Barrel Bourbon overview
I've been itching to buy age-stated MGP-sourced Smooth Ambler bourbons (called SAOS for short) ever since they stopped widely distributing these in late 2016 / early 2017, leaving the older single barrel releases as distillery-only releases…IN WEST VIRGINIA. So good news, Smooth Ambler is back! Early 2020 heralds its more widespread return in the form of 5 year old cask strength single barrel bourbons. At least for now, these only come as cask strength single barrel store picks, so availability will be dependent on stores receiving/ doing barrel picks, but there is a non-age-stated blended version at 49.5% ABV that is more widely distributed as well. Hopefully this means that Smooth Ambler will release older barrels over time to recapture their original glory – very compelling stuff.
Regardless, I'm excited to get back to drinking the vintage-inspired Old Scout bourbons, so let's get reintroduced to an old (new?) friend in this Total Wine and Spirits selection of Smooth Ambler Old Scout 5 Year Single Barrel Bourbon review.
Smooth Ambler Old Scout 5 Year Single Barrel Bourbon smell
I initially smell toasted brown sugar, citrus, and licorice sweetness with a noticeable malted grain presence, followed by vanilla, caraway seed, roasted oak, cinnamon, and something a little smoky. Guess what, Smooth Ambler Old Scout 5 Year Single Barrel Bourbon smells like younger MGP bourbon. The mix of smoky wood, caraway seed, and grain is a little savory, but the malted grain notes frequently remind me that this is still relatively young at 5 years old. The 58.6% ABV has some heat, but that's nothing new. So far, this Old Scout Single Barrel Bourbon reminds me a lot of Kooper Family's Sweetheart of the Rodeo Bourbon, MGP sourced bourbon aged for 4 years in Texas.
After swirling, SAOS Single Barrel bourbon smells a little darker and oakier with toasted brown sugar, oak, and a little smoke, proceeded by baked apples, cinnamon, licorice, preserved citrus peel, caraway seed, burnt vanilla, malted grain, and toasted bread. It has a sort of barbeque-y spiciness and smokiness to it. Spirits Smooth Ambler Old Scout 5 Year Single Barrel Bourbon smells good and has a pleasant fullness, but it's not that complex or mind blowing right now, but that's ok. 
Smooth Ambler Old Scout 5 Year Single Barrel Bourbon taste & aftertaste
With Smooth Ambler Old Scout 5 Year Single Barrel Bourbon, I first taste sweet honey, malted grain, vanilla, citrus, caraway seed, and fennel. It has an earthy and herbal sweetness, in part from the very high-rye mashbill (36% rye) that's uncommon in bourbon. The sweetness and rye are followed by toasted oak and cinnamon. So far, this is pretty well balanced between the sweetness and oak, but it's not so fruity, mostly just citrusy. The heat is also well contained, especially for the proof and age.
With "chewing" I taste sweet and savory honey, more bready malted grain, vanilla cream, citrus, caraway seed, licorice, fennel, and eucalyptus – the rye really shows up here. The charred oak, a brighter cinnamon, and allspice build a moment after the sweetness, coming together with a noticeable smoky note that reminds me of barbeque sauce on a grill. The heat isn't bad either. I enjoy the flavors a lot, but they're still not necessarily noteworthy or well developed, although there is enough there to be a solid and tasty bourbon.
On the finish, I'm left with honey, citrus, vanilla, oak, and a little licorice-like fennel. After "chewing" I taste a similar honey, citrus, licorice, oak, toasted bread, and cinnamon. Yeah, it definitely has this savory quality to it that I find in many MGP bourbons, and I definitely like it. 
Place on the Whiskey Shelf

I'm glad that Smooth Ambler was patient and brought back these cask strength bourbons at 5 years old, although I truly wish that they hadn't taken them away at all. This Total Wine Selection of Smooth Ambler Old Scout 5 Year Bourbon is very much a quintessential younger MGP bourbon with those toasted and smoky sugar, citrus, and licorice notes lathered all over the scents and flavors. There are no surprises here and it definitely isn't "Top Shelf" bourbon, but I'm not disappointed because this is just the start and it's going to get better with age. This isn't a must have, but you probably won't regret purchasing this either, especially if you need your SAOS fix.
This is a bit of an overgeneralization, but I think these Smooth Ambler 5 Year Old Single Barrel Cask Strength bourbons are solid for $50, but I probably wouldn't pay more than $60. Then again, I can't say if this barrel is better/worse/about normal than other barrels. My willingness to pay (but not the rating) also comes from my nostalgia for an incredible 10 or 11 year old single barrel I bought in late 2015, not realizing then that these were going to quickly become impossible to find. Once these 5 year old bourbons started being released, I knew that I was going to buy one if I could find it (assuming the price was right). Anyways, this 5 year old single barrel is a great start for the reintroduction of Smooth Ambler Old Scout Single Barrel Bourbon. I'm looking forward to older releases in the coming years that hopefully recapture the magic of those 2012-2016 single barrels. I guess I better get in line now.