Smooth Ambler Old Scout 7 Year Rye (Batch 21, bottled 11/7/13)​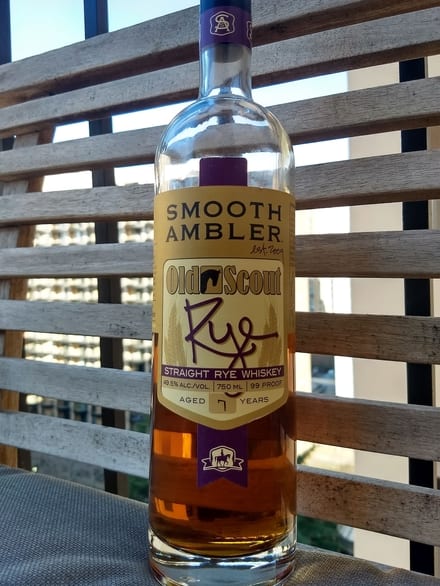 Distillery: Smooth Ambler (sourced from MGP)
Type & Region: Rye whiskey, USA
Alcohol: 49.5%
Composition: 95% rye, 5% malted barley
Aged: 7 years in virgin American white oak
Color: 1.0/2.0 on the color scale (deep copper)
Price: $40-50 MSRP (750mL) when it was available
From the back of the bottle:
"Smooth Ambler is a spirits producer based in West Virginia's Greenbrier Valley. They do make their own spirits, however their aged whiskey is sourced until their own product is ready for the marketplace. This is one of those whiskeys – produced in Lawrenceburg, IN. The mashbill consists of 95% rye with 5% malted barley."
Smooth Ambler Old Scout 7 Year Rye
* Shout out to my buddy who gave me this bottle
Smooth Ambler Old Scout 7-year rye was discontinued around 2015-2016 I believe due to shortages at MGP (its primary source) that made it difficult to obtain enough stock for the 7 and 10-year rye. At the same time, Smooth Ambler had been aging their own whiskey for a few years so it may have been time to transition to their in-house products and blends, except for the Old Scout Single Barrel Bourbon. This 7-year rye and Bulleit Rye have the same 95% rye MGP backbone, but Smooth Ambler gets the star treatment with an age statement and higher proof.
Since you probably can't buy this anymore, you may also want to consider WhistlePig 10, Sagamore Spirit Barrel Select, and Bulleit 12 Year rye, all made from high rye mashes. You can also read my WhistlePig 10 vs SAOS 7 Year Rye comparison to better understand how this rye compares to one you can find now.
Smooth Ambler Old Scout 7 Year Rye
Smooth Ambler 7-year rye greets me with an immediate rush of tropical passionfruit, berries, anise, and mint that for me are signatures of high-rye (>90%) rye whiskey. Then there's a splash of vanilla, honey, sorghum syrup, and grain that combined with the fruit are like berry pancakes covered in syrup. It's a wonderful and pleasant smell. The alcohol constantly pokes around my nose but adds a nice punch to create a rich and lively nose. 
Swirling kicks-up the alcohol, but also stirs up more bright and pleasant sweetness like lighter maple syrup and grains. I still get the same bright mint and darker wood, as well as citrus, fruits, and pine. It all comes together a little like a pine wreath. The effervescent mix of sugar and mint also reminds me a lot of gummy bears for some reason.
Smooth Ambler Old Scout 7 Year Rye
Sweet and bitter flavors bounce back and forth on my palate. The sweeter honey, tropical fruits, and green apple balance nicely with the slightly bitter peppermint and wood. Swishing, as if it were mouthwash, unleashes anise and black licorice (not Twizzlers) with moderate honey, citrus, and caramel sweetness. It reminds me of ouzo, an anise-flavored aperitif, but not quite as sweet. The addition of peppermint and wood also remind me of Christmas (as I am writing this in December). Smooth Ambler 7-year rye has a nice fullness and richness with a little, but not too much kick, that complements everything else.
The finish starts with minty gum and green apple drizzled in honey with a lot of anise and licorice. Mouthwash-like swishing strengthens the herbal bitterness with more black licorice. Mintiness and gumminess linger with a little bit of green apple and lychee sweetness. Smooth Ambler 7-year rye has a really interesting, unique, and delicious taste.
Place on the Whiskey Shelf

This is an awesome rye whiskey that, if widely available, I would constantly stock. I really enjoy the tropical fruit, anise, and licorice flavors that come with 90%+ rye whiskeys, as well as that surprise bright and delicious lychee on the finish. It's a shame that it's been discontinued, but there have been rumors that it may make a comeback. If you're yearning for a similar whiskey, Whistlepig 10 is my go-to (albeit pricey) option that I also gave a "Top Shelf" rating. It's one of the best and accessible rye whiskeys out there. Pikeville Rye is another excellent rye, but drinks completely differently.
As the whiskey market continues to grow, some products unfortunately become casualties, so I will do my best to savor this Smooth Ambler Old Scout 7-year rye while I can. If I stumble upon one and it's reasonably priced, I'd definitely buy another bottle.
Comments are closed.