weller antique 107 review
Parker's Heritage 11 Year Single Barrel (Barrel 4716511)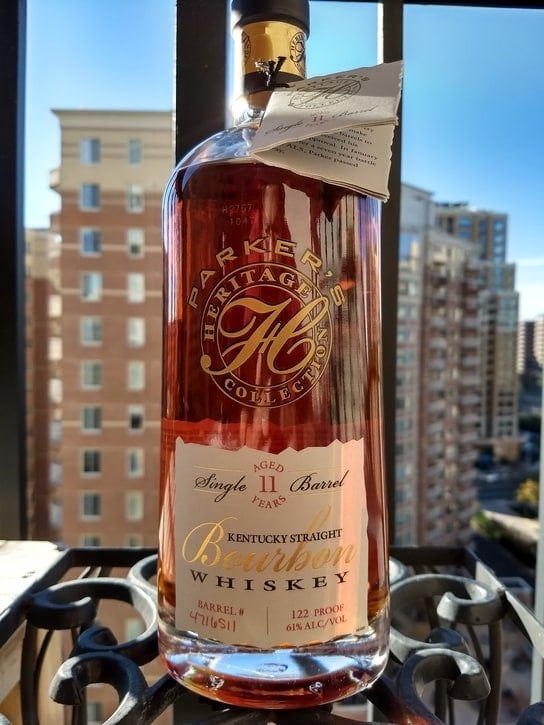 Distillery: Heaven Hill
Type & Region: Bourbon, Kentucky, USA
Alcohol: 61%
Composition: 78% corn, 12% malted barley, 10% rye
Aged: 11 years in a single virgin American white oak barrel
Color: 1.3/2.0 on the color scale (russet muscat)
Price: ~$130 MSRP (750mL), often marked up
From the Heaven Hill Website:
"Each year as part of the Parker's Heritage Collection, we select a special whiskey to be released in the name of our late Master Distiller Parker Beam. The barrels selected for this series include Bourbon, rye and wheat whiskeys, among others, and are some of the finest and most diverse American Whiskeys ever produced. They are a fitting tribute to the expertise of Parker Beam."
Parker's Heritage 11 overview
Parker's Heritage is Heaven Hill's yearly limited release of more interesting and unique whiskeys commemorating Parker Beam, a former Master Distiller (yes, he's part of that Beam family). In years past they've released among other things, a wheat whiskey and a 24-year old bottled-in-bond bourbon. The 2017 release is an 11-year-old single barrel bourbon aged in Parker Beam's favorite rackhouse in Deatsville. To job your memory, Heaven Hill also produces Elijah Craig, Henry McKenna 10, and Pikesville Rye among other whiskeys.
Multiple barrels were individually bottled (I don't know the exact number), so the scents and flavors may vary between barrels. Even at 61%, my guess is that this release isn't quite cask strength because every bottle has the same proof.
The table below is from the Heaven Hill website and provides specifics on barrel "4716511". Based on the barreled on date, this could be closer to 12 years old. 

Parker's Heritage 11 smell
Oh boy Parker's Heritage 11 smells dark and rich from the moderately strong caramel and vanilla blended with oranges, maraschino cherries, dates, and prunes sprinkled with a light dusting of cinnamon. Underneath the rich sweetness is light to moderate rye and mint with freshly cut wood and unroasted peanuts shells. Some call the nuttiness the "Jim Beam funk", but Parker was a Beam so it's not entirely out of place. 61% alcohol has never smelled so reserved, especially because Stagg Jr can be unruly at 63%.
     
Strong swirling releases more of the dark caramel, honey, and maple syrup characteristics with some orange rind, vanilla, wood, and spice. There's just a little bit of marshmallow and peanuts to add to the enjoyable complexity. The empty glass emits minty and musty wood with a little honey. This is how bourbon should smell. I really like the deep and dark caramel scents as well as complementary citrus, mint, and wood.
Parker's Heritage 11 taste & aftertaste
The strong blend of sweet and dark caramel nougat, peanuts, honey, and vanilla burst in my mouth followed by slightly chocolatey charred wood and spices. A subtle taste of corn mash provides additional contrast, followed by dried oranges right as I swallow. Bright and zesty citrus becomes more prominent with "chewing", followed by a heavier dose of brown sugar, wood, and nutmeg. There's a touch of sourdough maltiness and oiliness. For a high-proof bourbon, the alcohol in this bottle of Parker's Heritage 11 is incredibly mellow. It never begs for water, the opposite of the very delicious yet fiery Stagg Jr or some Four Roses Private Select Single Barrels that try to pound you into submission.

The sweetness fades into charred wood and pepper that linger, intermingled with some sweet nuttiness and minty pine. There's only the lightest tingle of alcohol that doesn't burn going down. Chewing releases more wood tannins and oiliness that stick with nutty and woody flavors that fade into cocoa powder and maple syrup right before they dissipate entirely. It all leaves my mouth gummy like many other non-chill filtered whiskeys.
Place on the Whiskey Shelf

I really like Parker's Heritage 11. For better or worse, I consider it to be a quintessential bourbon. For better, it's wonderfully dark, sweet, woody, spicy, and delicious. For worse, it's not as unique or interesting as I think it should be for a high-priced and limited-edition bourbon. You could argue that Heaven Hill's other high-proof release, Elijah Craig Barrel Proof, is a comparable bourbon at half the price.
     
On scent and flavor alone, Parker's Heritage 11 year is great and worthy of the top shelf rating but not if you consider the ~$130 MSRP price and its limited release nature (but I don't factor price into my rating). If you happen to stumble upon one, buy it if you're willing to pay a high price for a very good bourbon. Otherwise you're just as well-off with top shelf alternatives such as Stagg Jr, Four Roses Single Barrel Select, and Elijah Craig Barrel Proof. If you want to pay even less, Jim Beam Distiller's Cut and Knob Creek Single Barrel are also wonderful.