one eight distilling 14 year cask strength bourbon review
One Eight Distilling 14 Year Cask Strength Single Barrel Bourbon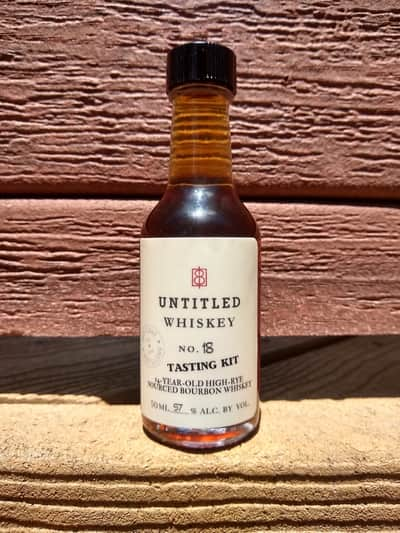 Distillery: One Eight Distilling (sourced)
Type & Region: Bourbon, USA
Alcohol: 57%
Composition: "High rye bourbon"
Aged: ~14 years in virgin American white oak
Color: 1.4/2.0 on the color scale (tawny)
Price: N/A – not for retail
From the One Eight website:
N/A – This is not a One Eight release, just a sample.
one eight distilling 14 year cask strength bourbon overview
I won't belabor Untitled Whiskey No. 18 too much since I'm not reviewing that here. All you need to know is that One Eight Distilling Untitled Whiskey No. 18 is a blend of their homemade District Made Rye (a cask strength single barrel of it) and a barrel of 14 year old "high rye" bourbon, likely sourced from MGP. As part of the Untitled Whiskey No. 18 pre-order, One Eight also included a tasting kit that included a sample from both parts of the blend. Neither of the whiskeys in these samples are sold by One Eight, only blended together, a very unique opportunity to sample what exactly when into Untitled No. 18.
I've reviewed the District Made Rye Cask Strength Single Barrel, so let's learn more about the second part that goes into Untitled No. 18 in this One Eight Distilling 14 Year Cask Strength Single Barrel Bourbon review. 
one eight distilling 14 year cask strength bourbon smell
This 14 year old bourbon is dark, smoky, and oaky; it definitely smells as old as it is. There's burnt caramel, freshly ground coffee beans, cocoa powder, oak, dried grass, and cinnamon with a little vanilla, citrus, and anise. It smells very old, but it's not all that sweet or fruity, which is kind of weird. It's also kind of strange to find that this 14 year old bourbon at 57% ABV actually smells hotter than the 2 year old rye that's 63.5% ABV.
After swirling, the 14 year old sourced bourbon still smells very oaky and roasted with ground coffee, caramel, vanilla, something lightly floral, dry citrus, and dry corn kernels. It has a lot of smoky burnt wood notes, but don't think the earthy, vegetal, and salty peat notes in Scotch. The closest comparison I can think of is the Knob Creek 14 Year Old Single Barrel I reviewed, but unlike Knob Creek this nose is not particularly complex, occasionally dipping into overoaked.
one eight distilling 14 year cask strength bourbon taste & aftertaste
This 14 year old single barrel bourbon also tastes very old with dark caramel, a lot of oak, cinnamon, dry orange and apple, vanilla, nutmeg, and licorice. It's not so hot, but I can feel the heat build as it rests in my mouth. "Chewing" brings out a little more herbal sweetness, as well as a very slight aged funk from the long maturation. There's honey, floral notes that are hard to describe, licorice, and a lot of heavily charred oak and wood influence in the form of cinnamon, nutmeg, clove, and vanilla. It also has this light oaked white wine note that's a welcome touch. The flavors really aren't that viscous or rich, again bordering on overoaked, and the alcohol kicks a little more this time. It's not bad and not great.
The finish is dark and oaky (surprise) with a little honey, licorice, mint, and grass, and becomes very dry after a few minutes. With "chewing" I'm left with coffee grounds with a little honey, vanilla, and citrus sweetness that again become very dry after a minute.
Place on the Whiskey Shelf

I was hopeful that this 14 year old bourbon would amaze me, but unfortunately it doesn't. It's not a bad standalone bourbon by any means, but long story short, this particular barrel is close to being overoaked in a way that mutes a lot of the sweetness that a bourbon this old should have, as well as any subtle fruitiness I'd also expect. If this is in fact MGP, then I've definitely enjoyed younger releases such as Remus Repeal Series 3 (blend of 11-12 years) and Potomac Wine and Spirits Barrell Single Barrel Bourbon (9 years). Even though Knob Creek 14 Year Single Barrel was very oaky and punchy at 120 proof, it still had enough sweetness and depth to balance-out the intense oak and nuttiness. That's why the Knob Creek 14 Year and the MGP bourbons mentioned before are top shelf bourbons, and this isn't.
Here's my hot take – standalone, I believe that the 2 year old District Made Rye Cask Strength Single Barrel is the superior whiskey. It's so fragrant, flavorful, and lively without the heavy-handed oak taking-over and frequently covering up the other traits. While the rye has some flaws as a result of its youth, this 14 year old bourbon has more of them that can't be fixed with more aging. This is completely my own personal speculation, but it's possible that the Master Blender also knew all of this and decided to blend this very oaky bourbon with a young (but very good) rye that would fill in the sweetness and fruitiness.
I'm very grateful that One Eight provided samples of the two components of the blend. It's a rare look into the blending process that few will ever see or experience. For better or worse (mostly better), it gives me the opportunity to scrutinize each part, provides insight into what I can expect from Untitled No. 18, and helps me figure out if the blend is greater than the sum of its parts. This is a great learning experience, so thank you very much One Eight for this opportunity to learn.