weller antique 107 review
Ogden's Own Porter's Rye Whiskey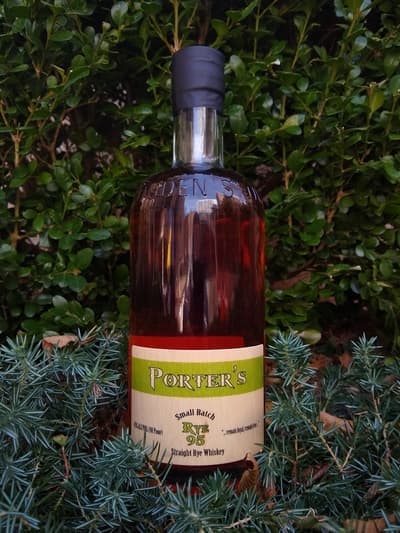 Distillery: Ogden's Own (Sourced from MGP)
Type & Region: Rye, Utah, USA
Alcohol: 45%
Composition: 95% rye, 5% malted barley
Aged: 3-4 years in American white oak (1 year in Indiana, 2-3 in Utah)
Color: 1.2/2.0 on the color scale (chestnut, oloroso sherry)
Price: $35-40 (750mL)
From the Ogden's Own website:
"Ogden's Own Distillery announced the release of their new Porter's Rye Whiskey. Porter's Rye is a 95/5 blend of rye and barley. The straight rye whiskey has been aging in heavy charred, new oak barrels for over three years. "At almost every event we are a part of we get questions asking, 'When will you have an unflavored whiskey?'", Steve Conlin, the CEO, said. "Well, the answer is finally now!"
weller antique 107 overview
Ogden's Own is an Ogden, Utah-based distillery that's been open since 2009 and up till now has primarily focused on vodka and flavored spirits. No, I'm not reviewing a flavored whiskey, I'm reviewing Ogden's Own's brand-new Porter's Rye Whiskey, their first straight whiskey. Porter refers to Orrin Porter Rockwell, Joseph Smith and Brigham Young's bodyguard. It's Utah, so these types of references make more sense in the context of where the distillery is located.
Porter's Straight Rye is sourced from MGP in Indiana, but is "aged, blended, and bottled by Ogden's Own Distillery". I was able to clarify that it was aged for 1 year in Indiana and then the rest in Utah, making it about 3-4 years old now. Differences in weather and elevation between Utah and Indiana probably impact barrel aging, but it's hard to say how. From what I understand about availability in 2020, Porter's Rye Whiskey is currently sold in Utah, California, Michigan, and Nevada, as well as online through Hi-Time Wine. It's funny because I'm reviewing a whiskey that I can't even buy locally; but since I have this bottle in my possession, let's learn more about this new rye whiskey in this Ogden's Own Porter's Rye Whiskey review.


Thank you to Ogden's Own for providing me with this bottle. This was provided with no strings attached, so I am writing this as if I purchased it myself.
Porter's Rye Whiskey quickly releases slightly musty honey surrounded by herbal dill and anise. The honey sweetness is supplemented with a small amount of dark pineapple, peach, and apple, all indicative of MGP's 95/5 rye mash. The musty oak's noticeable presence is surprising given its young age, but it's not necessarily bad. Past all of that is a slightly grainy and bready scent, as well as a little more heat than I expect for 45%, hinting again that it's a young whiskey. Porter's rye smells pleasant, but it doesn't have the stronger levels of dill, anise, and tropical fruits that I love in older MGP rye whiskeys. That will come in time, but it also makes me wonder if aging in Utah is making that big of a difference.
After swirling, I still smell the sweet and slightly herbal honey with dill, licorice, and dried oranges. There are hints of underlying fruitiness, but it's all muddled together in a way that I can't identify any particular fruit. Even with all the rye-ness in this whiskey, oak is still very present. It's not overpowering, but it's just strong enough to seem a little out of balance. Overall, Ogden's Own Porter's Rye Whiskey smells very familiar. I'd love to see this with more age, but I still enjoy it in its current state. I'll be patient.
weller antique 107 taste & aftertaste
Porter's Rye whiskey is sweet and herbal with honey, dill, licorice, and dried oranges, as to be expected from MGP rye. Just like in the nose, it's not overpoweringly oaky, but it feels a tad out of balance for me. The 45% alcohol kicks a little more than expected as well. With "chewing", Porter's Rye still has that sweet honey and licorice, but now with a pinch of black pepper and bready dough. The oak is still quite present, with added cinnamon and clove, but it's more roasted and oaky than spicy. There are a couple nice notes in here, but it's not that layered or deep yet.
The finish is primarily bitter like the last dregs of sweetened black tea made with extra tea leaves, followed by slightly sweet honey and licorice. After "chewing", gentle bitter oak remains as the main lingering note, with the herbal licorice, cinnamon, and vanilla taking a back seat. After a minute, the oak fades leaving a little honey, grape skin, and licorice.
Ogden's Own Porter's Rye has many good flavors, but they overall are muddled and need more time to develop so each component can shine on its own. I enjoy drinking this, but it lacks a certain "wow" factor that I like to have with my whiskey.
Place on the Whiskey Shelf

Ogden's Own Porter's Rye Whiskey is a good, but not spectacular, whiskey. Admittedly, it's unfair to be too critical because I've been spoiled by older MGP-sourced rye whiskeys. At 3-4 years old, I can smell and taste the 95% rye foundation of sweet and herbal honey, dill, and anise that I definitely like, but it's not that complex or deep yet, and it's unexpectedly slightly over-oaked. All the various rye traits are there but muted, probably from the lower proof and definitely from its youth.
Still, there is a lot of promise and I expect that the sweet and herbal notes will develop with time. Hopefully there's a 100-proof version in the near future as well. Ogden's Own Porter's Rye Whiskey is pleasant to drink neat, so I look forward to drinking the older whiskey that's still to come. Hopefully as older stock is released, Ogden's Own also keep prices steady to make it more competitive with rye whiskeys from growing distilleries such as High West's Double Rye (although you can argue that it's not that small anymore), Sagamore Spirit Rye, and New Riff Rye Bottled in Bond.