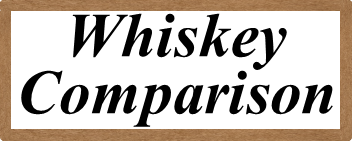 MGP Rye Comparison: Bulleit 12 Year vs Smooth Ambler Old Scout 7 Year
MGP is one of the biggest rye whiskey makers in the US, producing for brands such as Bulleit, George Dickel (just the rye), High West, Sagamore Spirit, Redemption, and WhistlePig. Smooth Ambler used to source a lot of their whiskey from MGP, but unfortunately has ramped down significantly, with formerly widely distributed rye whiskeys such as the excellent Old Scout 7 Year Rye (SAOS 7 Year Rye) becoming casualties. The little that is sourced from MGP now primarily goes into distillery-only releases (in West Virginia) that are very hard to find.
I mention all of this because in 2019, Bulleit released a sort of limited 12 Year old rye whiskey, using MGP's 95% rye mash, for only $50. Twelve year old rye whiskey is quite uncommon, so it's great to see it being offered at a reasonable $50 and with decent availability. After reviewing it, turns out it's also an excellent rye whiskey. Since I'm still nursing a bottle of the Smooth Ambler 7 Year Rye, it made me wonder how Smooth Ambler's discontinued rye whiskey compares to this new and excellent Bulleit 12 Year Rye. Let's find out in this MGP rye comparison.
The below table outlines key facts and figures for each MGP-sourced rye whiskey.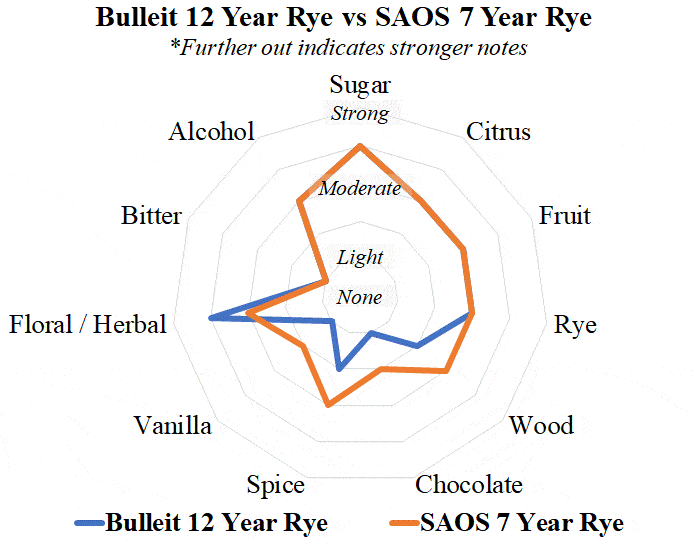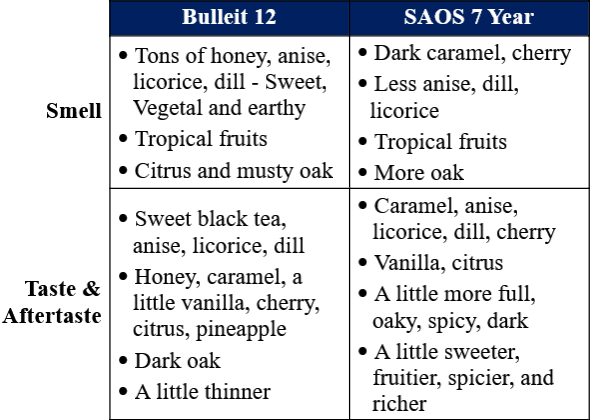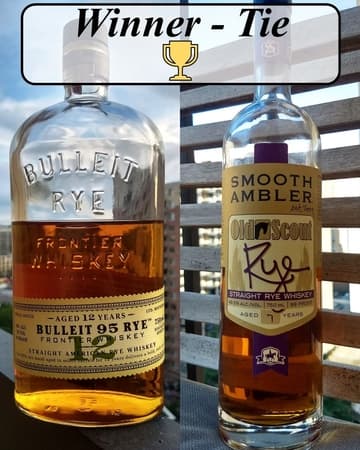 Bulleit 12 Year and Smooth Ambler Old Scout 7 Year Rye have a lot in common, but still end up quite different. On the nose, Bulleit 12 douses me in wave after wave of sweeter and more herbal anise, dill, licorice, citrus, and tropical fruit character that adds wonderfully lively, fresh, vegetal, and earthy notes. Smooth Ambler 7 Year Rye has more dark caramel, vanilla, spice, and oak with a little less dill, anise, and tropical fruit. It smells less rye-y than Bulleit 12, but the higher proof does add an extra punch, spice, and fullness. Let me be clear though, both smell great. 
Bulleit and SAOS diverge quite a bit with their flavors. Bulleit has honey and caramel black tea flavors with dill, anise, and licorice, as well as contrasting oak, and fruity cherry, citrus, and pineapple. The finish is also fruity with anise, pineapple, guava, orange, and lemon, ending with bitter oak. SAOS comes off a little hotter and spicier with more cinnamon and nutmeg. While it has slightly less anise and dill, it has more caramel, vanilla, roasted oak, citrus, and breadiness with some cherry thrown-in. SAOS's fuller and darker flavors are evident, whereas Bulleit 12 is a lighter and brighter whiskey. Both are amazing, just in different ways. 
Both rye whiskeys are great and I truly can't pick a winner. While Bulleit 12 Year Rye is not a perfect substitute for Smooth Ambler 7 Year Rye, it does many of the same things well and is amazing in its own way. Did I mention that it's actually available (at least for now). If you love SAOS 7 Year Rye and have been hoping to find one of the last few remaining bottles, I recommend that you try Bulleit 12 Year. 
Maker's Mark Cask Strength Comparison