manifest rye batch 4 review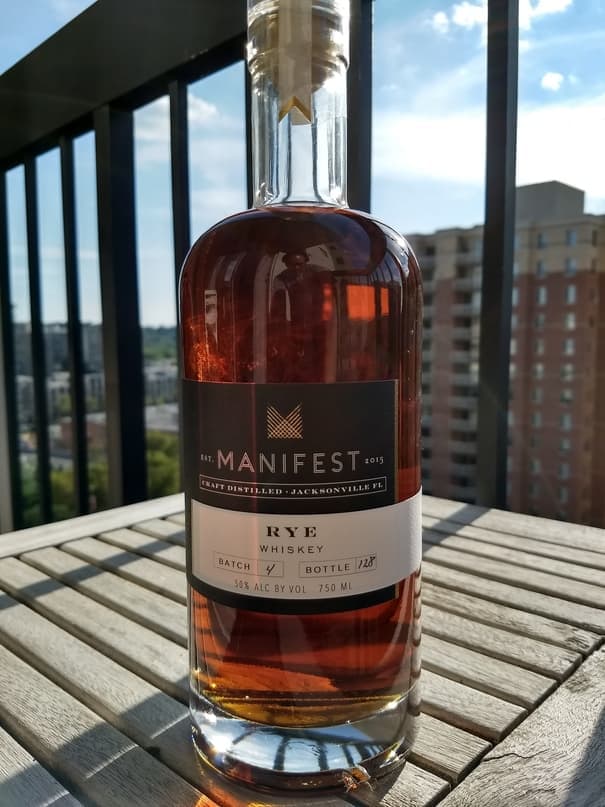 From the Manifest Distillery website:
"Manifest Rye Whiskey takes a classic approach to a uniquely American spirit. Using the best organic North American grains from a co-op of farms we combine rye with hard red spring wheat to result in a slightly softened approach to Rye Whiskey. Each batch is mashed, fermented, distilled, aged and bottled at our distillery in downtown Jacksonville, FL. We use all American made equipment for our production and each bottle is aged in American grown White Oak barrels that are coopered and charred in Avon, MN. Batch 4 was comprised of 4 barrels for a total of 529 bottles. This bottling combined barrels that were 21 and 22 months old. The extra month spent in barrel allowed the whiskey to mellow slightly more than batch 3, rounding off some of the grain notes and introducing caramel and tropicality."
manifest rye batch 4 review
     Manifest Distilling, opened in 2016, is a craft distillery located in Jacksonville, FL. They take a unique approach to their rye whiskey by using organic rye and WHEAT. Yes, you read that correctly, this is a wheated rye whiskey. 40% is a lot of wheat for not a wheat whiskey, and even wheated bourbons generally use < 20% wheat (Pappy uses 14%). I appreciate a craft distiller doing something totally different with the mash. 
     Florida is an interesting place to age whiskey. Compared to weather in Kentucky, summers in Florida are hotter and more humid, and the winters warmer, changing how the wood and whiskey interact. My guess is that Florida weather more closely emulates the higher levels of a rackhouse, which accelerates aging. I've never seen or drank anything quite like this, so I'm intrigued to find out how it is.
manifest rye batch 4 review
     The combined rye and wheat create an explosion of bright and floral scents. It's a beautiful mix of pine, wood, lemon, and malty grain, like taking a breath while standing in a pine forest. The malty grain smells like sourdough bread, courtesy of the wheat. Maker's Mark Cask Strength, a wheated bourbon, has a similar trait. There's also a light to moderate smell of musty and dried orange peel, honey, and vanilla, like graham crackers. The alcohol is there, but it's nicely subdued.
     Digging deeper reveals a faint hint of wood and cocoa, as well as the faintest smell of eraser dust and peppermint bubblegum. The eraser dust is odd but doesn't detract from the smell. Once the glass is empty, I smell dried orange, honey, and peppermint. After leaving it out for a few minutes, I also sense some musty and damp wood.
     The rye and wheat, very pungent grains, really shine in this whiskey. They create a great bright, floral, and sweet scent. The brightness reminds me that it's young, but is really good for an almost 2 year-old whiskey.
manifest rye batch 4 review
     The taste is just as bright as it smells. There's a fruity blend of banana, orange, and pear, with botanical pine mixed-in. Vanilla, grain, and wood follow. It's surprisingly fruity for something so young. Manifest Distilling wasn't kidding when they said it had "tropicality". Like the the nose, there is the same blend of honey, malt, and vanilla, but it doesn't quite taste like graham crackers. The 50% alcohol again is noticeable, but controlled.
     Swishing the liquid releases clove, peppermint, and black pepper. Honey and fruit, like the first bite into a peach, also mingle in the taste. With every sip, I taste some raw, almost damp, wood that gently pokes my mouth like freshly ground black pepper. For me, the woody and pokey black pepper is a telltale sign of a young whiskey. My guess is that since the whiskey is so young, it only had time to absorb the initial raw, peppery, and wet wood flavors, not the deeper and darker ones such as brown sugar and caramel. 
     The rye and wheat really shine in the aftertaste, which is dry and full of botanicals, as well as some slightly woody peach and lemon. The botanicals, such as peppermint, linger the most. 
      Manifest Rye has a very strong foundation with wonderful vibrant floral flavors, but I think it could use more time to develop deeper and more complex fruit and wood character. 
manifest rye batch 4 review
     Manifest rye may pair well with citrus, fruit, or bready desserts. I could also see this pairing well with spiced foods such as Indian food. I don't think this would pair well with heavier or more savory foods such as barbeque, red meat, or chocolate.
Place on the Whiskey Shelf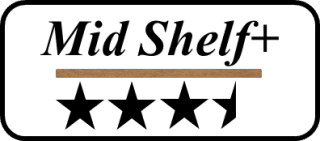 Overall, this is a really good whiskey and worth buying. The unique rye and wheat combination is interesting and pungent. The scents leap out of the glass, but the taste, while very good, hasn't caught up yet. I tasted Manifest rye multiple times and enjoyed it, but I always had lingering reservations about giving it a top shelf rating. Then, I realized that while the scents and flavors are bright, vibrant, and forward, they are not yet deep or fully formed. It has breadth, but not quite enough depth. Additional maturation time will help the flavors become more rich and enhance the woody characteristics that can't be rushed. Unfortunately, time is one of the biggest hurdles for craft distilleries.
     The foundation is very strong, and I'm excited for the future. Give it a few more years, and I'll be ready to buy another bottle.