weller antique 107 review
The Macallan Classic Cut 2018 Review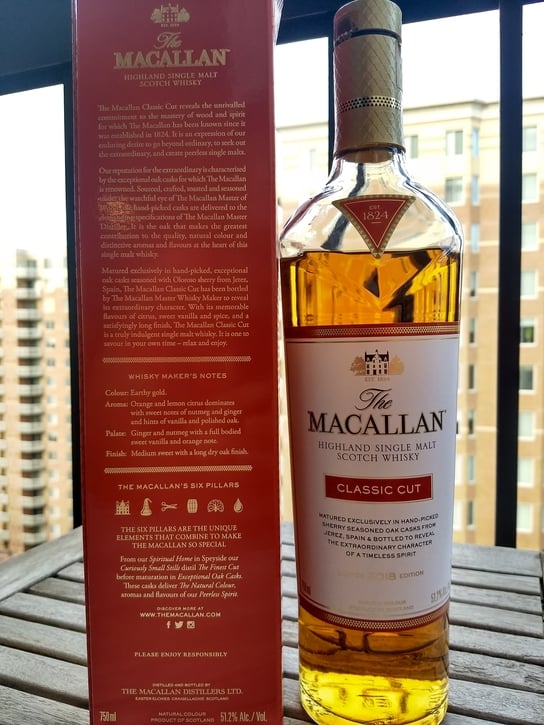 From the back of the bottle:
"The second edition in the limited annual series, The Macallan Classic Cut – 2018 Edition has an ABV of 51.2% chosen by the Whisky Maker Ian Morrison as the optimum strength to reveal a dominant sweetness and the well balanced flavours delivered by the exceptional Sherry Oak Casks. After allowing to breathe for 10-15 minutes, heightened flavours of citrus, sweet vanilla and spice come to the forefront, combined with a satisfyingly long dry oak finish. Classic Cut 2018 is a truly indulgent single malt."
Four Roses Single Barrel Private Select review
Macallan Classic Cut is one of Macallan's many limited releases. The Classic Cut started in 2017 with the 58.4% release, followed up by this year's 51.2% release. I don't understand the nuances of how the Classic Cut differs from the Macallan Edition No. 1-4 limited releases, but my guess it that it has something to do with the casks they choose to blend. Other than that your guess is as good as mine.
With the Classic Cut, the team blended specially selected sherry casks, slapped a fancy title on it, and used the same red box as the now discontinued cask strength Macallan. All I know is that this is a sherry-aged Scotch that should be a step up from the "entry level" Macallan 12, if you can even call it entry level. Let's dive-in and see if the Macallan Classic Cut 2018 stands out from the crowd.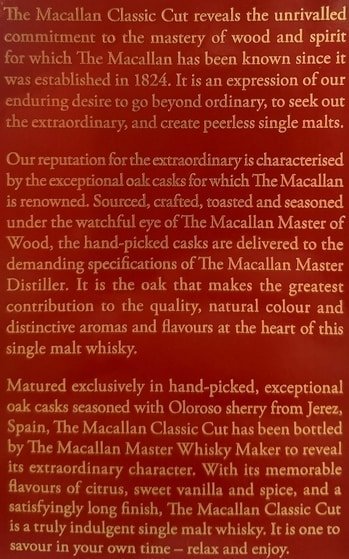 Four Roses Single Barrel Private Select review
The sherry notes immediately shine in the Classic Cut with rich butterscotch and honey blended with dates, fresh and dried apricots, and maraschino cherries with moderate cinnamon and nutmeg. There's also that slightly funky and sulfury grape smell that comes from aging in oloroso, moscatel, or other dried grape casks. Overall, it's a textbook and very pleasant sherry-aged Scotch: dense and concentrated like marmalade or raisins. The alcohol is very light as if it were closer to a 45% Scotch.
Strong swirling stirs-up cocoa powder from the malted barley, complemented with dark and dense fruits and spices from the sherry. It also has an interesting combination of roasted marshmallows and maple syrup that combines with the cocoa into what honestly smells like s'mores. This flat out smells amazing. Whatever is in this non-aged-stated Scotch, there still must be a decent amount of older whiskey in the blend to lend such a wonderful fragrance.
Four Roses Single Barrel Private Select review
On my first sip I taste malt, honey, apricot, and peach with moderate cinnamon and clove. It has the same nutty and savory sweetness from eating a date and walnut platter drizzled in honey and vanilla, and the slightly dry and funky taste of concentrated grapes. The alcohol tingles here and there but mostly remains out of the spotlight. Digging deeper with vigorous chewing reveals chocolate malt, vanilla, mulling spices, and dried cherries and orange peel. The Classic Cut is quite spicy, as if someone took a regular Macallan and infused it with more mulling spices
Macallan Classic Cut finishes dry, woody, and spicy with a little bit of grass. Chewing changes the finish quite a bit. It starts a little sweeter with dried apricots drizzled in chocolate and honey, then becomes roasty, woody, spicy, grassy, and minty as if it were a sherry or port-finished bourbon. Overall, Macallan Classic Cut is nicely balanced and fairly complex. Unfortunately the overall flavors and mouthfeel are surprisingly not nearly as rich as I expected. 
Place on the Whiskey Shelf

As a whole, Macallan Classic Cut 2018 is very good, almost top shelf. It's a wonderfully fragrant and complex Scotch, but the flavors and mouthfeel lack enough richness and depth for a top shelf whiskey. This may be biased and unreasonable, but I expect a limited release Macallan to be a top shelf whiskey. 
I can't help but compare it to the Craigellachie 21, a sherry-aged Scotch that I gave a top shelf rating. The Macallan and Craigellachie have similar noses, but the Craigellachie's flavors are far more developed and decadent, aided by the 21 years of aging. Don't get me wrong, Macallan Classic Cut is an enjoyable Scotch that I will savor, but I think that it should be so much more. It's disappointing for me, but that's also because I've sampled a range of incredible sherry-aged and finished Scotches to give me more context for what I consider to be excellent, such as the Craigellachie 21, Ben Nevis 18, and Nikka From The Barrel. Regardless, you can't go wrong with this if you're willing to pay the price. You're probably going to enjoy it as well.